| | |
| --- | --- |
| | Get the latest on the 007 exhibition opening next week at the Barbican, London... |
Designing 007 Details
27th June 2012
The white bikini worn by Ursula Andress in one of cinema's most celebrated scenes, on loan from Planet Hollywood International Inc., joins more than 400 Bond archive items for the first time alongside a faithful recreation of the trunks Sean Connery wore in THUNDERBALL in a new and highly anticipated Barbican exhibition commemorating the 50th anniversary of the James Bond film franchise from 1962's DR NO to this year's SKYFALL.
The items will be displayed alongside those which they later inspired - the orange bikini worn by Halle Berry in DIE ANOTHER DAY and Daniel Craig's sky blue trunks from CASINO ROYALE, and are among 400 works comprising the Designing 007 - Fifty Years of Bond Style exhibition which opens at London's Barbican Centre next month.
The Barbican has joined forces with EON Productions to create a unique exhibition curated by the Barbican, guest-curated by fashion historian Bronwyn Cosgrave and Oscar®-winning costume designer Lindy Hemming and designed by Ab Rogers.
With unprecedented access to EON's production archive, Designing 007 - Fifty Years of Bond Style is a multi-sensory experience where screen icons, costumes, production design, automobiles, gadgets, special effects, graphic design, exotic locations, weapons, stunts and props combine to immerse the audience in the creation and development of Bond style over its auspicious 50 year history.
Exhibits on display also include Scaramanga's Golden Gun from THE MAN WITH THE GOLDEN GUN, Oddjob's steel-rimmed bowler hat and the proto-type of Rosa Klebb's deadly flick-knife shoes worn in FROM RUSSIA WITH LOVE, Tee-Hee's metal arm from LIVE AND LET DIE and Jaws' fearsome teeth which first appeared in THE SPY WHO LOVED ME.
Among the other specially commissioned costume recreations overseen by Lindy Hemming are Goldfinger's golden dinner jacket, Pussy Galore's golden waistcoat and the suit Sean Connery was wearing when he first appeared on screen in DR NO, together with originals of Roger Moore's white tuxedo from OCTOPUSSY and Spacesuit from MOONRAKER.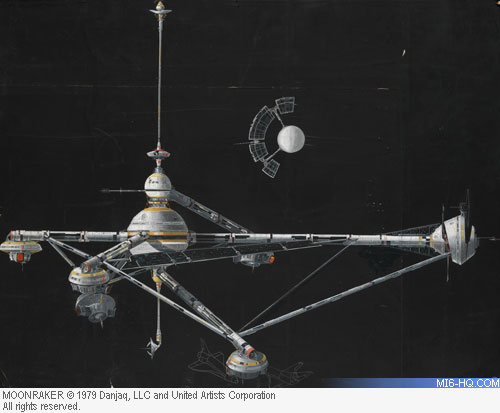 Above: Concept art for the Drax space station, that was built in miniture by Derek Meddings and his model unit.
Vehicles and gadgets on display include the 1964 Aston Martin DB5 which famously returned to the screen in GOLDENEYE; Pierce Brosnan's BMW motorcycle from TOMORROW NEVER DIES; the attache case featured in FROM RUSSIA WITH LOVE and Pierce Brosnan's state of the art Ericsson mobile phone from TOMORROW NEVER DIES.
They take their place alongside original graphic drawings and models including the design for the Jetpack piloted by Bond in THUNDERBALL; the storyboard for the action sequence in YOU ONLY LIVE TWICE featuring mini-helicopter Little Nellie, together with the miniature Wet Nellie Lotus Esprit used for filming in THE SPY WHO LOVED ME.
The exhibition will transform many of the Barbican spaces including The Silk Street Entrance, the Curve gallery, the Pit theatre and some of the public foyer spaces to take visitors on a journey through a dozen themed rooms and environments reflecting 50 years of Bond style.
The exhibition will tour internationally over a three year period.