British Consul-General Dame Barbara Hay welcomed special guests to the residency in Los Angeles last night to celebrate British Oscar nominees. As part of their contiuniung campaign to boost tourism and trade, the party was sponsered by the British Film Commission and Visit Britain with the theme of the GREAT British Toast.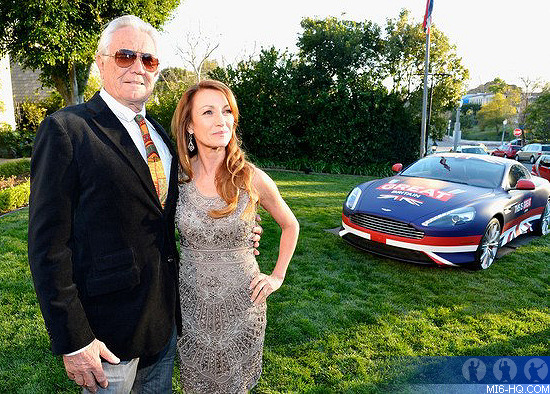 Above: George Lazenby and Jane Seymour with the Aston Martin.
Amongst the special guests were a number of 007-alumni, including former James Bond actor George Lazenby ("On Her Majesty's Secret Service") and Bond girl Jane Seymour ("Live And Let Die"). The on-screen stars were joined by producer Michael G. Wilson and "Skyfall" composer Thomas Newman.
The London-based Groucho Club served cocktails shaken, not stirred, and the famous James Bond Vesper Martini was a clear favourite as "Skyfall" is celebrating five nominations at the Academy Awards this year. Moreover, a patriotically themed 2013 Aston Martin DB9 Coupe was on display for the actors, filmmakers and friends of Great Britain who came to celebrate the 33 British filmmakers among this year's Academy Awards.
Before proposing a toast, Hay praised the filmmakers in the crowd for giving pleasure to people around the world, in addition to contributing to the economy and creating jobs. "I think this is the one time of the year when we can stand up straight, shoulders back, tummies in and all the rest of it," she said.