| | |
| --- | --- |
| | MI6 reports from the launch of the new James Bond stamps issued by the Royal Mail to celebrate the Ian Fleming centenary... |
James Bond Stamps Launch
9th January 2008
Actress Samantha Bond went "On Her Majesty's Postal Service" yesterday and appeared in London to officially launch Ian Fleming's James Bond stamps, on sale in Post Office branches and online. Ms Bond arrived at the wheel of an Aston Martin DB6 – the preferred automobile of Fleming's fictional superhero.
The new stamps are being unveiled by Royal Mail to mark the centenary of the birth of Bond creator Ian Fleming and feature different editions of six of his most famous novels.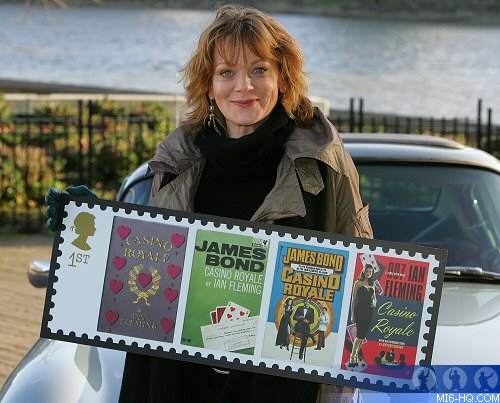 Above: Samantha Bond poses with an enlarged copy of the new First Class stamp.
"Being involved with the Bond legend is always an adventure and these new stamps are a wonderful start to this centenary year," said Ms Bond. "James has always held a special place in my heart and now he will set millions of other hearts fluttering around the world!"
Julietta Edgar, Head of Royal Mail Special Stamps said: "It is estimated that over half the world's population have heard of James Bond which is an incredible testament to the imagination of his creator, Ian Fleming. " I'm delighted to see that the most famous super-spy is once again in the service of Queen & country and will be appearing on millions of items of post!"
The two 1st Class stamps feature Fleming's first novel Casino Royale (1953) and Dr No, the first novel of the Bond series to be filmed. Fleming himself was responsible for the design of the Casino Royale & From Russia With Love covers. The 54p stamps reveal the covers of Goldfinger and Diamonds Are Forever, while the final 78p pairing features For Your Eyes Only and From Russia With Love.
Collecting Data
| | |
| --- | --- |
| Value | Description |
| 1st - First class inland letter rate | Casino Royale |
| 1st - First class inland letter rate | Dr No |
| 54p - Basic airmail rate up to 10gm | Goldfinger |
| 54p - Basic airmail rate up to 10gm | Diamonds Are Forever |
| 78p – Rest of World airmail up to 20gm | For Your Eyes Only |
| 78p – Rest of World airmail up to 20gm | From Russia With Love |
Related Articles

Ian Fleming Centenary Stamps - Preview

Ian Fleming Centenary Stamps - First Day Covers

Collecting Articles

Literary Coverage