| | |
| --- | --- |
| | The Museum of Modern Art in New York City will celebrate the 50th anniversary of James Bond on the silver screen with exhibits and film screenings... |
Bond At MoMA
22nd September 2012
Goldfinger: The Design of an Iconic Film Title
October 5, 2012–March 31, 2013
The Museum of Modern Art, 11 West 53 Street New York, NY 10019
Architecture and Design Galleries, third floor
This small focus installation features the first film title sequence to enter MoMA's collection as a design work in its own right, along with related preparatory material. As memorable as the film itself, the title sequence of Goldfinger (1964) captures the sexual suggestiveness and wry humor of the James Bond mythos. Scenes from the film are projected strategically onto starlet Margaret Nolan, while minimal credit texts balance each shot. It was designer and art director Robert Brownjohn (American, 1926–1970) who conceived, designed, and directed this sequence, one of the best examples of title design used to produce a salient film component, rather than a necessary afterthought. Brownjohn's short but influential career integrated the fields of design, advertising, film, photography and music. He moved in 1960 to London, where he was at the epicenter of the burgeoning "swinging '60s" scene. Brownjohn deployed type in dynamic, abstract forms, in this case illustrating both his mastery of modern graphic design and his ability to apply sophisticated graphic treatment to popular media.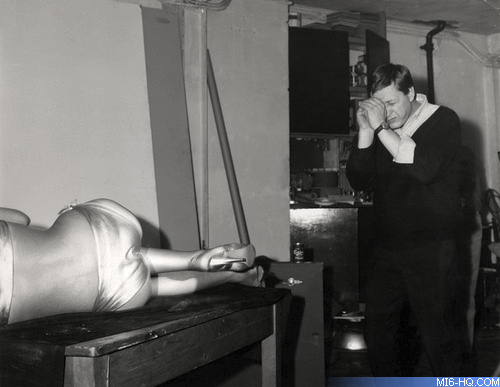 Above: Robert Brownjohn. Preparatory study for Goldfinger title sequence.
50 Years of James Bond
October 5–31, 2012
The Museum of Modern Art, 11 West 53 Street New York, NY 10019
In 1987, on the occasion of the 25th anniversary of the release of Dr. No (1962), producer Albert R. "Cubby" Broccoli donated newly made 35mm prints of all 14 Broccoli-produced James Bond feature films to The Museum of Modern Art. With this extraordinary gift came a promise to provide MoMA with a new 35mm print of each subsequent Bond film. To date, this collection has grown to 22 films—all of the James Bond films produced by Eon Productions—and since his passing in 1996, "Cubby" Broccoli's daughter Barbara Broccoli and Michael G. Wilson have generously continued this tradition. In celebration of the 50th anniversary of Dr. No and the extraordinary open-ended donation from Albert R. Broccoli, Barbara Broccoli, and Michael G. Wilson, MoMA presents all 22 films in its James Bond collection. Click here for ticket information.
Dr. No
Friday, October 5, 2012, 8:00 p.m., Theater 1, T1
Thursday, October 18, 2012, 7:00 p.m., Theater 2, T2
From Russia with Love
Saturday, October 6, 2012, 2:00 p.m., Theater 1, T1
Friday, October 19, 2012, 4:00 p.m., Theater 2, T2
Goldfinger
Saturday, October 6, 2012, 5:00 p.m., Theater 1, T1
Friday, October 19, 2012, 8:00 p.m., Theater 1, T1
Thunderball
Saturday, October 6, 2012, 8:00 p.m., Theater 1, T1
Saturday, October 20, 2012, 2:00 p.m., Theater 1, T1
You Only Live Twice
Sunday, October 7, 2012, 2:30 p.m., Theater 1, T1
Saturday, October 20, 2012, 5:00 p.m., Theater 1, T1
On Her Majesty's Secret Service
Sunday, October 7, 2012, 5:30 p.m., Theater 1, T1
Saturday, October 20, 2012, 8:00 p.m., Theater 1, T1
Diamonds Are Forever
Monday, October 8, 2012, 4:30 p.m., Theater 1, T1
Sunday, October 21, 2012, 2:00 p.m., Theater 1, T1
Live and Let Die
Monday, October 8, 2012, 8:00 p.m., Theater 1, T1
Sunday, October 21, 2012, 5:00 p.m., Theater 1, T1
The Man with the Golden Gun
Wednesday, October 10, 2012, 4:30 p.m., Theater 1, T1
Monday, October 22, 2012, 4:00 p.m., Theater 1, T1
The Spy Who Loved Me
Wednesday, October 10, 2012, 8:00 p.m., Theater 1, T1
Wednesday, October 24, 2012, 4:30 p.m., Theater 1, T1
Moonraker
Thursday, October 11, 2012, 4:30 p.m., Theater 1, T1
Wednesday, October 24, 2012, 7:30 p.m., Theater 2, T2
For Your Eyes Only
Thursday, October 11, 2012, 8:00 p.m., Theater 1, T1
Thursday, October 25, 2012, 4:30 p.m., Theater 1, T1
Octopussy
Friday, October 12, 2012, 4:00 p.m., Theater 2, T2
Thursday, October 25, 2012, 8:00 p.m., Theater 1, T1
A View to a Kill
Friday, October 12, 2012, 7:00 p.m., Theater 2, T2
Friday, October 26, 2012, 4:30 p.m., Theater 1, T1
The Living Daylights
Saturday, October 13, 2012, 1:15 p.m., Theater 1, T1
Friday, October 26, 2012, 8:00 p.m., Theater 1, T1
Licence to Kill
Saturday, October 13, 2012, 4:30 p.m., Theater 2, T2
Saturday, October 27, 2012, 1:30 p.m., Theater 1, T1
GoldenEye
Saturday, October 13, 2012, 8:00 p.m., Theater 2, T2
Saturday, October 27, 2012, 4:30 p.m., Theater 2, T2
Tomorrow Never Dies
Sunday, October 14, 2012, 5:30 p.m., Theater 2, T2
Saturday, October 27, 2012, 7:30 p.m., Theater 2, T2
The World Is Not Enough
Monday, October 15, 2012, 4:30 p.m., Theater 1, T1
Sunday, October 28, 2012, 2:30 p.m., Theater 1, T1
Die Another Day
Wednesday, October 17, 2012, 4:30 p.m., Theater 1, T1
Sunday, October 28, 2012, 5:30 p.m., Theater 1, T1
Casino Royale
Wednesday, October 17, 2012, 8:00 p.m., Theater 1, T1
Wednesday, October 31, 2012, 4:00 p.m., Theater 1, T1
Quantum of Solace
Thursday, October 18, 2012, 4:00 p.m., Theater 2, T2
Wednesday, October 31, 2012, 8:00 p.m., Theater 1, T1