| | |
| --- | --- |
| | MI6 guest writer Ben Williams reports from the launch of the 50th Anniversary Omega, held today in London... |
50th Anniversary Omega Seamaster Launch
22nd February 2012
Today marked the launch of the special edition Omega Seamaster co-axial 300m to celebrate the fiftieth anniversary of the first screen appearance of James Bond in "Dr. No."
The event took place in Omega's flagship Westfield Stratford boutique, Omega's largest store in Europe. In attendance were Stephen Urquhart, Omega's president; Jean-Claude Monachon, vice-president and head of product development, as well as Oscar winning costume designer Lindy Hemming.

Hemming has not only been responsible for dressing the world's greatest secret agent for more than a decade and over the course of five films, but she was also instrumental in pairing James Bond with the Seamaster - a watch that has, in one guise or another, adorned his wrist since 1995's "Goldeneye".

It was Hemming that brought the Seamaster to the attention of Bond producers Barbara Broccoli and Michael G. Wilson and she championed the use of the watch from the very start.

"I was convinced Bond should wear the Omega Seamaster watch. I pushed for it," she said. "I had known people in the military and the Navy who all swore by their Omega. Therefore, as one of the early tasks of designing the new Bond, Pierce Brosnan, I went to a props meeting and argued for the use of the Omega."


Above: 50th Anniversary Omega Seamaster.
At the launch, Hemming stated that she felt passionately that the Seamaster encapsulated the essence of what Bond stood for and believed it was exactly the watch that Bond would choose for himself, saying: "I was convinced that Commander Bond, a Naval man, a diver, and a discreet gentleman of the world, would wear this watch as opposed to the one everyone expected me to use."
Hemming also revealed that she partly chose the watch because she felt that the blue face of the watch particularly suited Pierce Brosnan, and Bond in general. "Bond looks good in blue," she said. "A midnight blue tuxedo, the blue of the uniform...it says British class."
She went on to say that when designing for a character, one must always first look to what suits their physicality. "Pierce Brosnan and Daniel Craig couldn't be more different physically," she noted. "Pierce was tall, slim and lithe, whereas Daniel Craig is more of a panther of bounding energy". With Brosnan, Hemming emphasized the tailoring, whilst when designing for Craig, Hemming looked to emphasize his physicality by slimming and pairing down his wardrobe. "I wanted him to look like he was exploding out of his clothes," said Hemming.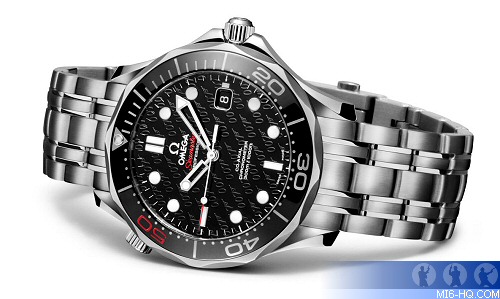 Whilst she considers both men to be very different in their approach, she stated that both actors have brought something unique to the role and each reflect different elements of the same character. Omega president Stephen Urquhart was clearly honoured to be a part of the enduring legacy of the Bond films, stating that: "we felt that this watch should represent something that Bond used everyday and incorporated into his lifestyle." Urquhart was also adamant that the relationship between Omega and Bond is more than mere product placement, making the distinction between an official sponsorship and that of their partnership with the Bond franchise. For instance, he explained that when Omega first approached Daniel Craig, he was initially reticent to become an ambassador, however, they were able to convince him that this was not merely about promotion. Craig has since been involved with raising awareness of preventable blindness via the Omega sponsored ORBIS Flying Eye hospital.
According to Jean-Claude Monachon, the anniversary special edition has been in development for fourteen months. Whilst this may seem like a long time, there have been particularly unique design elements to the two variants of the watch. For instance, the case back of the watch features the iconic gun barrel, the iris of which is a small pane of non-reflective sapphire crystal, through which can be seen a specially designed "bullet". Designed to look like the rear brass and percussion cap of a cartridge, this bullet is attached to the movement and can be seen to rotate through the window.
The anniversary Seamaster will be released in two sizes, a 41mm and a 36.25mm, and released in strictly limited numbers. The Larger watch will have a run of 11,007 pieces and the smaller a run of just 3,007.
The stainless steel watches feature a unidirectional, ceramic bezel and on each watch the number 50 on the diving scales will be coloured in red as a reminder of this very special year for Bond. The smaller, 36.25mm variant will also feature a small diamond in place of the 7 o'clock index marker in reference to Bond's "double oh" number.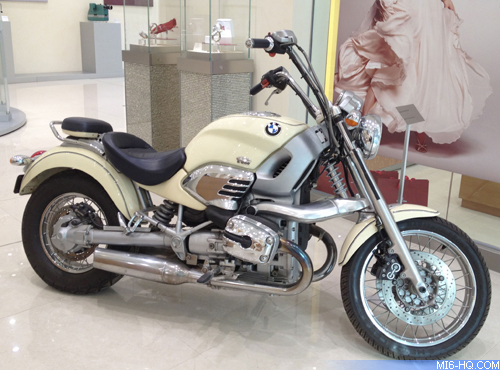 As if all this weren't enough to delight Bond fans, there was also a display of memorabilia from the James Bond films, featuring such items as Rosa Klebb's deadly spiked shoe, Scaramanga's golden gun, Jaws' metal gnashers and the Faberge egg from "Octopussy" (although we're not sure if it's the original or the fake.) There are many more props, including the Parahawk from "The World Is Not Enough" and the BMW R1200 motorcycle from "Tomorrow Never Dies".
These items will be on public display for an extremely limited time, just three days, with the exhibition closing on the 24th of February, so get your skates on.
As yet there is no official word on the choice of watch for Bond in "Skyfall", although rumours persist that it will be an Omega Titanium Planet Ocean with a blue face. Until then, Bond fans and collectors will be able to delight in this rather special anniversary timepiece.
Related Articles
Omega 50th Anniversary Watch Preview