| | |
| --- | --- |
| | The Battle For Bond author Robert Sellers will host a Q&A and digital screening of Thunderball in Sheffield, UK, on Saturday 31st October 2009... |
Thunderball In Sheffield
2nd October 2009
Robert Sellers will be discussing his controversial and explosive best seller The Battle for Bond in which he argues that the screen version of James Bond was not Ian Fleming's creation alone.

The Battle for Bond is probably the most important book ever published about the evolution of James Bond and this event is a must for all fans of 007. The talk and audience Q&A will be followed by a screening of the new digital print of the classic Bond film Thunderball. This will be the first screening of this print outside of London!

MI6 caught up with author Robert Sellers to preview the event: "I'm thrilled to be a part of Sheffield's 'Off the Shelf' literary festival and to talk at length about my book 'Battle for Bond,' how it came about, my research and the discovery of rare documents and photographs, the largely positive reaction of fans to it, the problems we had with the Fleming Trust and the resulting banning of the book and it's subsequent resurrection."

"It's odd to think that this book is now all tied up with the history of Thunderball, a small footnote admittedly, but a great thrill nonetheless."


Above: Front cover artwork

Order Amazon UK (Paperback)
Pre-Order Amazon USA (Paperback)

"I'm also going to enjoy taking questions from the audience. For so many years I've been in the audience listening to the experts, so being on the other side now is something I'm still not used to. Above everything I'm still a Bond fan, geek, nerd, whatever you want to call it, and always will be."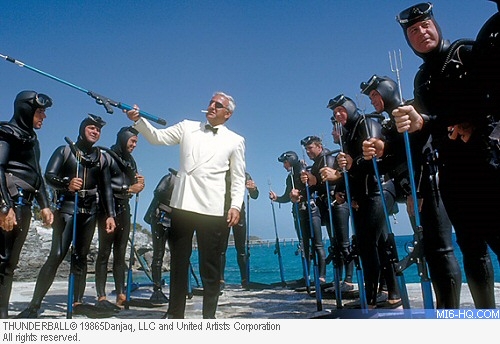 "The best part of the evening, however, will be the screening of Thunderball. The digital print, no less, which I saw recently in London and it was an absolute joy. Thunderball is without a doubt the Bond film that benefits best from being seen on a large screen. Also, this is the first opportunity for 'them up North' to see this print, as I believe it hasn't been shown outside of London for decades. So it's a rare chance to see this film in all its big screen glory."

"I'll also be happy to sign any copies of 'Battle for Bond,' as will Sylvan Mason Whittingham, the daughter of Thunderball screenwriter Jack Whittingham, who plans to be at the event. So, any Bond fans in Sheffield, or places nearby like Leeds (my hometown), I hope to see you there."
The event is part of 'Off the Shelf 2009' Sheffield's annual literature festival and will take place at the Showroom Cinema, Sheffield, on Saturday 31 October at 5pm and will last 165 mins. Tickets £6/£4 (cons) from The Showroom. Tel 0114 275 7727
Related Articles

Battle For Bond - Extract

Battle For Bond (V2) - Preview

Battle For Bond (V1) - Preview