| | |
| --- | --- |
| | MI6's Canadian Correspondent, Luds attended the "Vue sur Bond 007" event in Quebec. |
Vue Sur Bond 007 Event Report - Day Two
11th March 2006
I woke up on Saturday morning and still couldn't believe what had just happened. I realized that meeting Sir Roger Moore was a once in a lifetime opportunity, especially for someone who lives in North America. There are rarely any 007 related events in this part of the world.

After a delicious breakfast buffet, the long bus ride to the mall felt much longer. The incertitude about getting there on time and securing my tickets for Thunderball was unbearable. However, an hour later, I had my tickets and was enjoying another fantastic 007 adventure, which marvelled the audience again.

Many younger fans couldn't believe the quality of the underwater sequences, given that it was filmed in the 60's. The next movie in line was The Man With The Golden Gun. Some may think that it would bring the smallest crowd but quite the opposite! It was a Saturday, and there was a Q&A with Britt Ekland and Guy Hamilton before the movie. Again, I was lucky enough to ask them a question.

Right: Britt Ekland
To Guy Hamilton, I asked if he could give the fans an interesting anecdote about working with both Sir Sean Connery and Moore as he had the chance to direct films with both stars. Unfortunately, Mr Hamilton misinterpreted my question and thought that I was asking for a comparison between the actors, a question that he has been asked for the last 30 years! "I have no answer for it. There are no simple answers so I'm not going to try to give one." He explained that both men were very professional and had their own strengths.
I then asked Miss Ekland how Roger Moore ranked as a leading man for her compared to other leads. As she raised the index finger from her left hand, she answered: "Number 1! Roger Moore is very, very, very good! Roger Moore is the perfect leading man!" To which Guy Hamilton added: "Roger Moore is just too nice – it's bloody unbelievable!" Both then explained how they felt that Roger Moore was a perfect gentleman and a real pleasure to work with. Another young fan asked Guy Hamilton why he turned down the opportunity to direct Doctor No. Hamilton explained that it wasn't because he didn't like the script or anything of that nature, he simply couldn't do it for personal reasons, but was delighted when Cubby asked him to direct Goldfinger. Another fan asked why many unknowns were cast as Bond girls. Hamilton explained: "You'll have a hard time finding a director willing to waste money on the girls instead of spending it on other costly things like special effects and stunts." He then explained that more obscure leading ladies save money and are perfectly capable to portray the parts.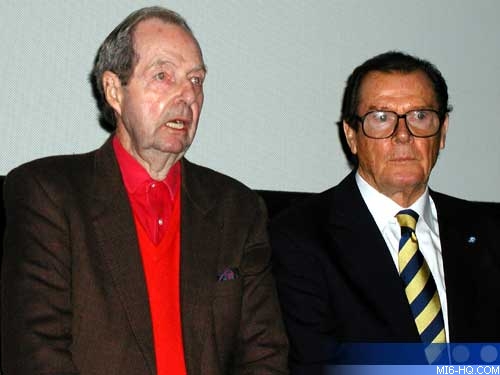 So with the largest crowd so far, I thought that the fairly unpopular movie (by many dedicated Bond fans' standards) wouldn't get as positive a reaction as the Connery movies, but I was wrong. Maybe it was because fans had the chance to meet Britt Ekland beforehand, but the crowd was overwhelmingly favourable towards the movie. To my surprise, Sheriff J. W. Pepper received positive crowd reactions after every line. It seems that the casual Bond fan enjoys this type of character, much more than the average Bond fanatic, who seems to get annoyed by typical "comic relief" characters…
I chose to attend these two movies instead of the ski competition. My skiing skills have probably left me as I haven't practiced for over a decade. The "Vue sur Bond 007" ski competition at Mont Saint-Anne looked interesting: Teams of 4 skiers would have to compete in special trails, filled with modules and jumps, as "shooters" would ambush the "agents".



Orchestral Bond

I had mixed feelings about leaving the mall after The Man With The Golden Gun. I would have to miss the screenings of You Only Live Twice and On Her Majesty's Secret Services (one of my favourites)! However, I had to leave to the Quebec Grand Theatre in order to attend the "Vue sur Bond 007" orchestra show.

The show started with an edited version of the "Saltzman: Showman" documentary – which can be found on the From Russia With Love DVD. Following the documentary, three giant screens would show montages and entire scenes from the 007 movies while the orchestra delivered live music.
The performances started with an instrumental version of From Russia With Love, followed by Goldfinger. Other instrumental pieces played were: Thunderball, The James Bond Theme, We have all the Time in the World. As soon as fans heard the first few notes of Goldfinger, there was an overwhelming applause, so overwhelming indeed that Dame Shirley Bassey missed her cue and had to apologise to the crowd and ask Nic Raine to restart the performance!
The next piece was quite interesting: the Ice Bandit Chase from The World Is Not Enough, where Bond and Elektra King escape the avalanche with Bond's inflatable jacket. The scene was played in its entirety with the live orchestra music. Similar sequences with the live orchestral music such as the Dawn Raid at Fort Knox sequence from Goldfinger, the Ride to Atlantis and The Tanker from The Spy Who Loved Me, the Ski Chase from On Her Majesty's Secret Service (which was astonishing), and the Tank chase through St. Petersburg from GoldenEye.
Various stars performed the Bond themes, including rocker Nanette Workman (Nobody Does It Better and Tomorrow Never Dies), Canadian Idol 2003 contestant Audrey de Montigny (For Your Eyes Only and All Time High), pianist Steve Barakatt (Live And Let Die), and Dawn Tyler Watson (Licence to Kill and GoldenEye). The final piece was Dame Bassey's Diamonds Are Forever. Sir Roger Moore came on stage and addressed the crowd at the end of the show, explaining how he got involved with UNICEF and that he thanked all of us for our support.
In conclusion, I can't say that I was disappointed to miss the showing of On Her Majesty's Secret Services as I had the pleasure to listen to Dame Shirley Bassey's powerful voice for the first, and probably the last time. The entire event was an absolute delight. The highlight of course was talking to Sir Roger Moore. I would like to thank all the stars who attended the event, Hilary Saltzman for organizing the event, and EON productions for allowing fans to witness 007 on the big screen and during the music show.
It truly was a brilliant weekend away!
Related Articles

Vue Sur Bond 007 - Event Preview

Hilary Saltzman - Interview

Vue Sur Bond 007 - Event Report - Day One
The views and opinions expressed by this author are not necessarily the views and opinions of mi6-hq.com. Thanks to Luds, Hilary Saltzman & Geneviève de Montigny for their assistance.