007 Walk of Fame
2nd August 2015
The 007 Walk of Fame opened at Piz Gloria this weekend to celebrate the cast and crew of 'O.H.M.S.S.'
By MI6 Staff
---
On Saturday 1st August 2015, a new visitor attraction opened to the public at the summit of the Schilthorn in the Swiss Alps.
The local lift company Schilthorn Cableway has installed a themed trail, the 007 Walk of Fame, as a homage to the cast and crew members involved in the making of 'On Her Majesty's Secret Service.' The classic Bond movie starring George Lazenby was filmed in and around Murren-Schilthorn in 1968.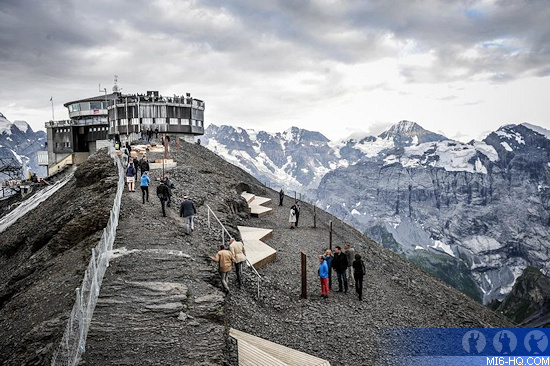 The trail comprises a series of plaques, each one featuring a key person involved in the making of the film. Every plaque bears a photograph, signature and handprint, along with a personal message or memory about the film and the shoot at Murren-Schilthorn.
Each year scores of Bond fans flock to the Piz Gloria, the circular glass and steel building at the Schilthorn's summit, which served as arch Bond-villain Blofeld's lair in the movie. As well as the stunning 360 degree views from the terrace and the revolving restaurant inside, visitors can experience the BOND WORLD 007 attraction, which opened in 2012 and can be visited at no extra cost.
Get Bond in Your Inbox
Sign up for occasional email updates from MI6. Get notified of breaking Bond news, and digests of recently releases features:
Share The Story