The Private Life of James Bond
11th September 2014
Shortly after 'Goldfinger' opened in UK cinemas, American newspapers published a profile piece on Sean Connery and his wife
By MI6 Staff
---
Sean Connery - The Private Life of the Amazing 'James Bond' - 2nd August 1964 (Eugene Register-Guard)
Shortly after 'Goldfinger' opened in UK cinemas, reporter Robert Peel interviewed Sean Connery and his wife Diane Cilento for a profile piece published in American newspapers.
In the spring of 1962, a tall, brown-eyed man with a ruggedly handsome face and a powerful build stood a lonely vigil below the Rock of Gibraltar. He was waiting for his fiancee to arrive from Algerciras, on the opposite side of the straits, for their wedding.
As the ferry pulled up, passengers fanned out onto the mainland. But his fiancee was not among them, and the handsome Scotsman began to think that perhaps his luck in his personal life was no better than in his career.
The man's name was Sean Connery, now better known as James Bond of Ian Fleming's 'Dr. No,' 'From Russia With Love,' and 'Goldfinger.' And the girl for whom he waited was Diane Cilento, even then a leading actress in England though not well known in the U.S. till she won an Academy Award nomination for her role as Molly in 'Tom Jones.'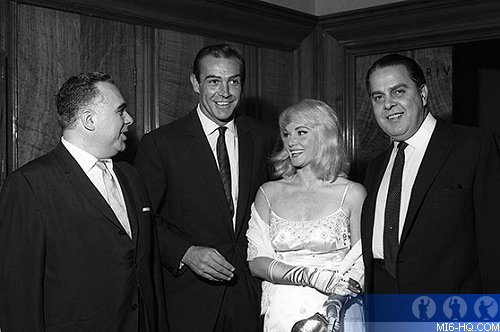 For three agonizing hours Sean paced up and down the Gibraltar wharf until another ferry docked. This time Diane was on it, but their problems had only begun.
Diane, and Australian citizen, had to enter Gibraltar from Algerciras "because there was some kind of mix-up with my papers," she recalled when I talked to her on the eve of her departure to costar with Charlton Heston and Rex Harrison in 'The Agony and the Ecstasy.'
"When I tried to get on the first ferry, so many people crowded ahead of me that I never made it. I was luckier with the next boat, but when I finally met Sean and we got to the office of the judge who was to perform the ceremony, he was in the middle of a case. The two English soldiers Sean had secured as witnesses couldn't wait as they had to report back to duty.
"Sean when out and found a couple of natives who couldn't understand us any better than we understood them. Sean pantomimed our intentions by putting a ring on my finger, and they finally understood and agreed to be witnesses. But the papers had to be signed by someone who spoke English, so we went to a nearby milk bottling works and waited around until we located two people."
On the surface, few husbands and wives seem less suited to each other than Sean Connery and Diane Cilento, who met when the did 'Anna Christie' together for the BBC.
Connery was born 33 years ago in Edinburgh, where his father worked as a truck driver. But he resents any reference to his "underprivileged" childhood.
"We were a lot better off than most people," he insists. "Some people think I'm either too dull or too serious because I don't like to talk much about myself, but I don't like phoniness, and overemphasizing my early life would be just that." The fact remains that the Connerys lived in a tenement district of Edinburgh, four of them in two rooms with one cold-water tap. One of the rooms was a kitchen which doubled as a bedroom for Sean and his brother.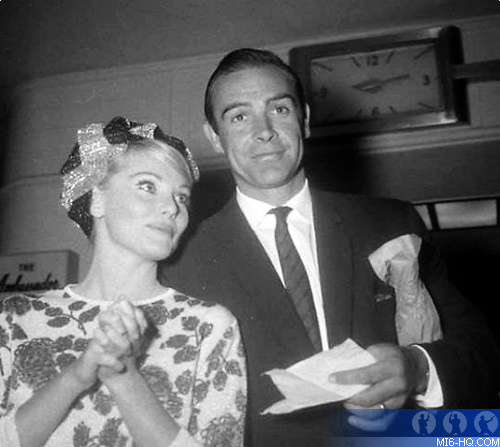 Connery got his first job at nine, and after his school years went to work in a succession of jobs that required plenty of stamina - cement mixer, steel bender, lifeguard, and even coffin polisher.
His first serious interest was commercial art. He became a model to pay for his lessons and showed some promise. A fortuitous event, however, shifted him into show business. He was on a holiday in London when he ran into a friend who was in the chorus of the musical, ,'South Pacific.' The friend suggested Sean try out for the show since one of the boys in the cast had just left. Pretending to be an experienced performer, Connery talked himself into the vacancy, then spent the next 48 hours taking intensive private dancing lessons.
After 18 months in 'South Pacific,' Connery decided to make show business his profession "because it's probably the only type of work where there is very little authority. If you louse it up, you're out - that's true. But at least you're independent."
Connery wanted more than chorus work, so he took a cut in salary to join a small suburban London repertory company. There he earned barely enough for subsistence but had the chance to do new dramatic roles every week. He finally appeared in half a dozen films, but none made much of an impact until he was chosen by the readers of the London Express as the ideal actor to portray James Bond, Agent 007.
On the other hand, Sean's wife Diane Cilento comes not only from the opposite side of the world but a completely different social level.
Diane has green eyes, corn-gold hair, and describes herself as "35-23-35 - I think." She was born in New Guinea in 1934, and her family is dedicated to the medical profession. Her father, Sir Rafael Cilento, who is of Italian descent, was knighted for his services in the field of tropical medicine. Her mother had a busy practice as a gynecologist. All her brothers and sisters, except one, are doctors. Her famous ancestors on her father's side include an Italian relative was who hanged by Lord Nelson for starting an uprising when Nelson was governor of Naples, and a grandfather on her mother's side, Charles McGlew, who discovered the first tin and copper deposits in Australia.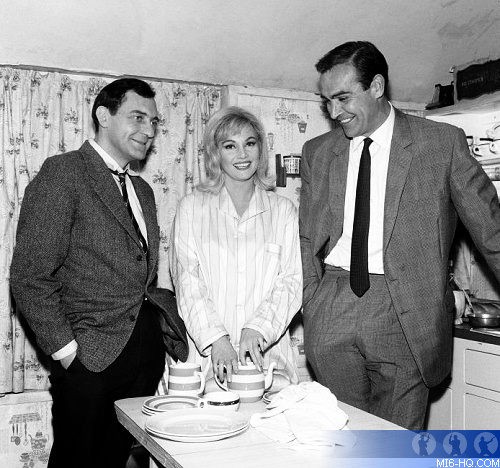 Diane's family moved to Queensland, Australia, when she was six. And when she was 14, her father was sent to the United Nations in New York. She studied at the American Academy of Dramatic Arts and won a scholarship to the Royal Academy of Dramatic Arts in London. Since then, she has appeared in more than 100 play s and innumerable movies and TV shows.
Even though Diane could have relied on her father for financial support, she was aggressively independent, "I insisted on subsidizing my fees with spare-time work," she told me. "But to be honest, I never starved. The greatest struggle I ever had was when I was a student at the Royal Academy. I made about $12 a week working in a wine shop and later $13 a week selling jigsaw puzzles at a circus. Once in a while I skipped a meal, but that's no great sacrifice when you're as young as I was then."
Sean has a tendency to take things seriously, maybe too seriously. His sense of humour is crisp, sometimes acid. His distrust of people often borders on contempt.
His resentment against authority was evident even in his teens. He joined the Royal Navy when only 15 "because I had some romantic notion about what it would be like to sail around the world. Actually I never got any farther than the Mediterranean, and then didn't go ashore," Sean told me.
He still has two reminders of his service: a tattoo on each forearm, one saying "Mum and Dad" and other, "Scotland Forever." He had signed up for seven years but was through after three. "I was temperamentally unsuited for the service," Sean admitted. "I disliked the authority to the extent that I got ulcers and a medical discharge. I considered my three years in the Navy a waste of time and energy!"
Connery readily admits that his enormous temper used to get him into trouble. Looking at his powerfully built, 6-foot-2-inch frame and tremendous hands, I could imagine what would happen to the recipient of his anger. "But I don't lose my temper very often any more, although I still get upset at little things."
Because of their contrasting backgrounds and upbringing, the Connerys' approach to life is quite different. Sean is sober, sensitive, reserved. Diane is outspoken, vivacious, the practical joker, who once was expelled from the Royal Academy of Dramatic Arts for bringing a couple of bottles of wine into the school.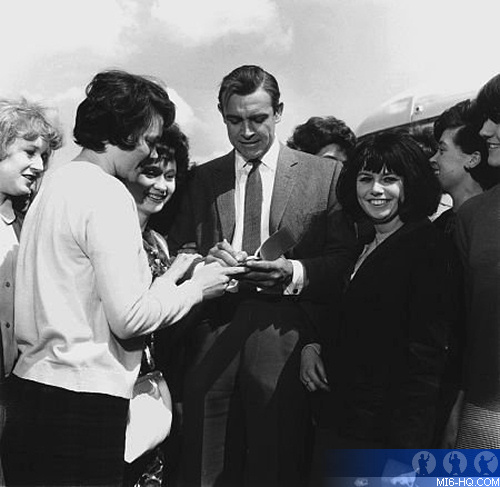 Connery's idea of fun and relaxation is typified by his preference for motorcycles, Levi's, and black-leather jackets.
"When I lived in Scotland, we used to go on weekend outings and sleep on the beach," he said. For quite a while, he continued to ride back and forth to work on his motorcycle.
Sean's favorite pastime is golf. When he came to Hollywood for Alfred Hitchcock's
'Marnie,' he found it too bothersome to pack his golf clubs. Instead, he plunked down $2,000 on a clubhouse counter one morning and told the pro to get all the necessary equipment.
While Connery enjoys spending money - which is not surprising, considering he has had it only a short time - he refused to comply with such customary Hollywood status symbols as a chauffeured limousine offered him by the studio. "I used to be a truck driver," he commented. "What would I be doing with a chauffeur?"
About a year ago, Sean and Diane bought an old, four-story Spanish convent called the Adortrice in a suburb of London. "I did a lot of work on it myself," Sean told me. "I broke through several walls to make a huge living room out of what used to be the chapel and reception room. It has about three-quarters of an acre of grounds, which gives ample play room for our children to romp." The Connerys have a girl, Giovanna, 7, by Diane's first marriage to an Italian writer, and a son Jason, who is 18 months old.
A couple of years ago, Sean was so discouraged with his career that he considered giving it up. Actor Stephen Boyd, a close friend of the Connerys, told me, "Only Diane's father in him prevented Sean from capitulating and going into another profession."
Today Sean's agents demand - and get - $400,000 for his services.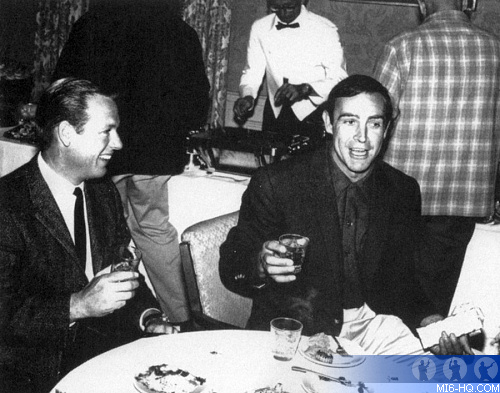 Sean's own independence was evident when he refused to accept the lead in 'Marnie' until he read the script. "Even Cary Grant doesn't ask to read a Hitchcock script," he was told.
"Well, I'm not Cary Grant," Connery snapped back. "If you want me in the movie, send me a script." They did.
"There's only one thing I still want," Sean insists today. "To costar in a film with my wife."
With these two fascinating, talented performers, such a film would be a sure hit.
You Might Also Like
Goldfinger
Auric Goldfinger selected the perfect cocktail to share with James Bond at his Kentucky stud farm
Collecting
Take a look back at the US front of house marketing campaign for 'Goldfinger'
---