"The DB5 was part of my boyhood, my generation's boyhood."
-Sam Mendes, Director of "Skyfall"
Classy, seductive, and timeless. These are three words that can be used to describe not only a certain legendary secret agent, but the Aston Martin car brand itself. Founded in 1913, the Aston Martin Company has continued to produce a brand of quality sports car that not only defines elegance and sophistication, but can instantly usher us back to a time and place where ejector seats, headlight guns, and jet packs are the norm. What better time than its 100th anniversary year to put ourselves into top gear, and take a look back at the unique and mutually beneficial relationship between James Bond and his favorite car!
In the James Bond franchise as a whole, sophisticated and gadget laden cars are so common place that it's not that hard to take them for granted. But, with the first film appearance of the Aston Martin DB5 in 1964's "Goldfinger" the die was cast and its tire tracks have long since embedded themselves in pop culture. From movies, television, literature, and even video games it's hard not to escape its enormous influence.

However, as you might expect, all roads lead us back to the mind and pages of Ian Fleming. Like its film counterpart, the Aston Martin also made its first appearance in print in Fleming's 1959 novel "Goldfinger." But, the way 007 acquires it is not under the most convenient of circumstances. With the mission at hand, Bond's beloved Bentley has been taken from him by MI6, and he has the "hardship" of choosing between an Aston Martin DB Mark III or a Jaguar 3.4 from the auto pool. Fleming goes on to write:
"He had taken the D.B. III. Either of the cars would have suited his cover - a well-to-do, rather adventurous young man with a taste for the good, the fast things of life. But the D.B. III had the advantage of an up-to-date triptyque, an inconspicuous colour- battleship grey - and certain extras which might or might not come in handy..."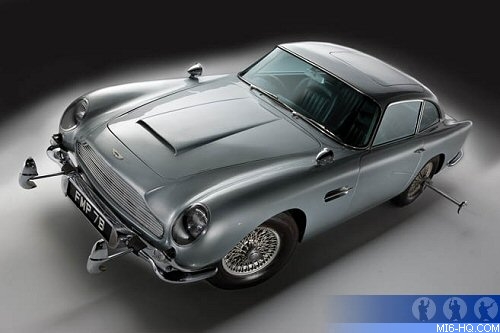 Above: Aston Martin DB5 as auctioned in 2010.

Certain extras indeed! One of the main differences between the Bond stories of the page and screen is how little Fleming relies on gadgets to get 007 out of scrapes. However, in the following passage Fleming gives us a description of the gadget laden Mark III, and, in the process, planted the seeds of what was to lay in store for the venerable film franchise:
"These included switches to alter the type and colour of Bond's front and rear lights if he was following or being followed at night, reinforced steel bumpers, fore and aft, in case he needed to ram, a long-barreled Colt .45 in a trick compartment under the driver's seat, a radio pick-up tuned to receive an apparatus called the Homer, and plenty of concealed space that would fox most customs men."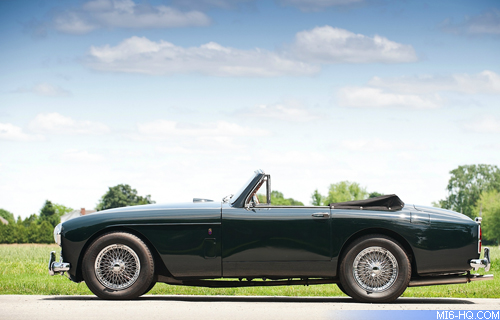 Above: Aston Martin DB Mark III.
While not as extravagant as the film adaptation's car gadgets, these passages helped to captivate readers and elevate the novel and the Mark III to new heights of popularity. Curiously, what slips by most people is the fact that the Mark III used in the novel is an earlier model than the iconic DB5 that Sean Connery drove. In fact, where it gets even more confusing is that while Fleming refers to the car as a DB III throughout the book, that moniker actually belongs to a previous Aston Martin racing car; one that would be unsuitable for 007. Based on Fleming's description of the car, it's easy to assume he intended it to be the Mark III.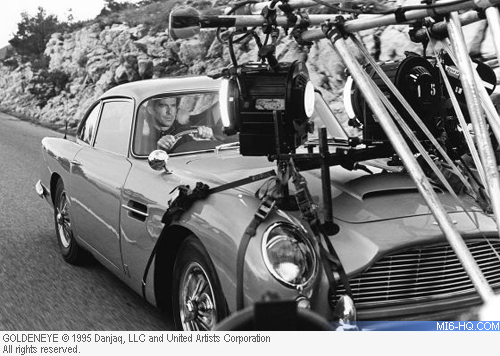 Above: Brosnan behind the wheel of the DB5 for "GoldenEye" in a sequences that marked the first time it had appeared in a Bond film since "Thunderball".
Surprisingly, for such an influential model, only 1,059 DB5s were built from 1963-1966. But, that certainly hasn't stopped the filmmakers and the car company from collaborating on eleven of the twenty-three Bond film adventures. Other movies ranging from "On Her Majesty's Secret Service" to "Quantum of Solace" have featured the brand's newer models the DBS, DB9, Vanquish, and the Vantage Volante.  However, like with some romances, the producers have had occasional forays with other car brands including Audi, BMW, Ford, and Lotus. But, inevitably, the Aston Martin and 007 always seem to find each other paired once more on the silver screen.

Above: "M" (Judi Dench) and 007 (Daniel Craig) on location in Scotland with the iconic "Goldfinger" Aston, as it makes its loveable but anachronistic cameo in "Skyfall".

No better example of this can be found than in 2012. The DB5 had made a brief re-appearance in 2006's "Casino Royale" after Bond wins it in a card game. But it took "Skyfall" to pull out all the stops and make a splash with the car once again, albeit calling into question the retcon timeline established by "Casino Royale" (2006). On the run from Silva, Bond and M make their way to a garage where the original "Goldfinger" DB5 is waiting, just as we remembered it, to whisk them away to the safety of Scotland. With a hint of the "James Bond Theme" in tow, it's not hard to imagine why there are numerous accounts of it being greeted with ecstatic cheers at its big reveal. A sly nod to the past is even given with this bit of amusing dialogue between the two as Bond drives:

M: It's not very comfortable, is it? 
007: Are you going to complain all the way? 
M: Oh, go on, then, eject me. See if I care.

The fact that Bond keeps his own personal car installed with an ejector seat is beside the point. What really matters is that after all these years the DB5 and, most importantly, Aston Martin still has the ability to excite the public in a way that is unlike any modern car today. If further proof is needed, take into account the fact that an authentic DB5 used in "Goldfinger" sold at a 2010 auction for $4.6 million.
In the end, it's only natural that 007 and Aston Martin are celebrating their own respective anniversaries so close together. In many ways, the brand has become just as famous and important as 007, and it's hard to picture the two without each other. Whether James Bond contributed to the car's success or vice versa is a moot point. Aston Martins seemingly exist to remind us that there will always be a need for fast cars, the good life, and the occasional vodka martini. With that in mind, here's to the next 100 years!