| | |
| --- | --- |
| | MI6 steps back in time to 1965 to witness the first wave of James Bond toys and merchandise that took the world by storm... |
Time Tunnel: The Bond Market
4th October 2007
Dedicated James Bond fans have been hoarding 007-themed goodies for the last four decades, but when did 007 first infiltrate the boxes under the Christmas tree? MI6 steps back in time to investigate exactly how the Bond phenomenon hit the shelves.
1964 sees Goldfinger rush headlong into theatres across the globe and for many at the time, the third Bond picture dispels the false cynicism that 007 is simply a passing fancy. It is this point that Bond merchandise is beginning to flood the stores and there is simply no looking back for 007! In February 1965, Time Magazine reported on the global phenomenon.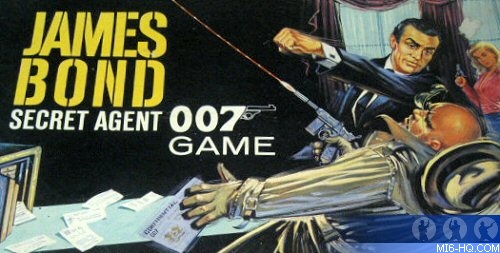 Above: "James Bond Secret Agent 007 Game" by Milton Bradley, released in 1964
James Bond has broken up some ambitious conspiracies in his time, but none quite so devilishly capable of realization as the one he is involved in right now. As a man of action and the good life, the dashing secret agent created by Ian Fleming has grown so popular, through twelve books and three movies, that entrepreneurs in some 70 countries are moving in to make a profit on his reputation.
From London to Los Angeles
Everything from suits and trenchcoats to cuff links and toiletries is going on sale under the James Bond label of 007—the digits that authorize Bond to kill. In Britain, where the Bond market will reach $14 million this year, promoters have lined up 20 licensed manufacturers for shoes, vodka and golf equipment, are now negotiating with one of London's largest tailors. In Italy, while philosophers ponder the meaning of Bond as the modern hero, the manufacturers are trying to grab licenses for 007 products.

Berettas & Bedsheets
In one of the greatest promotional drives ever staged, 3,500 stores throughout France will soon pack counters and racks with Bond-inspired goods. Last week Galeries Lafayette department store in Paris opened a special Bond Boutique featuring gold-colored mannequins and 007 clothing and jewelry. After a market study found Bond France's top "identification phenomenon" with men 30 to 35 years old, 14 manufacturers obtained licenses to use the 007 label. A Frenchman can put on 007 pajamas and slide in between James Bond bedsheets; he can also buy the woman in his life gold-colored underwear, an 007 negligee or a short Secret Agent Baby Doll nightie.

The U.S. is marked as the biggest target of all. Colgate-Palmolive is test-marketing an 007 line of men's toiletries "that make any man dangerous."






In May, Revere Knitting Mills will bring out knit shirts with the numerals 007 embroidered on them. Spatz Bros, of New York is making a new 007 trench-coat with secret pockets, throws a plastic Beretta into the bargain. Weldon Manufacturing is planning his and hers pajamas with secret pockets, and Harry Diamond Corp. is making 007 swimsuits and sports shirts. Angostura Bitters has begun pushing an 007 drink—gin or vodka with lemon juice, sugar, soda and two dashes of bitters—served, naturally, in a Baccarat highball glass. . For younger Bondsmen, Multiple Products plans to market a toy attache case, complete with a four-piece toy sniper rifle, plastic dagger, decoding machine and a "searchproof" lock that, if tampered with, triggers a cap-firing device. Last week Roulette released a new rock'n'roll recording, Double-O-Seven, the lament of a young man whose "baby went and fell in love with Double-OSeven."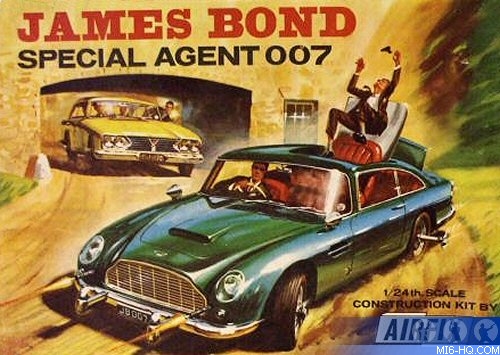 Above: Airfix 1/24 scale construction kit of James Bond's gadget-festooned Aston Martin DB5, first available in 1967
Sharp Eye
The mastermind of this international conspiracy is Mervyn Brodie, 42, a Briton who wears Savile Row suits in the Bond manner but has a sharper eye than Bond for figures—profit figures. An avid reader of Bond, he got the idea for using him commercially, persuaded the movie producers and the two companies that own the rights to the Fleming books to go along in return for a share of the royalties. Brodie plans to use the Bond image to attract nearly all age groups. He figures that young fans, the six-twelve group (whose sizes are labeled 0031), buy the toys and clothes because of Bond's way with guns and fast cars. The older fans, called the "kiss-kiss" group, are sold by the suave man-of-the-world Bond. So far, Brodie has been too busy to figure out how to exploit Chitty-Chitty-Bang-Bang, Ian Fleming's Bond-like book for children. Give him time.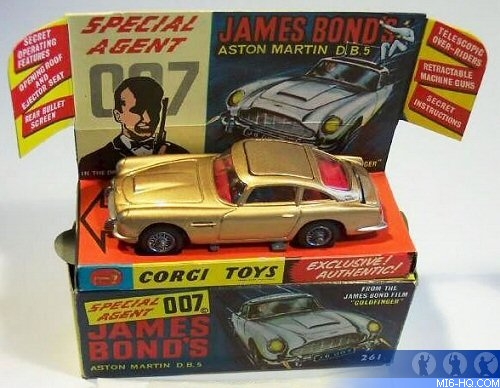 Above: Corgi's first 007-licenced product was the James Bond Aston Martin DB5 first issued in 1965. It features a rear bulletproof shield this springs up into position from the rear boot lid, an ejector seat that fires the passenger through the opening sunroof and machine guns that emerge from the front indicators. The model also came with a Secret Instructions envelope containing a spare ejector seat baddie, secret instructions leaflets and a 007 lapel badge.
40 years later and nothing has changed. 007 has a worldwide following and fans are prepared to part with their top dollar to have a slice of James Bond merchandise. When Casino Royale hit the theatres in 2006, poker kits, DVD sets, collecting cards, sunglasses and even laptop computers were in hot demand. It seems that everything Bond touches turns to gold.
Related Articles

James Bond Time Tunnel

Collecting Articles