| | |
| --- | --- |
| | MI6 trawls the archives to see how critics of the day received the 40th anniversary 007 outing, "Die Another Day"... |
Time Tunnel: Review Rewind
21st March 2010
Variety - 15th November 2002
James Bond celebrates his 40th birthday on the bigscreen in "Die Another Day," a midrange series entry that sports some tasty scenes, mostly in the first half, but also pushes 007 into CGI-driven, quasi-sci-fi territory that feels like a betrayal of what the franchise has always been about. A gargantuan marketing push, along with public curiosity about the heavily stressed Pierce Brosnan/Halle Berry pairing, looks to ensure killer B.O. worldwide for this 20th "official" Bond entry.
That producers Michael G. Wilson and Barbara Broccoli and director Lee Tamahori intend to introduce a few new wrinkles to the time-tested formula is apparent even from the opening credits sequence, which departs from the norm by mixing visual narrative elements in with the usual abstracted and gyrating female forms. What it shows are glimpses of Bond being tortured under incarceration by the North Koreans, who, in the arresting action prologue, succeed in capturing the secret agent after he infiltrates a Communist camp in the demilitarized zone and, his cover blown during an attempted trade of diamonds for weapons, engages a hot-headed colonel in a wild chase aboard heavily armed hovercrafts.

Fourteen months later, Bond is still imprisoned, with long locks and scraggly beard that makes him look like a young Alan Bates auditioning to play Jesus. That Bond finally gets out is no credit to him, as he's released in a prisoner exchange, and while the "Castaway" look results in a good laugh when the bedraggled former prisoner strides in among all the swells at the Hong Kong Yacht Club and asks for a room, the net effect of the entire interlude is unsettling, at least for Bond veterans of long-standing; while it's daily routine for Bond to be thrown into immediate jeopardy, never in memory has the character effectively been neutralized, or put in a similar position of not being able to control his own fate.

The process of neutering Bond is completed by M (Judi Dench, of course) when she rescinds his license to kill and informs him that, since he's suspected of having broken under interrogation (conducted under the effects of scorpion venom), "You're of no use to anyone now."




Intent to track down the North Koreans' contact in the West, Bond, operating on his own, heads for Cuba, where he encounters not only Zao (Rick Yune), a fearsome terrorist whose face Bond bizarrely disfigured with little diamonds during the fracas in the demilitarized zone, but the stunning Jinx (Berry). Bikini-attired and sporting a knife belt, latter arises from the surf in a deliberate replay of Ursula Andress' unforgettable entrance in "Dr. No" four decades back and strides right up to a waiting Bond, who, from the available evidence, hasn't enjoyed the pleasure of female company in well over a year. Nothing can keep the brakes on these two, but after a night of passion it becomes clear that Jinx is after Zao, too, on behalf on the Americans' National Security Agency.
Pic hits its stride for a time back in London with the entrance (via parasail over Buckingham Palace) of the central villain. Young, handsome and outrageously wealthy, Gustav Graves (Toby Stephens) passes himself off as a businessman to whom success just comes naturally, but his snide arrogance betrays his true identity as yet another in a long line of Bond adversaries who wants to dominate the world.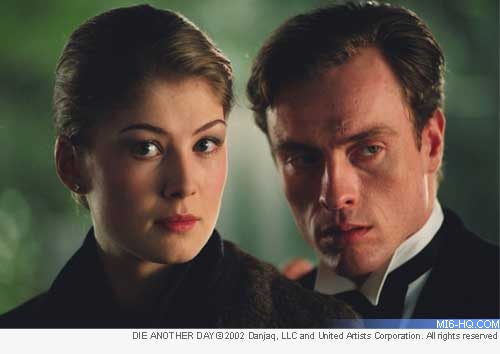 Above: Graves reveals his secret weapon... Miranda Frost, the MI6 double agent.
Adding to the sinister stature of his character, Stephens contributes a measure of prepossessing physicality and aristocratic personal grit that makes Graves one of Bond's most worthy adversaries in a long time (Stephens is the son of Maggie Smith and the late Robert Stephens). Fact that the two men seem so equally matched is used to great advantage in an excellent extended sequence, probably the film's best, in which the very competitive gents face off in a sporting duel at an elegant fencing club, only to have the battle escalate to murderous levels as they pursue one another all over the premises. In a film overloaded with relatively routine and undifferentiated gunplay, the blood, sweat and muscle involved in this genuinely exciting combat are gratifyingly reminiscent of the most intense of all mano a mano Bond fights, that between Sean Connery and Robert Shaw on the train in "From Russia With Love."
But just when expectations are raised, they quickly fade in the pic's second half. It's as if screenwriters Neal Purvis and Robert Wade simply ran out of steam and the special effects team took over; the plot, such as it is, spins off its axis like an errant merry-go-round for the sake of some arbitrary and overly familiar action scenes. The obviously game Berry gets to recreate Connery's famous laser peril from "Goldfinger" but disappointingly has few further chances to spark with Bond.



Most of the latter going is set in Iceland, where Graves maintains an "ice palace" and has invited hundreds of his closest personal friends to witness a demonstration of his new space satellite with a reflector so strong that the orbiting craft will function as a second sun. In fact, of course, the device is the world's most powerful weapon, one that Graves is in cahoots with North Korea to impose on the free world.

On a dramatic level, follow-up to the nocturnal display prompts immediate head-scratching, as all the other guests are suddenly gone the next morning. What are Bond and Jinx doing still hanging around, and don't Graves and his henchmen find their continued presence suspicious? On the level of technique, film "Die Another Day" goes way past any previous Bond into the realm of impossibility by introducing the agent's stunning new Aston Martin Vanquish as a car that Q (John Cleese) has equipped with an invisibility option, which Bond uses in an ice field car battle with Zao, the latter in his new Jaguar (Jinx shows up in Iceland behind the wheel of a new T-Bird).

Above: Lee Tamahori prepares to shoot Q and Bond's scene in the London underground...
But worse is a windsurfing escape by Bond from an ice avalanche that is so patently absurd and so blatantly a CGI concoction (especially in contrast to the stunning real surfing of the picture's opening sequence) that it proves a total turn-off. Even at their most outlandish, the Bond films have usually made a point to keep the action at least on the outer edges of physical feasibility; Bond's innumerable conquests over peril over the years may not have been bloody likely, but you could swallow them in context. These new bits with the car and avalanche are simply beyond the pale.
Fiery airborne climax also has a computerized feel in part and is sufficiently protracted to prompt the feeling that this day has gone on long enough.
There are momentary compensations along the way, particularly in Bond's testy relationship with yet another beauty, Miranda Frost (the Grace Kellyish Rosamund Pike), Graves' publicist and a secret agent for M who's aptly named for her chilly demeanor and announced intention never to succumb to Bond's charms.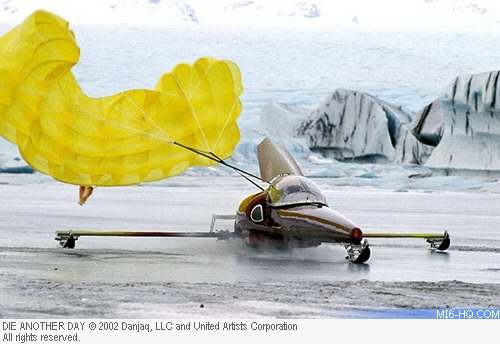 Above: The futuristic ice-bound para-sailer completes a run.
Brosnan once again proves more than up to the task of filling Bond's shoes and, especially in the early going, gives the character some dark and nasty shadings that reveal a welcome desire to take Bond back to Ian Fleming-based basics. After the promising beginning, unfortunately, most of what Berry is called upon to do is pretty generic action stuff. Madonna, who co-wrote and sings the banal title song, does an unbilled cameo at the start of the fencing club scene. (At least she'll be in one hit in 2002.)
Aside from the jarring CGI material, production values are up to series standards, with locations in Cadiz, Spain (doubling for Cuba), Iceland, Norway, Maui and the U.K. providing resplendent backdrops for the exotic action. Jump-framing of the introductions to certain scenes amounts to an annoying affectation that will date the film in the long run, and sound mix at times allows the score and loud effects to battle rather than complement each other.
Entertainment Weekly - 2nd December 2002
A while back, I happened to catch ''Dr. No'' on television, and I was startled to be reminded of something: The James Bond movies used to be movies.
They were espionage dramas wrapped in the tinsel of gimmickry, rather than the other way around. Die Another Day is the savviest and most exciting Bond adventure in years, and that's because there's actually something at stake in it. No, I don't mean the fate of the world (as if there were doubt about the outcome of that), but the fate of James Bond himself. Is he a walking action figure, the kind of guy who might just as well be played by Bruce Willis in a tux, or is he someone who still matters not because of what he does but because of the precise tenor with which he does it -- the razory exactitude, say, with which he disarms a sexy masseuse who's got a gun strapped to her thigh and then smashes the mirrored wall where he's being videotaped by Chinese spies?

In the sensational opening sequence of ''Die Another Day,'' Bond (Pierce Brosnan) tries to trade a briefcase of diamonds to a sniveling young North Korean despot, and when his secret-agent cover is blown, he escapes in a high-speed chase over a road packed with land mines. Bond dodges flamethrowers and machine-gun fire, and he all but dances around a moonwalking hovercraft to evade the villains, leaping about with the graceful improv nonchalance of a man who knows that the physical karma of the moment will always favor his instincts. But then the unthinkable happens. Bond is captured, and as the credits roll over the nifty electro-cut pauses of the title Madonna song, images of Bond babes cast in smelting gold are superimposed on what's happening to our hero: beatings, scorpion injections, his face held under ice water. Emerging from this torture chamber, Bond looks like Kris Kristofferson with a very bad hangover, and he is then rescued and subjected to the ultimate abuse: Judi Dench, as M, gazing at him with withering Oxbridge contempt as she declaims, ''You're of no use to anyone now.'' It's enough to make you wonder if she's been watching DVDs of ''GoldenEye'' and ''The World Is Not Enough.''




Above: Korean henchman Zao, played by Rick Yune...
In recent years, the Bond series has grown bloated and decadent and -- yes -- dull, coasting on the nostalgia we all share during those first 15 minutes, when the twangy machine-gun guitar chords come rippling over the image of 007 firing his weapon at the audience, followed by the inevitable action sequence that's so elaborately kicked-up it's a mad logistical joke -- and nothing more than a joke. ''Die Another Day,'' on the other hand, is directed by a true filmmaker, Lee Tamahori (''Once Were Warriors''), and he has reestablished the series' ominous pop sensuality. Tamahori gets the true trick of Bond: that he's the ultimate agent because he keeps breaking rules, even the ones approved by his side.
The movie has a juicy, smirking villain -- the aforementioned Korean, who has gone to a sinister DNA-transplant facility tucked away in Havana, the kind of clinic that would look like a vacation spa to Michael Jackson, and made himself over into a foppishly malicious British mogul of the new swinging London, played by Toby Stephens with a charismatic flash of horsey upper gums. In his insolent way, this dastardly fellow, an African-diamond buccaneer who plans to turn a giant satellite reflector into a second sun, is every bit as polished as Bond. The two face off in a fencing duel that's choreographed for maximum rousing, glass-case-smashing abandon, complete with bigger and bigger swords. Even as the violence spills over the top, what keeps the sequence grounded is its furious battle of wills. I can't remember the last time that Bond and his archenemy so flagrantly didn't like each other. Stephens, a terrific, snarling actor who's the son of Maggie Smith, raises the stakes for Brosnan, who came closer to the true Bond spirit in ''The Thomas Crown Affair'' and ''The Tailor of Panama'' than he previously has in the series itself. Brosnan draws on his work in those films to infuse 007 with a new forceful twinkle -- the perfect balance of purpose and play.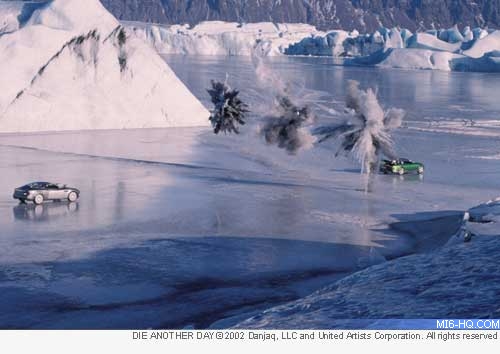 Above: The final confrontation between Zao and Bond is a roaring car chase on thin ice.
Tamahori keeps the encounters human-scale, whether he's getting John Cleese to slow-ball his archness as Q or staging Bond's sexual escapades in a way that preserves their naughty appeal but underplays the usual two-ton winks. Bond's love of the ladies isn't just an obligatory sideshow this time. It's been made crucial to the plot -- his weakness, as it were. Brosnan flirts up a storm with Halle Berry, who brings superwoman confidence and a megawatt smile of temptation to the role of an American agent who's every bit the daredevil he is, as well as with newcomer Rosamund Pike, as an all-too-meltable British ice princess.
Speaking of ice, the climax of ''Die Another Day'' unfolds in a setting of spectacular cheesy grandeur. We're in Iceland, at some sort of frozen palatial-hotel fortress in the white wilderness, and the ice all looks plastic, but when Bond leaps into a pointy-nosed ground glider and races seconds ahead of a reflected sunbeam that's trailing him like the wrath of God, you're more than happy to sign on for the ride. The fakery goes right back to the kind we got in the '60s 007 films, with their wide-eyed suspension of disbelief. But ''Die Another Day'' gets away with it, because it's the first Bond movie in ages that isn't fake fun.
New York Times - 22nd November 2002
I'M gonna avoid the cliché, delay the pleasure," Madonna sings during the opening credits of "Die Another Day," the 20th James Bond picture in 40 years. These words may provoke an ambivalent reaction. On one hand, something fresh and unexpected would not, at this point, be unwelcome. Nor would some teasing before all the big, eye-popping explosions start.
| | | |
| --- | --- | --- |
| | | But on the other hand, don't we go to these movies precisely to savor the familiar: the sports cars, the shaken vodka martinis, the knowingly stale elbow-in-the-ribs sexual innuendo, the pop song during the opening credits? And isn't our taste for Bondage built around a desire for immediate gratification? Not to worry. By the time Madonna's electronically enhanced chirps emanate from the soundtrack, we've already witnessed some extreme surfing off the coast of North Korea, an armored hover-craft chase across the DMZ and fireballs that bloom like a bouquet of toxic peonies. Madonna herself shows up a bit later, in a black leather bustier, playing a fencing instructor named Verity. (Verily!) In any case, it would have been foolish indeed for Lee Tamahori, the director, and Neal Purvis and Robert Wade, who wrote the script, to depart too drastically from the formula, and they don't. This is a big, noisy blend of globe-trotting, coy sexuality and cartoonish political intrigue, solidly in the Bond tradition. But happily the filmmakers have been smart enough to push this story — at least until its noisy, turgid ending — in some interesting and surprising directions, making it perhaps the most satisfying Bond movie since "The Spy Who Loved Me." |
There is, for instance, that credit sequence, in which computer-animated fire and ice maidens gyrate over grisly images of torture, as Agent 007 (Pierce Brosnan) is plunged repeatedly in a tub of ice water, stung by scorpions and beaten senseless by uniformed thugs. The man who emerges from these sessions, and a long sojourn in a dank North Korean prison cell, is scarcely recognizable.
Freed in an exchange of prisoners, he staggers across the border filthy and scarred, his hair long and matted and his face obscured by a shaggy beard. (This dishevelment pays off in a witty scene at a luxurious Hong Kong hotel.) And Bond's humiliation does not end there. "You're no use to anyone now," says M (Judi Dench), crisply relieving Bond of his license to kill.
Part of the fun in seeing Bond brought low lies in the certain knowledge that he will triumph in the end. His enemies, luckily for him, share an essential trait with those who have gone before them. Given the choice between a quick, efficient method of killing and one that calls for long speeches and slow-moving high-tech machinery, they can be counted on to choose the latter.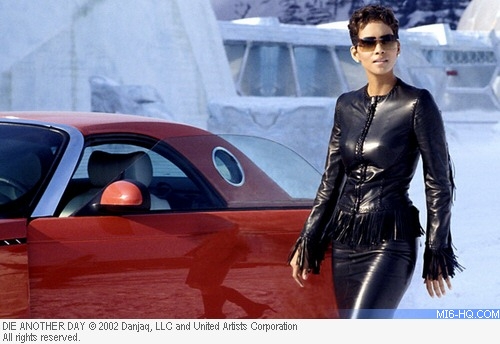 Above: Jinx arrives in Iceland in her Ford Thunderbird.
The beginning of "Die Another Day," which opens today nationwide, also has the effect of making the suave superagent sympathetic as well. Mr. Brosnan, in his fourth tour of duty, may not be the definitive Bond — an honor that will always belong to Sean Connery — but he is the most human.
Mr. Brosnan, as he nears 50, has a thicker face and a stiffer gait than he did in his callow "Remington Steele" days, and he shows emotion more readily than any of his predecessors. This Bond is curiously vulnerable, decidedly flappable underneath the cynical urbanity. At especially perilous moments Mr. Brosnan's features register panic, fatigue, pain and — in an exquisite scene of rescue that should be the movie's ending — tenderness.
Not that he's gone all sensitive or anything. He may dabble in trendy cocktails — ordering a mojito instead of the standard martini during a visit to Havana — and appear without a necktie frequently enough to make you wonder if Her Majesty's Secret Service has instituted a casual Fridays policy, but the essential Bond DNA has not been altered. (DNA alteration, by the way, figures prominently in this movie's extravagantly intricate plot.)
Moneypenny (Samantha Bond, no relation) still pines for 007, Q (John Cleese) once again outfits him with the latest gadgetry in the weary certainty that it will all be trashed by the end of the mission, and 007 still has his way with the ladies. There are two: both of them, in keeping with the series's accommodation of changing social mores, steely professionals.

One is a British agent named Miranda Frost (Rosamund Pike), the other an American hit girl who likes to be called Jinx (Halle Berry). One is a loyal comrade, the other turns out to be a traitor, and they settle it all, in sports bra and tank top, in a catfight on board a burning jetliner.

And then of course there are the villains, including an Oddjob-like henchman named Mr. Kil (Lawrence Makoare) and a blue-eyed Korean killer (Rick Yune) with diamonds embedded in his face. The jewels are essential to the world-dominating plans of the bad guy in charge, an international playboy and fencing champion named Gustav Graves (Toby Stephens), who seems like a vain, vulgar parody of Bond himself. The reasons for this, which supply a tongue-in-cheek ideological critique of everything the Bond enterprise represents, are revealed later on.

In that spirit, perhaps, I should note some reservations. Though the picture has a grainy, rough texture that is a nice relief from the conventional high-gloss look, Mr. Tamahori is not a natural action director.




Above: Bond (above) during the hovercraft chase and (below) lands safe and sound after a narrow escape from an iceberg.
Many of the big chases and gunfights are incoherently cut together, and some of the special effects have a tacky, off-the-rack look that would be more suitable in a "Spy Kids" movie.
In one especially dreadful sequence, Bond windsurfs through a churning Icelandic sea dotted with what seem to be huge chunks of digital meringue, after a supercharged weather satellite has apparently beaten all the egg whites in the region into stiff, shining peaks. And the long finale is thudding and pointless, a loud, unimaginative return to the clichés that had up to then been cleverly avoided and wittily sent up.
Related Articles
Die Another Day

Time Tunnel Index