Roger Moore dazzles - The Montreal Gazette, Jun 30 1973
There is something about James Bond that tickles most everyone's fancy. But nobody was more tickled than the gaggle of journalists clustered in the New York hotel suit where Roger Moore, the third actor to play Ian Fleming's natty hero, was due to arrive.
In fact, there were audible gasps as Moore sailed into the room, dispensing his best frozen-face hand smile, solemnly shaking hands.

"Loved you in The Saint," murmured an awe-struck voce. Moore's lips curled into a smile. "Thank you," he replied in his best RADA-trained accent.

Indeed, Moore collected his accolades with confidence, despite the fact that he claims not have seen Live and Let Die yet. His performance in it will go down as proof that it really doesn't matter who plays Bond, so long as he's handsome, and there are a lot of thrills.

Moore himself isn't worried about following in Sean Connery's footsteps - or in George Lazenby's either.

"Oh, come on," he said with mock peevishness. "There's really not much I can say about me and Sean, except that perhaps I'm thinner and have whiter teeth. Sean's a good friend of mine. We're country neighbors in England, and we visit often."


Above: Roger Moore on location in New Orleans.
Leaner
Moore has a point. At 44, he is leaner than the paunchy Connery who belly-flopped about in Diamonds Are Forever two years ago. And Connery is four years younger.

Above: Roger Moore with Jane Seymour as they film the penultimate scene to the movie: boarding the train to New York.

Moore knows this, but excuses himself quickly.

"Next to Sean," he said, "I'm a comedian. Sean is a great actor, that's all there is to it. I can never do what he has done outside of Bond.

"Simon Templar - The Saint - was a boy scout compared to Bond. But I really enjoyed doing Live and Let Die. IT was a rough film - but fun."

Moore, who has starred in a number of completely forgettable films, only won his audience's admiration through television. He began with Ivanhoe (1957), and later graduated to James Garner's British brother Bart in Maverick.

But his best years were in The Saint, the television series adapted from that mater of mystery novels, Leslie Charteris. He tried to re-create a similar role recently with Tony Curtis in The Persuaders, but it flopped badly.

But not in Quebec.

In fact Moore's Le Saint and The Persuaders - dubbed for Quebec audiences - have run the complete series four times over in La Belle Province because, as one TV executive put it, "Quebec loves the man." You can still catch the umpteenth re-run on Channel 7 from Sherbrooke.
Now, he's graduated to another plane, where Bond should put him again in the forefront of sweet-faced actors.
Mother
"I fell like a pregnant mother on the day to the delivery room," mugged Moore coyly. "I lost 14 pounds making this film, and I hope it's good. But people tell me I'm lucky I haven't seen it.
"Bond is a different kind of hero, Moore added. "He doesn't like killing, but he takes pride in his profession. In one of the last scenes, he kills a man with a mechanical arm in cold blood - it's the only time, I think, he's ever done that. I felt horrible doing that scene.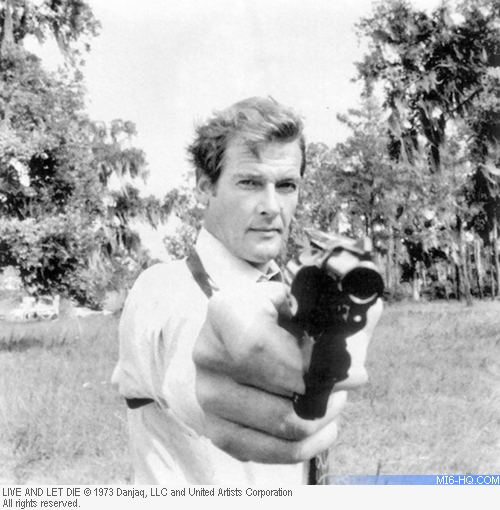 Above: Roger Moore, who all through his tenure as 007 and beyond asserted his distaste for violence, poses in a publicity photo for James Bond.
"But I also believe that audiences want to be entertained and not offended. Bond in my mind, does this. I don't like the kind of death which shows people's faces splattered across the screen or their guts spilling out. I t makes me nauseous.
"Bond also does something else. Sure, he's wide-screen visual comics, but in Greek classic theatre, if you remember, the whole ideas was to transport audiences to heaven and the gods. Any medium today should do that, and that's what the James Bond films are all about."