Concept Art Interview
16th April 2015
Illustrator and concept artist Jeremy Love talks to MI6 about the process of revisualising iconic Bond locations for '007 Legends'
By MI6 Staff
---
Can you tell us how you came to work as a 3D artist?
3D animation was an area I was interested in back in the late 90s, when it really started to gain traction with mainstream audiences. I had been amazed by the "Terminator 2" film's use of 3D earlier in the decade, but I think Pixar had just released "Toy Story", so 3D, for me, was a new and exciting art form. So, by day I was working as a commercial artist, but at night I was learning Lightwave3D, which I had gained access to through doing freelance jobs for a local broadcast studio. Before long I was creating 3D animations and compositing for TV adverts, then finally a children's feature film. During this time, I moved to the UK with my wife on a working holiday Visa. While attending the 2003 3D festival in Copenhagen, I attended a seminar hosted by Feng Zhu and discovered that concept art was an amazing way of earning a living. Something resonated with me that this should be the path to follow, and I've not really used a 3D application since. Now, after a decade working as a 2D Concept artist, I'm thinking that I really do need to adapt 3D back into my workflow, so I'm very slowly learning to use ZBrush.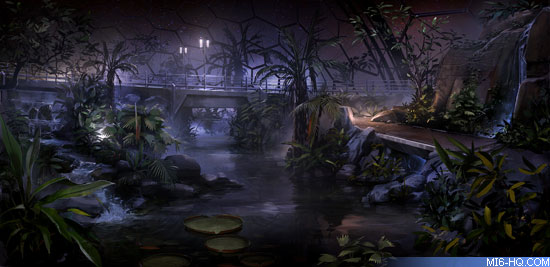 What lead you to work on 007 Legends at Eurocom?
While working at THQ on an unreleased "Avengers" game, a colleague mentioned that Eurocom was looking for freelance concept artists. As it happened, THQ shut down shortly after that, which left me out of work. I applied for the position and started working remotely from my home studio in Australia.
How long did you work on the project? What research did you carry out?
About six months doing 10-12 hour days. It's the first time I've worked full time for a company on the other side of the globe, but it worked out well considering the time difference. As for research, each level in the game was designed around the look and feel of the original film sets, so apart from watching them... again... I took stills for reference. I also studied the iconic work of Ken Adam, who of course is the production designer whose bold use of shapes influenced many of the James Bond film sets. Modern architecture was another huge inspiration for design.
What tools did you use to create the various artwork?
Every image was created in Photoshop using a Wacom tablet and pen. Apart from the 3D Sketch-Up reference files which were supplied to me, all work was done in 2D using a few simple brushes and an even simpler technique. I work pretty much the same way as I would on paper using pencils and paint, except it's in a digital format. Photoshop's layer system makes it so easy to correct mistakes, which beats traditional methods, hands down.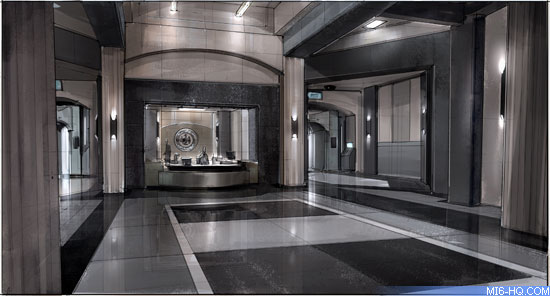 Can you tell us how you created the environments and what reference materials you had?
My role was based mostly in set design with heavy art direction from Eurocom. I'd receive a very detailed brief each morning along with mountains of reference material. Mainly images of architectural design and interior decorating. Film stills were referenced for environments which were based heavily on the movies. The designers at Eurocom would often send me rough 3D SketchUp models which, even though very basic, outlined the proposed gameplay route and scale. From these I was able to take POV screen captures to use as a starting point in Photoshop. I'd usually sketch a number of rough layouts over the top (much like tracing paper) using different architecture reference as a kick-start for ideas. Depending on feedback, I'd amend the design and finish the artwork to a point where the 3D modellers could easily read and build from the concept. It was usually a very fast turnaround for environments, so there was no time for unnecessary rendering. You can see this in many of my designs as they are super-rushed!
Which environments proved most challenging and which were you most proud of upon completion?
Drax Industries space station from "Moonraker" was definitely a level I spent a lot of time working on, probably because of its sci-fi nature. Most of the other levels were based on actual places, like Fort Knox or the Otomi Cultural Center. We used the "Moonraker" film as reference to a degree, but the look of technology needed updating. This meant more back and forth with rough sketches until a suitable design language had been created. This was a totally collaborative process, so designs would be thrown from one artist to the next. Stuart Jennett, (author of "Chronos Commandos") was also a concept artist on the project with whom I'd actually worked with before while in the UK. We'd often chat about the designs and also make sure our style and workflow was similar. I'm pretty happy with how it all turned out, the development artists at Eurocom did a great job. I'd love to play the game, but I've not yet received a copy!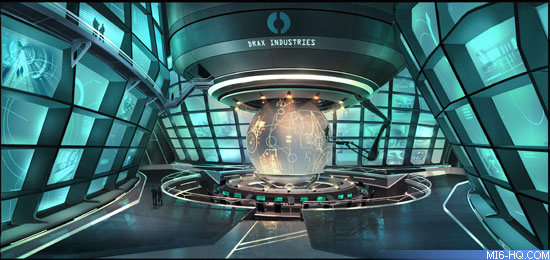 When expanding each of the original sets how did you go about reinterpreting the film location/set for a gaming experience?
In terms of interpreting the locations for a gaming experience, most of the ground work for this was done by the level designers and artists at Eurocom. It is important for me to have a knowledge of what can and can't be achieved in the game engine – how wide pathways are, et cetera – but most of that is explained in the brief. By the time I received a brief, Eurocom already had a good idea of what they wanted game play wise. Based on feedback from the Art director, it was up to me to take the look of a particular film set and make sections of the level feel like it's part of that world. The Goldfinger interior set in Fort Knox for example has a definite colour palette using specific materials and textures. Tall black and tan columns with steel fabricated gantries and polished black floors, steel bars, gold bullion and hanging industrial lighting. Once broken down into a library of available furnishings or design language, it can then be applied to any space. There's a fair amount of problem solving when taking a designer's brief and making it plausible in a virtual environment. Both visually and mechanically everything has to at least feel like it could possibly exist and work in real life.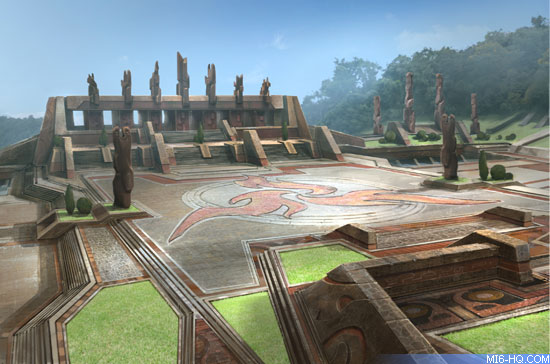 Can you talk us through the process of bringing the film likeness into the game? You worked on a great many of the players within the game can you talk us through capturing there likeness and varying costumes needed?
Working on characters is always fun, but for this project it was quite limited in terms of design, as they were very closely based on existing characters. The likeness was purely up to the 3D artists at Eurocom, in fact I didn't even bother painting the faces, instead just pasted photo reference directly to save time. The main challenge for me was to simply update the style of clothing and hair without straying too far from what people were used to seeing in the films. For example, taking the rather dated 1969 Blofeld guard ski uniform and bringing it into the new Millennium using modern materials and styling.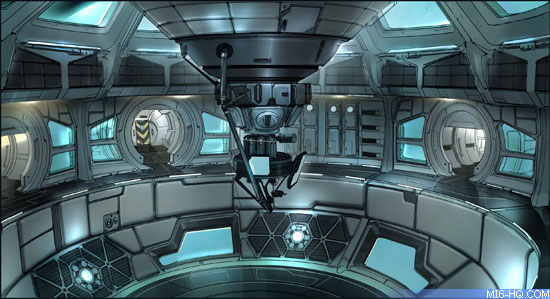 How long did it take to create Draco and how many sketches did it take?
I started with the design of Draco's guards in their white snow costumes. Again, the clothing looked dated, so it was simply a matter of researching modern replacements for the army surplus gear and weapons. I drew up some very rough character sketches with photo texture examples off to the side, explaining as quickly as possible the proposed changes. From there, minor feedback was adhered to while drawing up the final sketches. The brief stated that Draco himself would be wearing exactly the same outfit as his men, but in Navy blue. I adjusted the colour of the guards' uniform and added Draco's head with a few small changes, so the whole process was very quick and straight forward. I think I spent about 2 days in total on the Draco uniforms.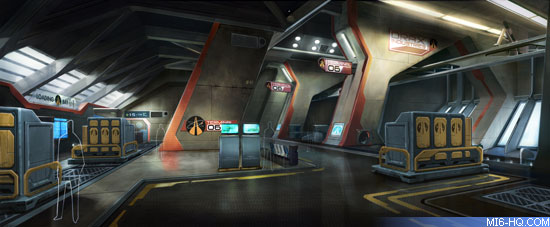 What are you working on now?
It's been a busy few years, but 2015 is the busiest yet... I'm sleeping less that's for sure! I've been working as designer on the new, soon to be released "The Deep" animated TV series, based on a Graphic novel, by writer Tom Taylor and artist James Brower. It's been a great experience working from my home studio with the three other talented artists, including James Brower (AD), Alex Allen and Brad Nielsen. The show is a Technicolor and Avrill Stark production and is being developed by Nerd Corps Entertainment (SlugTerra, Max Steel).
I've also been working as a Concept illustrator on the next "Pirates of the Caribbean" film, (2017) which is currently being filmed here in Queensland, Australia.
You Might Also Like
007 Legends
A new video marks the release of the latest James Bond videogame '007 Legends' - out now in the USA
Interviews
MI6 caught up with Michael Lonsdale who played the maniacal Hugo Drax in 'Moonraker' and reprises his role in the '007 Legends' videogame
---
Share The Story