| | |
| --- | --- |
| | MI6 caught up with Christopher Wood recently to talk about his new book James Bond The Spy I Loved... |
Christopher Wood Interview
3rd September 2006
MI6 caught up with Christopher Wood recently to talk about his new book James Bond The Spy I Loved.
Your new book is very much a personal journey that we get to share with you, how long did it take to plan and write the book?
The book began to take shape in my mind a couple of years ago when I became aware of the incredible worldwide interest in all things Bond. The first draft took about six months and triggered off other memories that eventually found a place in the narrative.
Did you revisit any of the scripts and materials you developed for the films?
Yes, I found some drafts of earlier versions of my scripts and I reread them with interest. I had totally forgotten some of the details.

You touch upon the legal wrangling that affected the whole production and you on a personal level, can you describe your feelings of first being accustomed and being cleared of plagiarist ?
I thought my book covered the plagiarism suit in some detail but…..it was like being trapped in a Kafkaesque nightmare and discovering that it was not a nightmare. It was real.

When the suit collapsed I felt as if I had been released from a doomed submarine lying on the bed of the world's deepest ocean – with the oxygen running out.



In the book you talk about see much of the world with the Bond films do you have a memorable story and location?
Each location had its own special charm and excitement for me. The stories connected with them are in the book..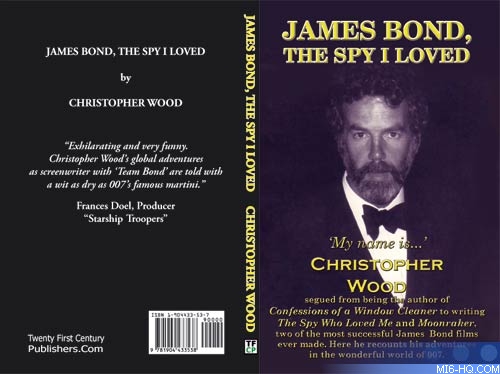 Above: James Bond The Spy I Loved by Christopher Wood
Book Description
Christopher Wood segued from being the author of Confessions of a Window Cleaner to writing the screenplays for The Spy Who Loved Me and Moonraker, two of the most successful James Bond movies ever made. Here he recounts his adventures in the wonderful world of 007.
You talk about the varying drafts of Moonrakers set piece in Venice, and the possibility of a Rocketbelt which was later dropped for the Bondola. Which would have been your favourite set-piece instead of the Bondola?
As described in James Bond The Spy I Loved, I was very smitten with the idea of a motor cycle chase through the narrow, twisting alleys; over hump-backed bridges, across the roof of a vaporetto, using gondolas as stepping stones etc.,etc.
To me it would have been a more original thing to do in Venice where everybody would expect you to go with a gondola in one form or the other.
Of course, four years later, Sean Connery sprang on a motorbike in 'Never Say Never Again'..
After receiving Lewis phone call how long did it talk for the request to sink in?
Lewis Gilbert made the decision on the basis, I assume, of our previous work together. He knew I had read the books and enjoyed the movies.

There was no Cubby interview and – polite fellow? – he never mentioned the Confessions movies..

The initial request sunk in after the second gin and tonic.

Of all the Confessions films which was your favourite? How did work on the films help prepare you for working on the Bond films? And then the Bond films on the later Confessions films?
Window Cleaner was my favourite Confessions movie because it was the first film I ever wrote. The more films you write, the more you learn and the more confident you become. It makes no difference whether it is a Bond movie or something more low budget and intimate. You merely have to achieve your effects in a different way.

Your overall involvement from The Spy Who Loved Me to Moonraker seams to
have increased, was this the case? How did this come about?
The Spy Who Loved Me was a huge success and obviously some of this rubbed off on the writer.

If offered the chance to return and write a new Bond film or game would you be interested?
I would always enjoy working on a Bond movie, especially in the area of giving 007 as many polished, witty lines as possible.

Data Stream
Soft cover 192 pages
ISBN 1904433537
Released: August 10, 2006
Publisher: Twenty First Century Publishers Ltd

Produced Screenplays By Christopher Wood

| | |
| --- | --- |
| Confessions of a Window Cleaner | Columbia |
| Confessions of a Pop Performer | Columbia |
| Confessions of a Driving Instructor | Columbia |
| Confessions from a Holiday Camp | Columbia |
| Rosie Dixon, Night Nurse | Columbia |
| Search aka Unspeakable aka Criminal Pursuit aka Indecent Exposure aka A Lovely Way to Die aka Kiss the Girls and Make them Die | Concorde New-Horizons |
| Eruption aka Volcano Run | Concorde New-Horizons |
| Stray Bullet | Concorde New-Horizons |
| Payback | Concorde New-Horizons |
| The Spy Who Loved Me | MGM/UA |
| Moonraker | MGM/UA |
| Remo Williams, the Adventure Begins | Orion |
| Seven Nights in Japan | Paramount |
| Steal the Sky | HBO |
Upon reflection you say the Bond films where one of the best experiences, why do you feel this?
I hoped I had made this clear in the book. Everybody who works on an 007 movie gets the Bond treatment. No expense is spared in making you feel part of something special. Luxury hotels, first class travel, exotic locations – and you know the movie is going to be made! That is a great incentive to giving your best. I also enjoyed the people I worked with.



When writing The Spy Who Loved Me did you establish a rhythm? When you returned If there is a rhythm it is more Stravinsky than Cole Porter. Some days the writing flows, on others it is difficult to come up with an idea, let alone translate it into words and pictures. And then there is the input of Lewis, Cubby, Michael, Ken and a shoal of technical experts to take into account – plus any breaking news or exciting gizmo that deserves a place in the mix

This applies to both The Spy Who Loved Me and Moonraker.

After Moonraker was there any discussion of you staying on for a third film?
Producers do not discuss the future with writers. You're hired or you're fired.
In reflection of that period of your life which of the Bonds and Confessions was the personally most rewarding?
The Spy Who Loved Me is my favourite Bond – as it is Roger's. I think it has a lot of charm. As already mentioned, Window Cleaner is my favourite Confessions but I think that Pop Performer is more fun – and the music grows on me!
Related Articles

The Spy Who Loved Me - Movie Coverage

Moonraker - Movie Coverage