| | |
| --- | --- |
| | MI6 caught up with Martijn Mulder - Bond fan, travel enthusiast and author of the recently published "On The Tracks of 007"... |
"On The Tracks Of 007" Interview
20th January 2009
Which came first, your love of James Bond or a passion for travel and how did you come to the conclusion to combine the two?
My passion for travel had always been around, I suppose, and that definitely came first. My parents have always taken me along on their holidays - from when I was about 5 years old. My dad got me a copy of "Moonraker" on video in the early '80s (therefore I still love that film!) and from then on I was hooked. "Octopussy" was the first Bond I saw in the cinema and it was around '84/'85.
Later, I noticed a small article in a Dutch newspaper saying that a new Bond adventure ["A View To A Kill"] was being filmed at Chantilly, near Paris. That must have been the very first Bond location I ever came across. Since we were about to go on a weekend trip to Paris, I desperately tried to persuade my parents to stop there, but they didn't share this passion and drove on, straight to Paris. I now always stop at Chantilly when I go to Paris by car. I had been captured by the elegance of the locations from the beginning and soon figured out it could easily become a holiday.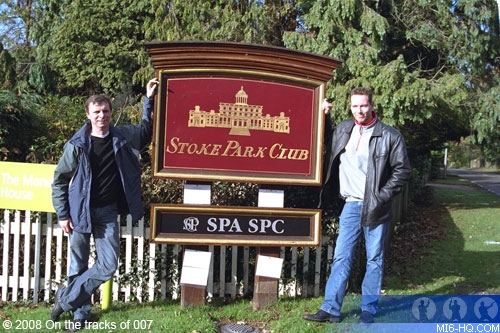 Why choose locations as the topic of your James Bond work?
I have always found the locations breathtaking and was intrigued by the fact that there had been so little written about them. Early books did name cities, towns, sometimes only a country, but there wasn't much detailed info. In the early '90s I booked us on a holiday to Jamaica and figured (for the first time) it would be fun to try to find some of the old locations there. I got help from a German guy, Dirk Kloosterboer, by e-mail, who had been there recently and knew some details. In Jamaica I managed to find everything I wanted in three days - leaving enough time to enjoy a 'proper' holiday - and that's when the book idea first started to come up.
What went into planning the exact aspects of each locale you were to document - how did you prioritise the features and sights?
There actually wasn't very much planning involved in the early days. At some point Dirk and I decided to team up and spend our holidays (together or separately) in Bond-areas. It just grew from there.

Whenever we picked a city or country, we just made a list of all the locations we expected to find there. Sometimes we found more than we expected, sometimes it turned out parts had been filmed elsewhere.
How did you go about getting your book published and was this a tricky task?
We first developed the idea of writing a book on the locations at a time when we didn't really have much to offer, we approached many publishers, without result. The problem is that there are so many publishers out there and they all want a finished product to review. The costs involved could be mind-boggling…
So in the end I decided to self-publish it, using the latest print-on-demand technologies. The biggest problem with self-publishing is the distribution, but I found some interesting distribution partners in the UK and US and since that part of the world has always been the main target, that is well covered.
James Bond - as a character - is a seasoned traveler, did you take any inspiration from 007 or Fleming when traveling or writing this book - perhaps in the form of specific ways to see the world, method of travel etc?
No not really. Although mainly focusing on the filming locations, I did always read the books as well in advance and always brought my copy of Fleming's Thrilling Cities with me while traveling, just to make sure I wouldn't miss anything. Fleming had a wicked way of describing countries and cities, often very negative, and I did, at one point, had the idea of calling my book "Thrilling Locations", and write the stories much like he wrote his travel stories, but in the end I'm glad I abandoned that idea.
We developed a format in which historical facts, filming details and anecdotes were compiled into short travel stories and I believe they're fun to read.
Are there any Bond locations you simply could not reach but perhaps regret missing?
Every now and then you stumble upon a location that is closed because they are refurbishing the place (for example, Kananga's croc farm from "Live and Let Die") or huge scaffolding is totally obstructing the view (Blue Mosque - Istanbul), but you just have to try to work your way around this. On several occasions we just had to revisit a place because of this. In general I never stop at a closed gate. There's always a door bell somewhere and simply ringing it usually gets me in. Most owners like to see their (expensive) property in a book, you know.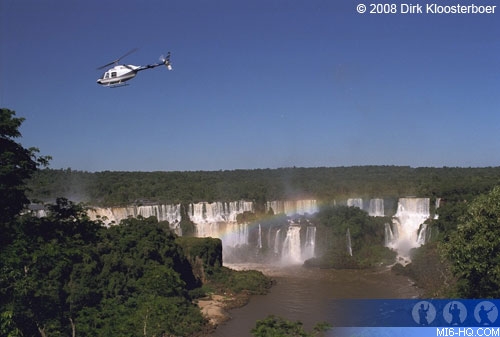 Were some of the older Bond journeys tricky to trace and how did you go about finding locations such as those from the '60s Bond films?
They sure were challenging! You should realise we started this way before any usable information could be found on the internet, so we always started off at home by putting on a Bond video, pause it to freeze the frame, took a photo of the screen, had these photos developed and armed with these 'reference' screen shots we wandered the streets of, say, Istanbul. And that was a real challenge! Fortunately we became pretty good at it and have never had to leave without completing our 'mission'. Taxi drivers are usually very good sources of information. They do know their city, especially when they're older. The more recent films are better documented and that certainly makes things easier, sometimes even takes away part of the fun and excitement of the actual 'hunt'. Today a field trip would start by using Google Earth, my favourite tool to plan any trip ahead.
What was the most challenging location to locate or document and why?
Without doubt that must be Draco's house and bull ring where Bond eventually gets married in "On Her Majesty's Secret Service". There had been references to a town called 'Zambuljal' in Portugal, but this town doesn't exist. So I searched for towns with bull rings in the area where EON filmed the rest of the Portuguese scenes but couldn't find much, so I left it until I gathered new clues.
Then the Special Edition DVDs came out and John Glen mentions the place is close to the city of Sétubal. By watching the film again, frame-by-frame, I noticed a river in the background and from this and other small clues I decided upon an area and just traveled to Portugal. I drove up there in a rental car and found an entrance road to something called 'Zambujal'. That must have been one of the most exciting moments of the book project. The place turned out not to be a town but a farm, which explains why it wasn't on any map.
While driving up to the main house I met the lovely lady who owns it with her husband and she was so surprised. She told me I was the first Bond fan ever to find the house. Her family had owned the place for centuries, also at the time of filming, which she witnessed as a little girl. She knew Peter Hunt and had very fond memories of Diana Rigg. The place itself, both the house and bull ring, had changed very little and finding it became a highlight in my life.
Of all the locations you visited, regardless of Bond's involvement in their setting, which was the greatest experience for you and what has made it memorable?
Apart from the before mentioned Zambujal farm in Portugal, the climbing of the Shinmu-dake volcano in Southern Japan was an amazing experience. I was informed that climbing my way to the top of Blofeld's lair in "You Only Live Twice" would take approximately 2 hours. Taking into consideration that we also had to climb back for 2 hours, we had little time to waste. After an earlier attempt - aborted because of terrible weather conditions - we started off one morning in dense fog. But I didn't let this stop me... I was on a mission.
How often are you in such a remote area of Japan, so close to one of the most amazing Bond locations? Kirishima National Park consists of several volcanos in a row, of which Shinmu-dake is the second. You have to climb another one first to get to your target and this took us much longer than we had expected. On top of the first volcano, which has no crater lake and is rather disappointing, we almost decided to return because we were afraid we wouldn't make it back in time.
Then I noticed that Shinmu-dake was actually a short 10 minute walk from the first volcano. So thank God I figured that one out! We walked on and experienced one of the most amazing sights imaginable. Through the clouds the sun appeared and suddenly lit the fluorescent crater lake of Shinmu-dake, just when we were there, all alone, on top of the world. Amazing experience!
Which picture, in your opinion, featured the most impressive locations and why?
I have two pictures in mind: First of all, "You Only Live Twice", for presenting the unique Japanese culture and landscapes to the world. The locations are just awesome and even today can still be called exotic, pure and unspoiled. The other would be "Moonraker", since it brought us from the marvelous Chateau Vaux-le-Vicomte to the stunning canals of Venice, and from the exotic carnival in Rio to the beautiful Iguaçu Falls… quite an extraordinary ride!
Do you have the intention of following this book up with a second edition and if so, how soon will you begin your next world trip?
I will always try to keep up with the latest Bond locations and will surely update the book at some point. There are also a lot of smaller locations, for instance in the UK, that need more words than the few I had room for now, so there's certainly some work to do, which I am only looking forward to. The next trip will probably go to South-America. I have always wanted to go to Chili and Peru, so I suppose Bond once again gave me a good reason to go.
What would be your number one tip for a Bond fan and passionate traveler?
I am tempted to say 'Buy my book', but apart from that, the best tip I can give you is to be well prepared. Gather some knowledge about the area you will visit and you will enjoy it twice as much. If you're looking for specific locations, try to get some help in advance, while you're still at home. Make screen shots and e-mail these to hotels or tourist agencies. They often know exactly what you're looking for.
Visit the publication's official website for further information and to purchase the book.