| | |
| --- | --- |
| | MI6 takes a look back at the World Royal Premiere of Die Another Day in 2002 with producer Simon Harries... |
Interview - "Premiere Bond" Producer Simon Harries (1)
16th March 2006
MI6 chatted with Producer Simon Harries to discuss the making of 'Premiere Bond' for ITV (UK) in 2002.
How did you feel about landing the job covering the Die Another Day premiere?
I was really excited. It was late summer 2002 and I had finished a show for Sky One called Vinnie's Football Shorts when the offer came through. The premiere was due in November and I was concerned that I might not have been able to fit it in because it was so far ahead in my schedule. But all in all I was really chuffed that it worked out. It's a subject I'm really interested in.
Were you a Bond fan before the project?
I wouldn't say that I was a big Bond fan but I'm a fan of dramas and thrillers and some sci-fi TV shows like 'Doctor Who' which I have loved since I was a kid! I was into Bond on the same sort of basis, but not through the literature. Bond movies were, and remain, a big fixture on TV especially at Christmas, so that's how I got into Bond. I grew up with Roger Moore as James Bond so I have always thought of him as my favourite. Along with Tom Baker as Dr Who and all the other 70s icons, I associate Roger with a very happy time in my life. On another level, as a film buff, I enjoy the movies and I'm familiar with the stories, how they were developed, who directed them, who did the stunts and second unit filming and so on. I suppose a general cinema visitor would never be bothered with that sort of detail.
How long did it take you to prepare for the big night?
LWT commissioned the show for ITV, and London News Network (LNN) was assigned to make it. LNN was London's ITV regional news company at the time – ITN has taken over now – and they were well-used to turning these big showbiz events around very quickly as news items. LNN set up a Factual programme-making division under two executive producers, Bob Whittaker and Paul Larsmon and I was working for Bob. I was booked on the basis that I would have to make this programme for ITV in just 10 days for about 50p! That's everything, archive clips, production staff and research time. Actually the budget was around £35,000, but that's absolutely nothing, really. The hour-long Vinnie Jones show I mentioned earlier was a similar links-driven archive-fest and that cost about £120,000 to make…
As the event got nearer I was invited to a few big production meetings, where the we liaised with the event planners, Andy Peat and Caroline Lockyer-Nibbs, including a tour of The Royal Albert Hall where we discussed logistics like placing cameras on the red carpet, and how it would be forbidden to run any cables under a thoroughfare that the Queen would be driving along. Security would be extremely tight as you can imagine.
As these meetings got more and more involved, I suggested to Bob and our production manager Jeremy that a ten-day schedule would be too ambitious. After a bit of work on the budget, they agreed and gave me an extra 3 days!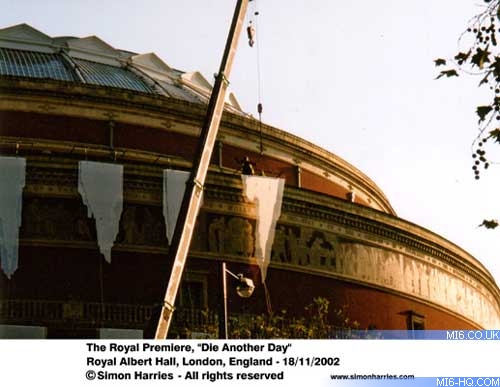 How many people worked on the production and did everything run smoothly?
As I mentioned earlier, the budget was something like £35K which is laughable for an hour-long programme on ITV1. But I think LWT and LNN had done a deal with MGM so that we would get a lot of material free to promote the film. Behind–the-scenes footage, clips from the older movies as well. If we had wanted to buy all those vintage Bond movie clips, each one would have cost us around £2000 each – that's why archive TV shows are the most expensive of the lot. Since we were getting them on the basis of promoting the DVD range, with a credit to that effect in the closing titles, they were happy to let us use more or less what we wanted. But despite all this helpful free material, we could still only afford a small production team. It ended up being a production team of four plus two editors, and for the premiere night we had an extra twenty or thirty people for the technical roles, including five cameras and a scanner truck. On my production team, I was on the budget and so was my assistant producer, but our researcher wasn't – he had been seconded from the news division if I remember correctly. We had a fantastic editor working with us, Danny, who sat cutting for days to help us pull together all the video material in readiness for the big night. He's quite a Bond fan, very much a Connery man although it is possible that some of my fondness for Roger may have rubbed off on him! So other than the technical team on the night, our core group was about four or five people. It really was a tight little group and we got on really well I think.
Did it go smoothly? Well, it was more like a kick-bollock-scramble! But still tremendous fun, that's what happens when the adrenalin kicks in. It certainly wasn't an unpleasant experience. Sometimes you can work on TV shows which get very intense and you find yourself under all sorts of pressures that make you wonder, "Is this ever going to end?"

Well, Premiere Bond was never like that; it was huge fun and a huge adrenaline rush, because there was so much to do, so few people to do it and a big sense of expectation. When we met that expectation and, as far as LWT's commissioning editor was concerned, surpassed it, it was a joy.

As for planning, I'd written a running order and a links script well in advance so I knew what I wanted in the show and everyone had an idea of what to work to. Nobody knows that far ahead who is going to turn up on the night on the red carpet, so you have to guestimate; I was expecting that we would meet most of the old Bond stars other than Connery, and some of the old Bond girl and villains, so I was able to allow a minute here and a minute there for 'generic' Bond cast interviews.

I also knew that we'd have to assemble lots of four or five-minute segments on tape that our presenter would link to, whether that was an opening montage for the whole show, or maybe a specific item about villains or stunts or gadgets. So we knew there were lots of packages to put together.
Before the premiere itself, we set up and shot three other location days. We went to Pinewood and met Lindy Hemming, the costume designer of Die Another Day. She was fantastic, a very warm and witty woman who by the time of our shoot was well into working on her next project, Tomb Raider. We had arranged through her to bring some of the genuine Die Another Day costumes out of the archive for her to talk us through their designs. There was a funny moment when she came into the room for her interview to find Halle Berry's orange bikini on a plastic mannequin sitting in the background, but someone had put the knickers on back to front! On that day we also went to see Chris Corbould, the special effects designer, who we interviewed in the Pinewood restaurant.
Then we did another day at the Science Museum in Kensington, interviewing the curator of the Bond exhibition about all the gadgets that had appeared over the previous 19 Bond movies. Some of them were on display as some of your readers will probably remember.

We also did some general filming at Harrods because they had a Bond exhibition there, with costumes and cars in the windows. On our final day we visited the composer David Arnold at his studio in Belsize Park. He told us that he'd decided to use a choir to liven up the music in the sequence where the satellite is unveiled to the world's press. But to give them some actual words to sing he wrote out "Look at that big umbrella" backwards, phonetically, and got them to chant that!
Simon Harries - Website

Simon Harries - Personal Premiere Bond Coverage
Related Articles

Die Another Day Royal Premiere Report

Die Another Day" Japanese Premiere

MI6 - Day Another Day - Coverage
Many thanks to Simon Harries