| | |
| --- | --- |
| | MI6 looks back at the artwork by Barnett Plotkin for the James Bond paperback novels published by Jove in the early 1980's... |
Barnett Plotkin's James Bond Covers
13th May 2009
In the early 1980's, American publisher Jove (now owned by Penguin) issued new paperback editions of Ian Fleming's James Bond adventures.
With the new publisher for the US market also came new cover designs from illustrator Barnett Plotkin.

Born and raised in Valley Stream, New York, Barnett Plotkin studied at Pratt Institute in New York City, graduating in 1952 with a major in illustration and two years post-graduate study in figure painting. He has worked in the field of commercial illustration for the past 50 years; this has included medical illustration.

Experimentation with varied media and styles has often inspired some of his most eclectic and satisfying work, without the constrictions associated with the commercial field. Among his many other clients have been Wrangler Jeans, Citibank, Prudential, IBM, Swingline, Hunts Foods, US Steel, P. Lorillard, Medical Economics, The Franklin Library, and Bantam, Fawcett., Harlequin and NAL paperbacks.

His James Bond covers were first released by Jove in February 1980, starting with "Goldfinger". Oddly, Jove published the titles out of sequence and only released the first eight Bond novels by Ian Fleming, ending their run a with "Moonraker" in July 1981.


Above: "For Your Eyes Only" artwork
Barnett Plotkin is a life member of the Society of Illustrators and the 1984 past chairman of their internationally-acclaimed Annual Show. His work was included in "The Art and Culture of the American Labor Movement," which opened in 1983 in the Staatliche Kunsthalle, Berlin, and traveled throughout the major capitals of Western Europe for several years. The artwork was originally inspired for a division of Wrangler Jeans and was most recently seen in a group show at the Smithtown Arts Council, Smithtown, New York and at a retrospective at the Society of Illustrators, New York City. It was described by the NY Times as "the embodiment of power without the need for words." Newsday wrote,"appealing in its very overtness." Many of his portraits, landscapes, and drawings are in private collections.
In 1997, Barnett Plotkin was honored by Nassau County, New York along with William Baldwin and Susan Isaacs as their favorite artists, actors and writers of the year. He has been a member of the US Air Force Art Program since 1968, and his work has been exhibited at the Society of Illustrators in New York, The Air and Space Museum, Washington, D.C., The Pentagon, Andrews Air Force Base, and Dayton Air Force Museum at Wright Patterson Air Force Base. In September 1999, The Society of Illustrators elected him Chairman of Government Services, with the Air Force Art Program being the major contributor.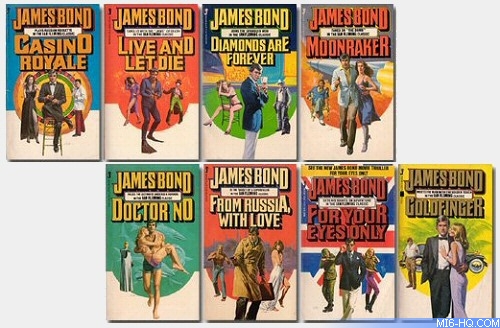 Above: Jove paperbacks from 1980 and 1981 using Plotkin's artwork
As part of the Ian Fleming centenary in 2008, the Royal Mail issued commemorative stamps featuring James Bond book covers. Plotkin's artwork for the Jove editions were selected as one of the four designs used for the stamps covering "Dr No", "Goldfinger", "Diamonds Are Forever", "For Your Eyes Only" and "From Russia With Love".

Above: "Goldfinger" artwork

Jove Covers
Casino Royale - July 1980
Live And Let Die - June 1980
Moonraker - July 1981
Diamonds Are Forever - April 1980
From Russia With Love - March 1980
Dr. No - May 1980
Goldfinger - February 1980
For Your Eyes Only - June 1981

Limited Edition Giclee Prints
Five of Plotkin's designs for James Bond paperback covers are now available as limited edition 20"x30" unframed giclee prints. Each print is limited to only 250 units and comes complete with a certificate of authenticity and a complementary set of stamps.

MI6 readers can save 10% off the regular price via the special offer link.

Buy Limited Edition Prints (Save 10%)

Related Articles

James Bond Novels