| | |
| --- | --- |
| | John Gardner's fourteen James Bond continuation novels will be re-released in the UK and USA to celebrate the 30th anniversary of his debut title "Licence Renewed"... |
John Gardner 007 Reprints
29th March 2011
Press Release - Ian Fleming Publications
Ian Fleming Publications is very pleased to announce plans to release new editions of John Gardner's classic James Bond titles. All fourteen of John Gardner's James Bond books will be republished by Orion in the UK, starting in June this year. Orion will celebrate the 30th anniversary of John Gardner's Licence Renewed by publishing the first five titles in hardback, featuring their original covers, in Summer 2011. The rest of John Gardner's Bond books will be released in paperback in 2012, as a stunning, redesigned collection.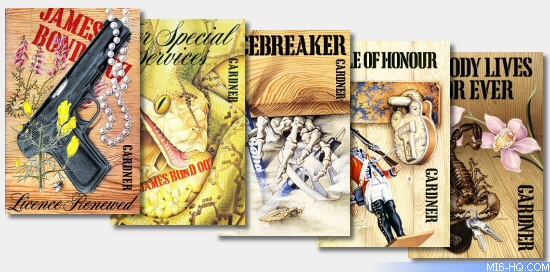 Above: The first five James Bond continuation novels by John Gardner will be re-released in hardback with original UK cover artwork.
Licence Renewed - Amazon UK

For Special Services - Amazon UK

Icebreaker - Amazon UK

Role of Honour - Amazon UK

Nobody Lives For Ever - Amazon UK
In the US, Pegasus will release the first three John Gardner titles in newly-designed paperback in the Autumn of 2011. The editions will feature new introductions from luminaries in the world of Bond, and will be followed by a complete re-issue of all 14 titles in the US.
About The Author
John Gardner was born on 20th November 1926 in Northumbria, England. He was an avid reader since age 3, and aged 9 he announced his intention to become a writer, and went on to study at both Oxford and Cambridge. After these five years he joined the Royal Marines, became a stage magician and served briefly with the American Red Cross.
Eventually followed his father into priesthood, Gardner was vicar at Eversham for seven years and then a chaplain to the Royal Air Force. However, he realised one day while he was preaching that he "didn't believe a word he was saying". He took the rare step of ceasing to be ordained.

Gardner eventually started a new life as a journalist and critic and from 1959-1964 he was theatre critic and arts editor for the Herald in Stratford-upon-Avon, but another year passed until the ultimate climax of his alcoholism. He managed to overcome his addiction through a combination of aversion therapy and hypnosis, and is proud that he hasn't drunk a drop since.

After Gardner had written two Sherlock Holmes novels and three spy novels, Glidrose (now IFP) approached him to breathe new life into Fleming's literary character. He submitted four outlines and Glidrose gave him the contract. His first novels, "Licence Renewed" and "For Special Services" were big successes making the New York Times best-sellers list. John Gardner died on Friday 3rd August 2007 from suspected heart failure.

Full MI6 John Gardner biography