Like Fleming, Jeffery Deaver takes inspiration from exotic locations around the world, and after visiting Dubai for the Emirates Airline Festival of Literature last year he decided to set part of Carte Blanche in the United Arab Emirates City.
Carte Blanche is due to be published by Hodder and Stoughton in the UK, a few days before Fleming's birthday, on 26th May 2011. It has been commissioned by Ian Fleming Publications Ltd.
Jeffery Deaver comments, "I'm really excited about being back in Dubai. It is an inspirational and awe-inspiring city and makes a perfect Bond location—especially for a novel that pushes our hero to new extremes."
Regarding the book's title, Deaver added, "In the world of espionage, giving an agent carte blanche on a mission comes with an enormous amount of trust and constantly tests both personal and professional judgement. Part of the nonstop suspense in the novel is the looming question of what is acceptable in matters of national and international security. Are there lines that even James Bond should not cross?"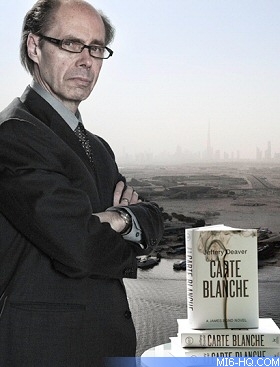 Above: Author Jeffery Deaver poses with mock-up books featuring the cover artwork. Deaver is still to comlpete the transcript.