Vic Armstrong - My Life as Indiana Jones, James Bond, Superman and Other Action Heroes
Think you don't know Vic Armstong? Wrong! You've seen his work in countless films. He's been stunt double for James Bond, Indiana Jones and Superman, and he's directed action scenes for 3 Bond movies, Mission Impossible 3, I Am Legend and the upcoming Thor, to name but a few. He's got a lot of amazing stories to tell, and they're all here in this, the movie memoir of the year.
From doing stunts in the Bond movie "You Only Live Twice" to directing action scenes in 2011 blockbuster "Thor", the Oscar-winning Vic Armstrong has been a legend in the movie industry for over 40 years.
He's been Bond, Indiana Jones, Superman and many other action heroes, and he's in the Guinness Book of Records as the World's Most Prolific Stuntman.
This hugely entertaining movie memoir features exclusive contributions from many of Vic's colleagues and friends, including Harrison Ford, George Lucas, Martin Scorsese, Pierce Brosnan and Christopher Lee.
Features an introduction by Steven Spielberg, and previously unpublished on-set photos from Vic's own collection.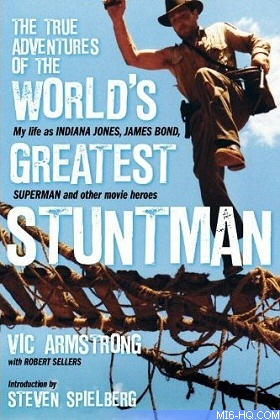 Above: UK hardback jacket design


Order Amazon UK (Hardback)

Order Amazon USA (Hardback)