| | |
| --- | --- |
| | Legendary broadcaster Bob Holness, the second person to play James Bond, has died aged 83... |
Bob Holness (1928-2012)
6th January 2012
Legendary broadcaster and accomplished theatre actor Bob Holness has died at the age of 83. Whilst a household name in the UK for his work on television, he has his place in 007 history for being the second person to portray James Bond.
Born in Vryheid, Natal, South Africa on 12th November 1928, Robert Wentworth John Holness moved with his family at a young age to Ashford, Kent in England. He studied at Ashford Grammar School, Maidstone College of Art and Eastborune College before returning to South Africa after a brief stint as a printers apprentice. He landed his first broadcasting job as a radio presenter in 1955, and married his wife Mary the same year.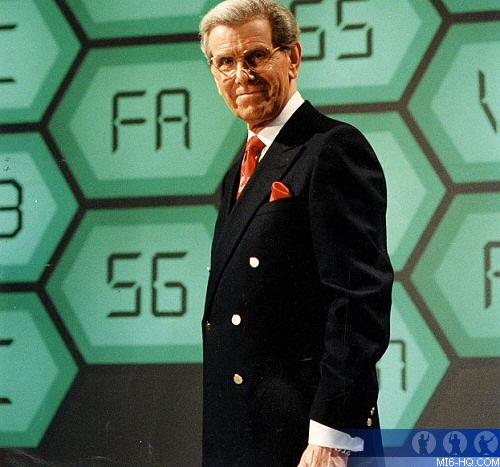 Above: Broadcaster and theatre actor Bob Holness in front of the famous "Blockbusters" game board.
In 1956, Holness became the second person to portray Ian Fleming's super spy James Bond, after American actor Barry Nelson had appeared in CBS' American television adaptation of "Casino Royale" in 1954. Holness played the title role in a radio play of Fleming's 'Moonraker' novel in the production based in Durban. Sadly, no known recording of the broadcast exists today, making it the ultimate lost Bond outing.
Holness told the BBC in 2008 that the opportunity "just came up through a hole in the floor. I was doing lots of radio plays at the time but I wanted to do something a bit different, so when James Bond came up I ventured in and said yes." He said he had never heard of the character but that it "became an amazing part to play and the response from listeners was terrific".
He moved back to the UK with his wife in 1961, and joined the BBC as a presenter of the radio show Late Night Extra. In 1975, he made his transition to commercial radio stations LBC, presenting the morning show for Londoners. Ten years later, he returned to the BBC, presenting a number of shows for Radio 2.
Holness cemented his household name status between 1982 and 1994 when he presented the weekday gameshow "Blockbusters" for ITV, which saw a seemingly endless conveyor belt of student contestants attempting to answer trivia questions to complete a path across or down a game board of hexagons. "I'll have a P please Bob" became a catchphrase loved by a generation of British viewers.

"People say 'Don't you ever get fed up with it?' but I didn't. I loved everything to do with the show so it always got a very positive reception from me, however many times I heard it."

One mark of his popularity was the widespread urban myth, believed by many, that Holness played the trademark saxophone solo on the Gerry Rafferty hit 'Baker Street'. Holness had a great sense of humour about the false rumour, often perpetuating the myth to anyone who asked about it.
He also chaired the BBC's "Call My Bluff" television panel show between 1996 until 2002, when he suffered a major stroke, following which a brain scan revealed he had previously suffered a number of transient ischaemic attacks over several years.
A statement released by his family on Friday 6th January 2012 said he "died peacefully in his sleep early this morning, aged 83, after his health deteriorated following a number of minor strokes over the past few years".
He is survived by Mary, as well as their three children and seven grandchildren.