| | |
| --- | --- |
| | MI6 guest writers Richard & Leslie Skillman report on the Casino Royale World Premiere event and the audience reaction from an American perspective... |
Opinion - James Bond In The Decade Of Fear
15th December 2006
JAMES BOND IN THE DECADE FEAR - AN AMERICAN PERSPECTIVE
REPORT & OPINION BY RICHARD & LESLIE SKILLMAN
While in London this month, we were fortunate to accompany some of the MI6 crew to the Casino Royale World Premiere along with noted Bond authors, Lee Pfeiffer and Dave Worrall. For the last 5 years, my wife Leslie and I have planned and executed James Bond theme parties and film showings. In addition to the Royal Premiere in London, we have followed up with subsequent US viewings made up of other Bond enthusiasts and non-enthusiasts alike.
Casino Royale is a crossroads film for EON Productions, one made from daring decisions and response to criticism of the franchise direction, in stunning defiance of the financial success of its less than stellar predecessor "Die Another Day". What is more impressive is that these decisions came amidst the acquisition of MGM by a Sony led consortium. It is with credit to all those involved that they did not choose to play it "safe" and produce another "Die Another Day".

While in London, we took the opportunity to visit Ian Fleming's grave site at Sevenhampton, as well as his schoolrooms at Eton. Like the film, our visit was a return to James Bond's more literary roots rather than just the cinematic locations we had previously visited. Ironically, reaction to criticism and how that may affect the outcome of creative pursuits is rife with "Casino Royale".

As Ian Fleming was chastised as a schoolboy at Eton by his school masters and grew to a great literary power dispute poor grades in literature, Daniel Craig harnessed the overwhelming early scorn of his selection as James Bond and delivered one of the best Bond performances and has made the character his own.
Craig, taking unusually harsh barbs from press and fans alike, focused the criticism externally on the development of his physique for the role and turned it inwards to create one of the most emotional and introspective Bonds. This is evidenced by Craig's masterful expression of a great range of emotions through Bonds killings required to becoming a 00, falling in love, suffering extreme torture and experiencing painful betrayals.
On both continents, women in the audience reacted positively to Craig's portrayal and seemed to transition from the suave Pierce to the rugged Daniel with little effort. The men interviewed were split, some looking to Bond to be their lifestyle model, with Brosnan/Connery being the role most identified and others felt this may be more developed by Craig's Bond in films to come, and welcomed his "re-Bourne Identity".
Granted, the writers, Purvis, Wade and Haggis are working with the framework of a great existing Bond story for the first time. It is clear in this outing that they were given significant more flexibility to reset the Bond template and establish an architecture more in touch with present day terror. The writers have skillfully woven Fleming's story in and out of contemporary plot lines and issues and although some of the sequences follow the previous Bond pitfalls of being too long, too confusing and too incredulous, the overarching themes of the story continue to mesmerize.
The films best sequences are the interplay scenes between Vesper and Bond - of note was the dueling dialogue of wits on the train and touching shower scene following the killing of Le Chiffre's assailants, excellent moments and notable for Bond's character in films to come. Duels and opposition of power sequences are thematic in this film - Bond and the Free Runner, a cobra and mongoose fight scene in Madagascar, Bond and Le Chiffre at Casino Royale's poker tables and the free world against organized terror.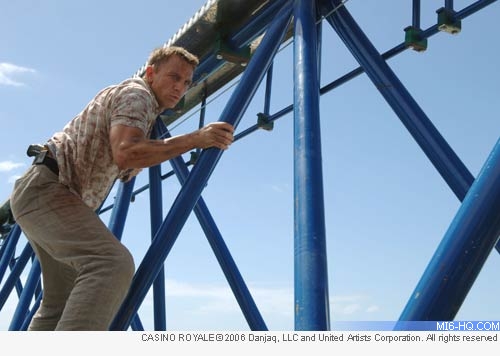 Martin Campbell returns to direct a launch of another new Bond and he works with the usual larger than life elements with an artisan's skill. Several of the action pieces could have been assembled better to establish more suspense. For example, the terror plot to explode a new jumbo jet failed to generate any significant concern and could have benefited by inter cutting between the oncoming fuel tanker to the gathering audience at the airport for the unveiling. Terrorists feed on carnage and at no time did we feel anyone was in grave danger save Bond in this sequence. Conversely, the opening free running sequence was brilliantly edited, exciting and more physical than any other Bond chase in memory.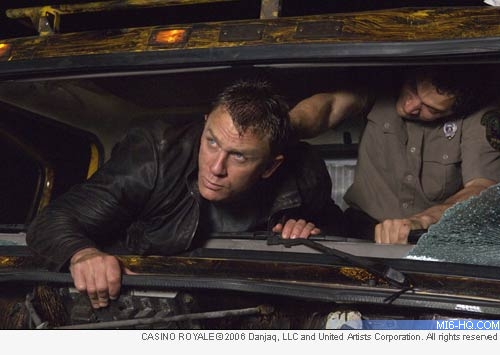 From our perspective, James Bond, as Ian Fleming might have envisioned, is back from a long absence and the "rebooting" of the template as Barbara Broccoli and Michael Wilson, the producers, described their intent of this film accomplishes this transformation perfectly. This new Bond faces real world terror and some may argue that Brosnan's's Bond was unfairly hampered with cardboard villains and evil during the decade following the collapse of the Cold War icons - the Berlin Wall, the Soviet Union, etc. Similarly, other Bond's - Moore and Dalton - it could be argued provided their Bond for their decades - the silliness of the 70's, the sternness of the 80's.
Craig's Bond will have to compete with the real life evil and faceless terror witnessed on television screens daily around the world. It is suggested in this film that there is an organized front to the funding and direction of terrorists and in a "S.P.E.C.T.R.E-esque " approach, Bond will do battle with this group in films to come. As Connery satisfied A-Bomb nervous filmgoers in the early sixties, Daniel Craig's Bond will have a similar role to play for this decade's audience. This is a James Bond to provide a cinematic solution to the issues we confront in our war with our real enemies in our decade of terror.
Casino Royale squarely joins as the middle book to the bookend "Fleming Faithful" films, "Dr. No" and "On Her Majesty's Secret Service". In the overall franchise, we place it as one of the Top 5, joining "Goldfinger " and "Thunderball" and groundbreaking in its contribution to the success of the character going forward.
Related Articles

Casino Royale Coverage

Casino Royale World Premiere Report
About The Authors
The Skillman's appear as movie theme party experts on the American television series, "The Rachael Ray Show" and had recently coordinated 21 months of James Bond Supper parties in countdown to Casino Royale. Their events consisted of themed cuisine and drink and unusual activities for their guests such as Scuba Diving among mechanical sharks for "Thunderball", a shooting range for "Golden Gun" and a string ensemble complete with bullet laden cellos for "The Living Daylights". For more information visit themepartypeople.com
The views of this columnist and those expressed in this article are not necessarily those of mi6-hq.com or its owners.
Click here to submit your letters to MI6