Opinion - And Twice Is The Only Way To Live! (3)
18th June 2007
In the third part of the special "And Twice Is The Only Way To Live" series, authors reflect on "the big one"...
Charlie Higson - On The Start Of An Obsession...
I often get asked which is my favourite Bond film and I always go for You Only Live Twice. I don't know if it's the best Bond film, but that's not the point. It's the one that had the biggest effect on me when I was a kid. I remember vividly when it came out, I was ten years old. It was the most exciting thing in my life. I collected the trading cards (all since lost, worst luck), I watched the behind the scenes footage on TV and when I got to see the film I was enthralled.

It had sumo wrestlers, piranhas, poison dripping down a thread, it had Little Nellie, the one-man helicopter, it had Bond pretending to be Japanese, it had one of John Barry's most evocative scores, but best of all was the volcano, and Blofeld and his cat. The volcano set is still the quintessential Bond set and Donald Pleasance is still the quintessential Bond villain. The huge climax with armies of men in colour-coded jumpsuits being machine-gunned and blown up was the icing on the cake. Perfect entertainment for a ten-year-old boy.

-- Charlie Higson, 2007
---
Gareth Owen - On The Incredible Set...
For You Only Live Twice , Commander Bond traveled to Japan for one of his most ambitious adventures. However, it became apparent early on in pre-production that it would be impossible to find any of the locations Fleming had described. 'I spent three weeks with Cubby, Harry, Lewis Gilbert [the director] and Freddie Young [director of photography] in two helicopters, and we covered two thirds of Japan,' production designer Ken Adam remembers. 'We didn't find anything that Fleming had mentioned. Fortunately, almost towards the end of our scout, we found this volcano area in Kyushu, Southern Japan. And that triggered off the whole thing about putting the villain into an extinct volcano.'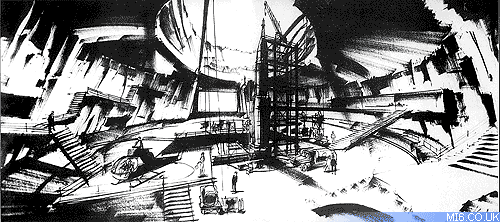 The volcano was then recreated at Pinewood at a cost which exceeded the entire budget of Dr. No. 'Cubby was amazing,' Adam continues. 'When he saw my design he asked how much it was going to cost. I had no idea, and just said "About $1 million." He didn't blink an eye! He said if I could do it for $1 million, I should go ahead.'
Once again, Adam was able to call upon the talents of the Pinewood workforce for an undertaking far more elaborate than anything he had previously designed. 'There were several hundred tons of steel and the tubular alone would stretch from London to Edinburgh. I had a great team with me - Chip Brown, the builders at Pinewood, the structural engineer and so on.
Had it been the Empire State building, they would have known how to cope quite easily. But because this was an unusual structure - an artificial lake, 100 ft up, on a slope, 70 ft in diameter - it was a different kettle of fish.'

The safety aspects of such a set were of paramount importance, especially because a helicopter was required to fly in and out of it. 'That was a huge worry,' admits Adam. 'We nearly lost a Brantley helicopter in Japan as it disappeared for a few minutes after flying into the real volcano. We thought it had crashed. In fact, there were enormous down-drafts and the pilot had great difficulty in getting out. So I was really concerned as I didn't know what conditions we'd encounter in going from the outside into a closed set. I was keenly aware that if anything went wrong, I would never work in films again. Ronnie had many sleepless nights!'

The impressive set overshadowed the whole studio, and could been seen from the motorway some four miles away. -- Gareth Owen 2007
---
Simon Winder - On The Big One....
So what is there to like about this film? The music definitely - not Barry's best score but very close. The photography - Freddy Young makes everything look gorgeous. The sets - Ken Adam operating flat out - from the luxurious Hong Kong bedroom at the beginning to (but of course) Blofeld's rocket 'n' volcano lair. The acting - Tetsuro Tamba as Tiger Tanaka is almost ridiculously sympathetic and Charles Gray's few moments on screen are so wonderful that on every viewing it is impossible not to yell out 'Don't stand against that wall, you fool!'.
These are a formidable load of ticks for any movie, and yet and yet. Is it really much good? Aren't there fatal problems with Connery looking so bored and sometimes rather tubby, with all the girls being so useless (and who invited the idiotic villainess Helga Brandt?) and with Blofeld's sinister anonymity, such a pleasure in From Russia with Love and Thunderball, coming crashing to the ground as he turns out just to be jobbing international co-production actor Donald Pleasence?
It is really very odd that a film that jettisons most of the plot of one of Fleming's most enjoyable novels also manages to keep the absolutely worst bit: Bond's absurd 'marriage' to a Japanese fisher girl! Why are we sitting here while this nonsense goes on? It is easy, in particular moods, to make fun of the Roger Moore films but I would be surprised if anyone could come up with any moment quite as bad as Connery with a weird faintly Japanese toupé and funny eyebrows sitting there smirking while some of Barry's worst music bongs away. No wonder he decided he ought to get on with the rest of his life and stop doing Bond.

So perhaps the real tragedy of You Only Live Twice is that it was so silly it made Connery jump ship when he would have been sensational in On Her Majesty's Secret Service. But then it was clearly the feeling of many involved in the making of You Only Live Twice that it was all a bit overblown and tacky that made them come up with a harsh, low-key script of OHMSS - so you can't have one without the other.
This all sounds a bit too censorious. I've watched You Only Live Twice so many times and there are so many lovely scenes (we all have them - the machine-gunned fold-up bed; the burial at sea; the fight in the industrialist's office--another great Adam set--the poison drifting down the thread…). But in the end it's a film that seems to have drawn the wrong conclusions from Thunderball - it could have been like the first half of that film (i.e. pretty much immaculate) but instead it took its cue from the second half (i.e. stodgy and confused and over expensive). And this launched Bond (OHMSS aside) onto a career of hidden underwater cities, space guns and so on which it is so shaming to think about.
-- Simon Winder, 2007
---
Gary Giblin - On The Great Warm Up...
I first saw You Only Live Twice when it made its American television debut in October 1975. As a certified Bond nut I would have accepted just about anything thrown at me and, boy, did that film throw things at me: not just the usual girls, guns and gadgets, but outer space hardware, woman-eating piranhas, and even the death of 007 himself. At the time (I was 16), it all seemed really cool. Now, it just seems dumb. It's among the sloppiest of Bond productions in a number of departments, including the script (how could Osato have read about Bond's death in the newspapers yet not recognized the man in his own office?), the casting (elfin, squeaky-voiced Donald Pleasance is about as menacing as Mayberry's Barney Fife), and, ironically, for a film that so heavily depends upon them, the special effects, which are at times downright embarrassing. Bond himself is also quite disappointing: the sleek, assured charmer of Goldfinger has been replaced by a bloated zombie wearing one too many wigs. Finally, there is that "bloomin' volcano," as supervising editor and second unit director Peter Hunt liked to call it.
I had the pleasure of knowing Hunt during the last few years of his life and whenever he spoke about You Only Live Twice he always mentioned the volcano. Indeed, a moment's reflection tells you that the thing is impossible: how on earth could Blofeld have built such a monstrosity under the noses of the Japanese, not to mention the American military? Yet, as a metaphor for both the film and the series at that point, it's perfect: forget a good script with solid characters, just throw more money around. So, while I acknowledge the spectacle and scope of You Only Live Twice, as well as an amazing John Barry score, it's at best an expensive dress rehearsal for The Spy Who Loved Me. Now, there's an epic that gets just about everything right, truly proving that nobody does it better.

-- Gary Giblin, 2007
---
The views of these columnists and those expressed in this article are not necessarily those of mi6-hq.com or its owners.