| | |
| --- | --- |
| | The British Luxury brand that developed props for "Skyfall" have announced a limited edition line of product, celebrating 50 years of 007... |
Globe-Trotter Bond Apparel
10th October 2012
Globe-Trotter, the British Luxury brand is extremely proud to announce its very special involvement in the latest James Bond film, SKYFALL, starring Daniel Craig. This is the biggest partnership Globe-Trotter has ever undertaken in their 115 year history, and who better to partner with than 007 himself, a true British icon.
For SKYFALL, the production team required a rifle case and Globe-Trotter were called on board to produce a bespoke piece to the specification of the rifle used in the film. Working closely with the film's armorer, Globe-Trotter developed something truly unique, inspired by Bond gadgetry of the past. Months were spent perfecting the design and finer details, which included developing a bespoke telescopic sight for the rifle. The traditional case was transformed into something truly unique that had never been produced by Globe-Trotter before.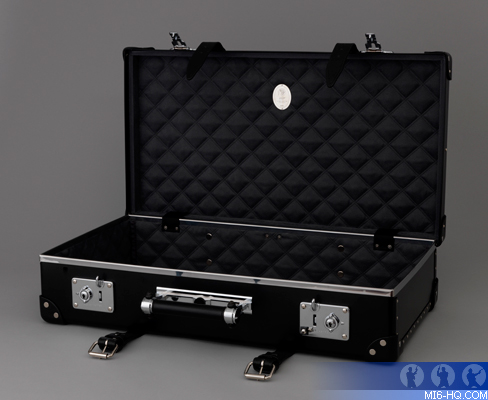 Above: Bespoke Stabilist Aluminium rifle case made for "Skyfall".
The luxury luggage manufacturer, based in Hertfordshire, England, has taken inspiration from this rifle case and, in celebration of this partnership, will be retailing a highly limited collection of products from Friday 5th October, Global Bond Day. Not only do the pieces celebrate the launch of SKYFALL, they also honour the 50th Anniversary of James Bond.
From Bond Day, for a limited period, three collections of new products will be available in the Globe-Trotter flagship Burlington Arcade store. The most exclusive, and highly limited, edition is inspired by the rifle case itself. This hand formed slim line 26" Black Aluminium Suitcase features a telescopic sight handle - a replica of the original used in the film, finished off beautifully with a diamond quilted Alcantara interior and commemorative internal plaque. This series is limited to 100 editions globally.
There is also a special edition range of luggage hand crafted from Globe-Trotter's signature vulcanised fibreboard. In a range of sizes, from 16" Slim Attaché to 33" Extra Deep Suitcase with Wheels, the series is formed from Black vulcanised fibreboard with Black Box Grain leather trim and Chrome locks. Inside, each case is beautifully lined with a jacquard weave featuring the iconic Bond gun barrel design, and finished with unique 007 serial number plaque.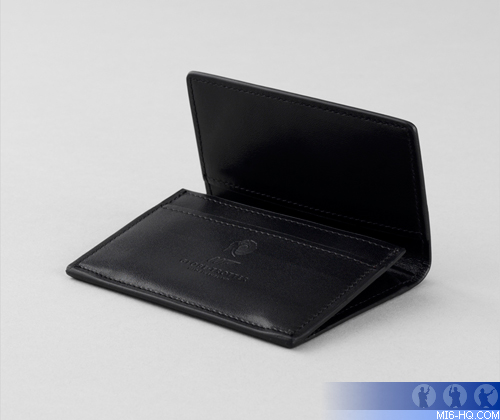 Above: Globe-Trotter cardholder embossed with the 50th anniversary and 007 logos.

Finally, also available is a capsule collection of Bond leather products, all handcrafted at the new Globe-Trotter leather factory in Hertfordshire. Inspired by the sophistication and style of James Bond, each item is crafted with luxurious Black Box Grain leather and lined with the jacquard weave gun barrel fabric, finished with a painted edge and internal blind emboss logo. Items include a Luggage Tag, Passport Cover, Notebook, Wash Bag, Bill Fold Wallet, Coat Wallet, Travel Wallet and Card Holder.