| | |
| --- | --- |
| | See the British capital, 007 style. Let MI6 be your guide to exploring locations from the Bond films... |
007's London (Part 1)
22nd April 2011
Whilst he may travel the globe to protect Great Britain, we all know that it's London that is home to the World's greatest secret agent. 007 Risks his life to protect Queen and country, and if the Queen is England's head, London surely is its beating heart.
With this in mind, MI6 have prepared a guide to the very city that has the strongest connection to the James Bond films.

So, sit back and let us take you on a tour of London film locations used throughout the series. Whilst Pinewood, Stoke Poges and Black Park all play significant parts in the Bond universe, to keep things simple, we've limited this guide to everything inside the M25.

Right: Click on the map to launch MI6's interactive guide to 007's London in Google Maps. Additionally, click any bold/blue link to jump to that locale on the map.



The King Of Clubs - Where Bond Plays His Cards Right
Les Ambassadeurs Club - 5 Hamilton Pl. London. W1J 7ED.
Okay, this is a little bit of a cheat as the Le Cercle club in "Dr. No" is actually a convincing Ken Adam recreation on a soundstage at Pinewood. Incidentally, the real Le Cercle was used in The Beatles' "A Hard Day's Night", with Wilfrid Brambell sitting in Bond's chair, and Margret Nolan, who played Dink in "Goldfinger", sitting at his side. Whilst Le Cercle was never actually used as a filming location, what better place to start your London tour than the club where Bond first utters the immortal line "Bond. James Bond"?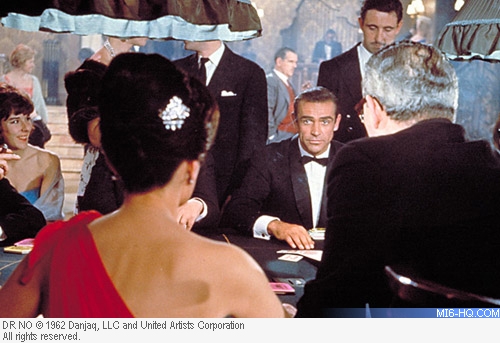 Above: James Bond is introduced across the card table in "Dr. No".
The Reform Club - 104-105 Pall Mall, London. SW1Y 5EW.
Bond may very well enjoy gambling away at Les Ambassadeurs, but he's probably best known for frequenting another, fictitious establishment of Fleming's: Blades. Blades makes its screen debut in "Die Another Day" where the famous Reform Club is used as the location.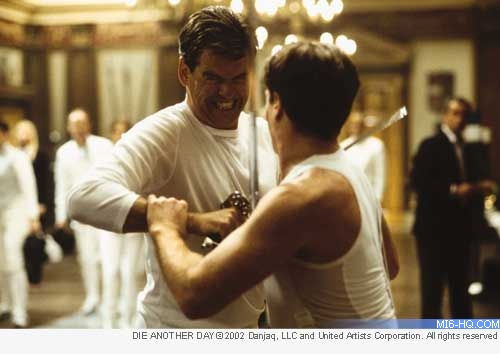 Above: Pierce Brosnan (Bond) and Toby Stephens (Graves) cross swords at 'Blades' club.
For Queen and Country - Where 007 Pops Into The Office
It's not all fun, games and Chemin der Fer for Bond, however. Soon he must head back to the office. How dreary. Still, when your office changes as much as Bond's does, life is never dull. Here are the London locations that have served as the home of Universal Exports over the years.
Old War Office - Whitehall, Westminster, London. SW1A 2EU.
This beautiful building was where Bond was briefed for his missions in "Octopussy", "A View To A Kill" and "Licence To Kill". It is still used by the Ministry of Defence to this day, although probably not to send secret agents out to stop mad megalomaniacs from destroying the world. Probably.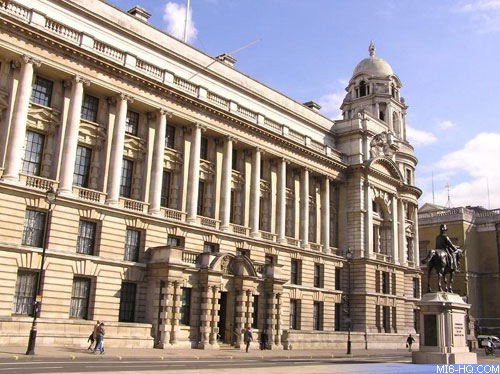 Above: The old War Office in Westminster.
Malaysia House - 57 Trafalgar Square, Westminster, London. WC2N 5DU.
Is another location for Universal Exports, as seen in "The Living Daylights".
Vauxhall Cross - 85, Albert Embankment, Pimlico, London. SW8 1AN
However, if you're after something a little modern, then you might want to visit the real MI6 building at Millbank, which has been used in the James Bond films "GoldenEye", "The World Is Not Enough" and "Die Another Day". This is the current home to Britain's real Secret Intelligence Service, and whilst obviously not accessible to the public, it is possible to stroll around at the front of the building and get a wonderful view across the Thames.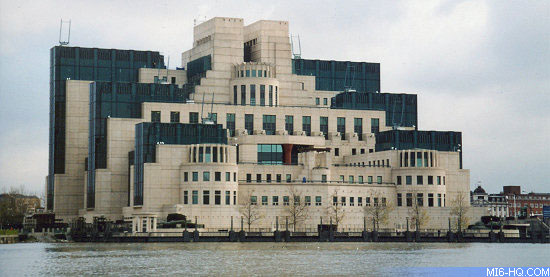 Above: SIS Headquarters at Vauxhall Cross.
In "Quantum of Solace" MI6 has up sticks and moved to Frobisher Crescent on the Barbican Estate. Being a block of flats, it's not the most convenient place for the Secret Intelligence Service's base of operations, it has to be said. Still, if you're a fan of 60s architecture, then a trip to the Barbican Estate is a must.
Whitehall Court - Westminster, London. SW1A.
Was the location for The Ministry of Defence in "For Your Eyes Only". Whilst this is not the supposed to be the location of Universal Exports in the film, this building reportedly housed the real SIS for a number of years.
Somerset House - Strand, City of London. WC2R 1LA.
Oddly, when the filmmakers wanted to show the War Office in "Tomorrow Never Dies", rather than actually use the Old War Office, they turned to Somerset House instead. You can see it when Bond pulls up in his DB5 to attend an emergency meeting held there.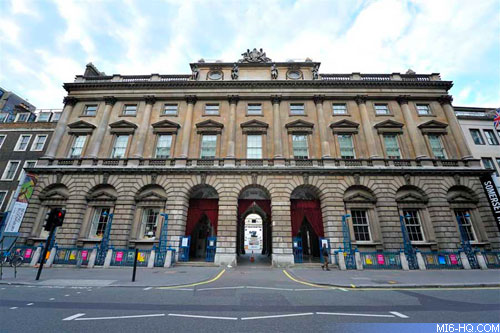 Above: Somerset House on the Strand.
The Reform Club - 104-105 Pall Mall, London. SW1Y 5EW.
Yes, we're back at Blades again. The Reform Club makes another appearance in "Quantum of Solace", this time as the Foreign Office.
Article by Ben Williams.
Related Articles
007's New York