| | |
| --- | --- |
| | See the British capital, 007 style. Let MI6 be your guide to exploring locations from the Bond films... |
007's London (Part 3)
24th May 2011
Whilst he may travel the globe to protect Great Britain, we all know that it's London that is home to the World's greatest secret agent. 007 Risks his life to protect Queen and country, and if the Queen is England's head, London surely is its beating heart. Continuing from Part II...
From Rush Hour With Love:
Where London Stands In For Forign Locations
Sometimes these London locations aren't supposed to be London at all. In fact, we've seen more of London standing in for another country than we have it being itself. For instance, in "GoldenEye", London is extensively used as a substitute for Russia.
Queen's Stand - Epsom Racecourse, Epsom Downs, Epsom. KT18 5LQ
Ah, Russia. There's nowhere quiet like it. Apart from London, obviously. Standing in for the St. Petersburg's airport in "GoldenEye", Epsom Racecourse has rather more horses than planes.

Somerset House - Strand, City of London. WC2R 1LA.
That's right, the same location that was the War Office in "Tomorrow Never Dies" is used in "GoldenEye", this time standing in for the square in St. Petersburg where Jack Wade's car breaks down. To quote Jim Carrey in "The Truman Show" those cars "just go 'round and around and around".


Above: Bond presses Jack Wade to identify himself at the airport by showing his tattoo.

The Langham Hotel - Portland Place, London. W1B 1JA.
When visiting "Russia" you'll need a place to stay. Bond chooses The Langham Hotel, which, with the addition of a couple of Russian flags, becomes The Grand Hotel Europe. The Langham, conveniently placed in the heart of London, recently underwent a £80m restoration, so expect to pay prices that reflect that.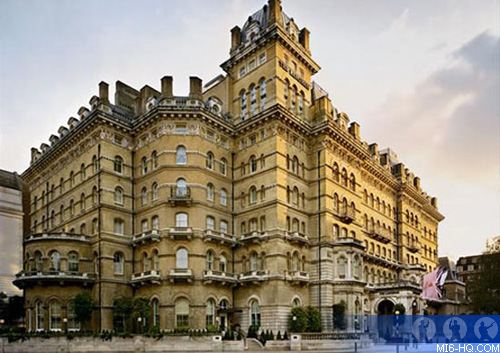 Above: The Langham Hotel, London.

Above: Spires of St Sophia's.



Drapers' Hall - Throgmorton Avenue, London. EC2N 2DQ.
Defence Minister Mishkin (Tchéky Karyo) may well be looking out over the real St. Petersburg Square, but when he turns to address his fellow ministers, he is, in fact, standing in the Livery Hall at the Drapers' Hall in London. This elegant room was expanded to its present size in the 1860s and is available to hire for functions.

St Sophia's Cathedral - Moscow Road, Bayswater, London. W2 4LQ.
The stunning church where Natalya Simonova (Izabella Scorupco) has her rendezvous with Boris Grishenko (Alan Cumming) is not in Russia either, although it is situated on the rather aptly named Moscow Road. St. Sophia's is a Greek Orthodox church in Bayswater and has regular Sunday services.

Why stop at Russia, though? After all, London can stand in for all sorts of other locations. For instance:
RAF Northholt
This rather less than well-known aerodrome is the location for several different scenes throughout the Bond films. For instance, in "Goldfinger", Northolt stands in for Blue Grass Airfield, Kentucky. It's where Pussy's flying circus lands and Bond is hustled into a waiting car by Oddjob (Harold Sakata).

However, it also fills in for a Cuban airbase in the pre-title sequence of "Octopussy", when Bond flies his Acrostar jet through the base's hangar 311, causing the heat-seeking missile on his tail to detonate inside. Northolt is also used as an airfield in Azerbaijan in "The World Is Not Enough." Here, Bond takes the place of Davidoff (Ulrich Thomsen) and actually uses a bag of shoes to infiltrate a team of terrorists.

In "Tomorrow Never Dies" Bond visits the home of media Mogul Elliot Carver (Jonathan Price), although many of the Hamburg locations are significantly closer to home.

The IBM Building - 1-6 New Square, Feltham, Middlesex TW14 8HB.
Bond assumes the identity of a banker and makes his way to Carver's headquarters for the launch of his global satellite network.

Right: (top) Pussy Galore and her flying circus. (bottom) Roger Moore and the "Octopussy" acrostar.





Brent Cross Shopping Centre car park, Level 4 - Prince Charles Drive, Barnet, London. NW4 3FP.
The spectacular chase through the Atlantic Hotel's car park with the BMW 750iL actually takes place in Brent Cross Shopping Centre.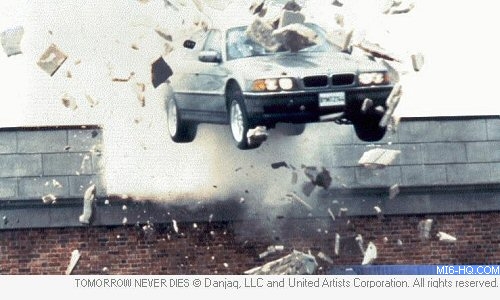 Above: James Bond drives his Beamer off the roof of a car par in the finale of the memorable "Tomorrow Never Dies" car chase.
Harmsworth Quays Printing Ltd. - 1 Surrey Quays Road, London. SE16 7ND.
West Ferry Printers Ltd. - 235 Westferry Road, London. E14 8NX.
These two printers stand in for Carver's print works in Hamburg where Bond steals back the GPS decoder, before making a daring escape.

Simpson House - 92-100 Stoke Newington Road, London. N16 7XB.
This location is from "Die Another Day" and serves as the interior for MI6 sleeper agent Raoul's (Emilio Echevarría) Havana cigar factory.
Esso Petroleum Co Ltd, Bedfont Rd. Stanwell, Staines. TW19 7LZ.
Finally, we come to the last of our London locations. It may only be a collection of petroleum tanks just below Heathrow, however, it served as the location for Ramirez Export Co. in the thrilling pre-title sequence of "Goldfinger". Here, Bond infiltrates the facility and destroys the heroin plant hidden within one of the tanks.
Article by Ben Williams.
Related Articles
007's London (Part 2)
007's London (Part 1)
007's New York