Mission: Impossible Ghost Protocol (2011)



Synopsis
When a member of the Impossible Mission Force (IMF) is mysteriously assassinated, Ethan Hunt is broken out of a Moscow jail and recruited to lead an unlikely group of field agents in the investigation of a political bombing for which the IMF themselves are framed.

Vital Statistics
Studio: Paramount Pictures
Running Time: 132 minutes
Budget: $165 million
Box-Office (Domestic): CLASSIFIED
Box-Office (Foreign): CLASSIFIED

Production
Directed by: Brad Bird
Produced by: Tom Cruise, J. J. Abrams, Bryan Burk
Written by: André Nemec, Josh Appelbaum
Music by: Michael Giacchino
Cast & Characters
Ethan Hunt
Tom Cruise

Benji Dunn
Simon Pegg

William Brandt
Jeremy Renner

Jane Carter
Paula Patton

Kurt Hendricks
Michael Nyqvist

Sabine Moreau
Léa Seydoux
Locations
Budapest, Hungary; Moscow, Russia; Dubai, UAE; Mumbai, India; San Francisco, USA.
Trivia
In staging his abseiling stunts from the world's tallest building, Tom Cruise refused a stunt double and performed the feat himself.

Title
After the terror bombing, the US President initiates a black op plan known as Ghost Protocol, publicly condemning the IMF but allowing them a chance to go underground and investigate the event.

The Bond Connection
Whilst the IMF is not strictly a espionage organization it shares many features of James Bond's MI6. They enjoy exorbitant budgets for carrying out the most unlikely tasks in secret, they are publicly condemned for their failures but their successes stay a secret. The film itself boats a globetrotting plot of exotic locations and Benji Dunn is a IT boffin whose department constructs high-tech gadgets for use on IMF operations.

Right: Tom Cruise performs the high-wired stunt atop the world's tallest building...
Production Notes
In planning the fourth big screen adventure for Ethan Hunt, producer J. J. Abrams approached "Alias" writer Josh Appelbaum to provide a new spin on the character and situations that audiences had grown accustomed to in the genre. The primary motivation was to create an interesting and likable team that Hunt could rely upon.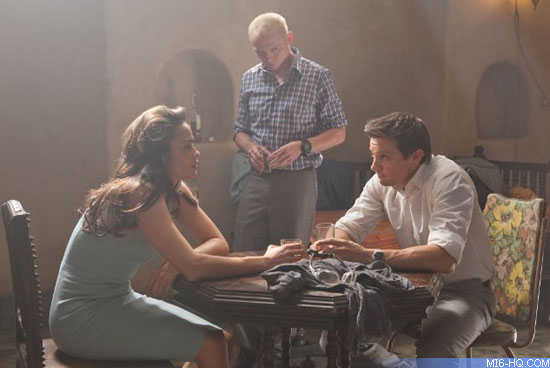 Above: Paula Patton, Simon Pegg and Jeremy Renner.
With this twist in mind, Appelbaum came up with the Ghost Protocol concept that limited the ever-expansive resources that Hunt previously had and built the story on the talents of the team he was assigned. In addition the writer aimed for an added sense of realism and caught to show the that latest gadgets could not always be reliable. This, in turn, added suspense to the many action sequences.
The director Brad Bird of "The Incredibles" fame was hired by Cruise and his producers to helm his first live action flick in a quirky but inspired choice. Cruise later described his first meeting with director Bird as like a meeting between old friends. J. J. and Brad were indeed old friends and had been searching for a project to collaborate on.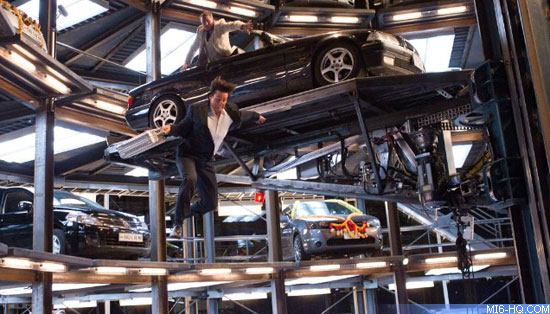 Above: Tom Curise is pursued by Michael Nyqvist.
With the principal crew assembled, Bird and his team turned to location scouting for this fantastic, globe trotting adventure. India, UAE and Russia were on the agenda from the first and a decision was quickly made to shoot studio locations in Vancouver, Canada.
Shooting began on location in Prague in October 2010 which doubled for the prison in which Ethan Hunt is held captive during the early scenes of the film. Plates of Moscow's Red Square were shot on location and stitched together to create an explosive sequence by famed VFX supervisor John Knoll.
A central piece of stunt work was planned for the Burj Khalifa - the world's tallest building. Plans were made to digitally recreate the side of the building for the purposes of showing Hunt scale its outside but the actor-cum-producer quickly blackballed that idea and insisted on climbing the real building himself.
The film crew set up on the 123rd floor (still under construction) to rig cameras. Other floors housed other cameras and glass panels were delicately removed to accommodate the elaborate camera setup. Whilst in Dubai the set photographer and Cruise climbed as far as humanly possible and staged a photo shoot atop the building.



Capsule Reviews
"Ghost Protocol is the rare spy thriller/action film that employs a perfectly calibrated blend of high-voltage explosions, intricate gadgetry and dizzying chases without sacrificing compelling characters." -- USA Today

"Unexpectedly, though, his age and inescapable gravitas work for "Ghost Protocol," partly because they invest the outrageous stunts with a real sense of risk. Mr. Cruise's primary job in the "Mission" series is to embody a not-quite-ordinary man whose powers are at once extraordinary and completely believable, a no-sweat feat in the first few films." -- NY Times

"As written by Josh Appelbaum and Andre Nemec, whose credits include the "Alias" TV show, "Mission Impossible" is essentially a series of elaborate action set pieces. There is exposition thrown in here and there, especially after circumstances force policy wonk William Brandt (Jeremy Renner) to join the team, but that is not the heart of the matter." -- LA Times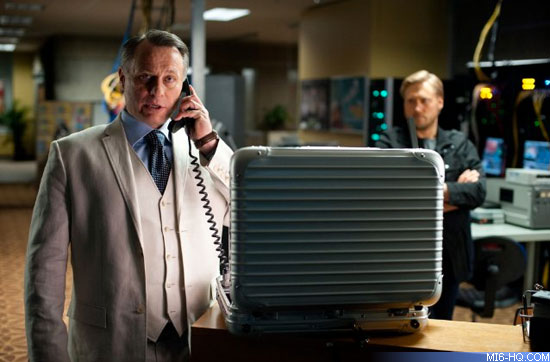 Above: Kurt Hendricks played by Michael Nyqvist.
Related Articles

Beyond Bond Index