The Tailor Of Panama (2001)
Synopsis
Troublesome and manipulative MI6 agent, Andy Osnard, is banished to Panama. Looking for a big catch to win favour at home, Osnard manipulates the tailor Harry Pendel, convincing him to dig up dirt on the Panamanian administration. Short of cash and with secrets of his own to preserve, Pendel agrees - embarking on a steep trail of dishonesty and deception.

Vital Statistics
Studio: Sony / Columbia
Runnng Time: 109 minutes
Budget: $21 million
Box-Office (Domestic): $13.73m
Box-Office (Foreign): $14.28m

Production
Directed by: John Boorman
Produced by: John Boorman, John le Carré, Kevan Baker
Written by: John le Carré, Andrew Davies, John Boorman
Music by: Shaun Davey

Buy DVD (Amazon USA)
"And do we dress right or left, sir? Most of my gentlemen favour left these days, don't think it's political." - Harry Pendel
Cast & Characters
Andy Osnard
Pierce Brosnan

Harry Pendel
Geoffrey Rush

Louisa Pendel
Jamie Lee Curtis

Mickie Abraxas
Brendan Gleeson

Mata
Leonor Varela

Francesca Deane
Catherine McCormack

Mark Pendel
Daniel Radcliffe

Sarah Pendel
Lola Boorman

Uncle Benny
Harold Pinter
Locations
London, UK; Panama Canal, Panama; Panama City, Panama.

Trivia
The screenplay was co-written by John le Carré, the only adaptation of his work that the author had an active role in drafting. The film is set in the early 2000s, after the Panama canal had been returned to the Panamanian government, whereas the novel is set in the mid-1990s when the tension was higher.

Title
The title refers to Geoffrey Rush's character, a crooked but proud British tailor, barely making a living suiting rich dictators, crooks and spies in the volatile city of Panama.
The Bond Connection
Pierce Brosnan, having made three Bond films [GoldenEye, Tomorrow Never Dies, The World Is Not Enough], continued in the spy genre as another MI6 agent. This time however, he is not the suave and adorable secret agent: Andy Osnard is a slimy and self-motivated protagonist, posted to Panama by his MI6 chiefs as a punishment for a faux pas with an ambassador's mistress. In another nod to the Bond series, the tailor (Pendel) claims to have suited Sir Sean Connery and proudly displays a picture of the Scots 007 actor in his office. "The Tailor of Panama" is a far cry from the jet-set world of James Bond but Brosnan's role in the production is an inescapable echo of the darker side of international espionage.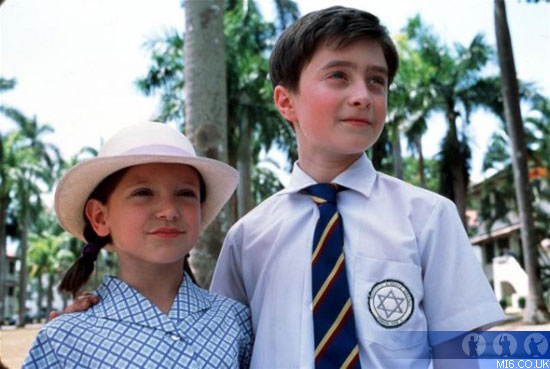 Production Notes
Experienced British film director John Boorman pulls together an expert cast and executes the twisted and seething John le Carré novel with grace. The production brought Brosnan to a new light as he had only recently had he found global fame and success as James Bond in three 007 outings.
This role was a daring and different one for Brosnan. Adapt at playing charming and mysterious characters, Andy Osnard was a twist in a different direction and perhaps a risky choice for a current James Bond to be playing a ruthless and moral-lacking rogue agent.
Geoffrey Rush's career in film included a run of successful period pieces including: "Elizabeth", "Shakespeare in Love" and the bard's own "Twelfth Night". His mild-mannered and self-conscious tailor in this picture provided a contrast to some of his previously flamboyant, larger-than-life roles. The cast is backed up by the experienced Jamie Lee Curtis, would-be 'Potter' star Daniel Radcliffe as a big-screen newcomer as well as a rare on-screen appearance from famed play-write Harold Pinter.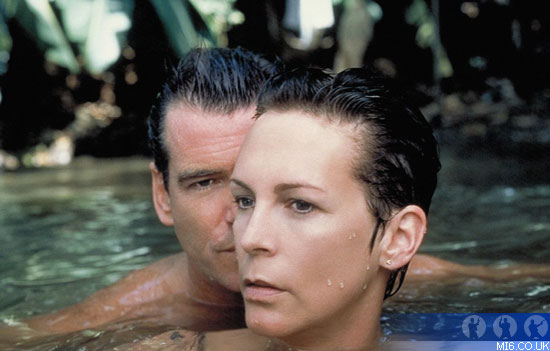 Boorman shot primarily on location in Panama, a nation that was still struggling with civil unrest at the turn of the millennium and was a haven for shady business deals. The energy and feel of the film benefits from the extensive location work - adding to the realism of le Carré's setting. Interior work was conducted at Ardmore Studios in Wicklow, Ireland - a prominent film studio since the 1960s and home to productions such as "The Spy Who Came In From The Cold", "The Lion in Winter" and Brosnan's own "Laws of Attraction".
The film premiered on 11th February 2001 at the Berlin International Film Festival and was the recipient of many positive reviews with Washington Post staffer saying, "What a treat of a cad [Brosnan] is here, roguishly seducing women for the sheer hell of it. Clearly he was cast to turn his James Bond persona on its suave ear."
"The Tailor of Panama" had to face off against some steep competition at the box office that year: most notably "Enemy at the Gates", "Blow", "Swordfish" and "Along Came A Spider". Despite an all-star cast and a strong backing from some top cinema reviewers, this production failed to make a big box office impact, scraping just $13.7 million domestically when it opened in the US in March 2001. Its worldwide haul just exceeded the production budget.
Capsule Reviews
"Strong as Brosnan is, Rush is more impressive for the ways he can make us sympathize with someone who is doing dreadful things. Immaculate and at his well-tailored ease in Tom Wolfe-ish three-piece ice cream suits, Rush's Pendel does his best work as he gets increasingly helpless, as he gradually comes to realize that mere duplicity is hardly a match for complete amorality." - LA Times
"This round-robin of cynicism and deception takes place against a city of nightclubs and B-girl bars, residential areas and city streets lined with "laundromats" (banks), embassies and the cozy confines of Pendel's shop. Boorman and le Carre (his executive producer) were wise to shoot the exteriors on location in Panama, where the tropical look makes the overheated schemes seem right at home." - Chicago Sun-Times
"The film is quite caustic in its attitude toward the British and American foreign policy makers, who, it suggests, are inherently suspicious that a small country like Panama can handle the responsibility of the vital canal, and don't need much pushing to decide to claim the waterway back." - Variety
Related Articles

Beyond Bond Index