The Story
"A Cold Day In Hell" picks up moments after the end of Issue #1, with the convoy of soldiers and Bond heading to the secret laboratory. Mr Barclay, a leading member of Cerberus, and his entourage have arrived at the lab. They lay in wait for Bond and company with a deadly ambush.
With the death of the entire accompaniment of soldiers bar one, and a very narrow escape (which is captured in a tour de force by "Lloyd and Jackson"), Bond, Serena and Marine Jenkins head towards the lab, hoping to destroy it.
Bullock manages to kill Jenkins and capture Serena, and uses this as leverage to bring Bond out of hiding. Once captured, Bond sees Professor Boyce carrying the deadly DNA mutagen out of a secure vault, and a fight ensues which results in the virus being released. Bond flees with Serena in hand, and set off the auto destruct to the lab.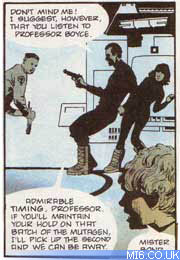 Above: Cell from "Shattered Helix #2"