Roald Dahl (Screenwriter)
Datastream
Name: Roald Dahl
Date of Birth: 13th September 1916
Place of Birth: Cardiff, Wales, UK
Years active: 1942-1989
Profession: Writer, screenwriter, poet, TV host.
Bond films: 1
Also famous for: Charlie and the Chocolate Factory (1971)

Biography
Roald Dahl was born in Cardifff, Wales to Norwegian parents, who had made the Welsh city their home since the 1880s. Dahl grew up speaking Norwegian at home and his family even attended church services in their native tongue.
He attended a local church-run school before boarding school in England. He finished his schooling at coeducational Repton and his teacher's quickly began to spot that young Roald was talented with the English language. He also excelled at sport, playing squash and football during his time at high school.
Out of school Dahl found work at Shell Petroleum. His employers were impressed with his work ethic and soon posted him to Tanzania, where he was part of a small sales and distribution team. When war came upon Europe, Dahl was recruited and after a quick spell in the colonial army, enlisted in the Royal Air Force. He remained posted in Africa but quickly learned to fly, having a bare minimum number of training hours before he was deployed solo on recon. missions.
1940 found Dahl in Afghanistan and Iraq and promoted to "Leading Aircraftsman". He flew in the Middle East for a number of months of 1940. On one occasion Dahl's plane ran short of fuel and the pilot was forced to crash land in the desert. Dahl was hospitalised until February 1941. In 1942 he published his first written work, a recounting of the fateful crash-land. Dahl initially intended the piece to be worked into a semi-fictional work being created by C. S. Forester but when the latter writer saw Dahl's own retelling of events, Forster published the piece verbatim. Since the crash Dahl was unable to pilot for extended periods of time and was subsequently retired from active pilot's duties. Instead, the author acted as liaison between Washington and London, reporting to a special devision of MI6. Dahl, along with Ian Fleming, was tasked with encouraging the Yankees into the Second World War.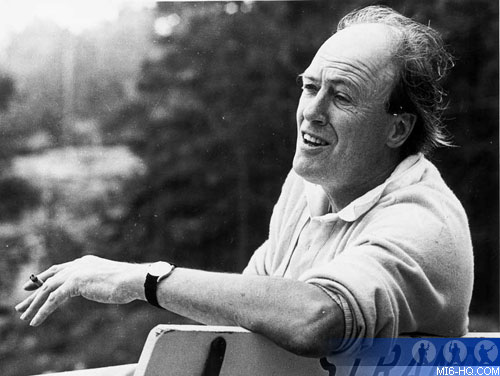 By the end of the war, Dahl had put down roots in New York City, where he married actress Patricia Neal. The actress and the author had five children: Lucy, Ophelia, Theo, Olivia (who sadly passed away age seven) and Tessa.
Dahl's first full-length text was written and published in 1943 and named "The Gremlins". The book was a great success, particularly in the USA and Disney purchased the rights, but never made the book into a screen adventure. However, Dahl would not have to wait long for one of his children's successes to appear on screen.
Interlaced with is famous "BFG", "Charlie And The Chocolate Factory", "James And The Giant Peace" and others were twit-in-the-tale short stories for adults. These were less commercially successful and some remained unpublished until anthologies were collected after Dahl's death. Dahl was deeply concerned with class consciousness, and these themes come through, even in his children's fiction - for instance in "Danny, the Champion of the World", which tells the story of young Danny, and his windowed father, a pheasant poacher.
Dahl had a short career as a screenplay-writer, adapting two Ian Fleming stories, with whom he had been friends during the war. First, 1967's "You Only Live Twice". The larger-than-life 007 screen adventure was given an almost ridiculous flare by its adapter, and the film is far cry from the Fleming source material. Dahl was not the producer's first choice, given his limited experience writing for the screen. But when the first set of drafts were rejected and the original screenwriters had departed, the children's author was given just six weeks to deliver a draft of the "Twice" screenplay. Later, Dahl commented that he had not idea what Bond was supposed to do. Later, Dahl found his niche, adapting Fleming's children's tale, "Chitty Chitty Bang Bang". Dahl's unique contribution of the Child Catcher, haunted many children of the '60s and has since been voted one of the scariest characters in children's literature (despite not appearing in the original Fleming novella).
| | | |
| --- | --- | --- |
| | | As well as the Fleming material, Dahl worked for a while on "Alfred Hitchcock Presents", writing six stories for the TV programme between 1958 and '61. A number of his stories have since been made into feature films or TV episodes including: "Fantastic Mr. Fox" (2009), "Charlie and the Chocolate Factory" (1971/2005), "Lamb to the Slaughter" (2002), "James and the Giant Peach" (1996) and "The BFG" (1989). |
Neal and Dahl parted in 1983 and the very same year Roald married Felicity Ann d'Abreu Crosland. Felicity had lived on the same street as Dahl but the pair never met until 1972. Both Felicity and Patricia remain united by their large, extended family.
Dahl passed away from a blood disease aged 74, in November 1990. He worked tirelessly up until his death and will be celebrated long thereafter.
Bondography
Bibliography
The Gremlins (1943)
James and the Giant Peach (1961)
Charlie and the Chocolate Factory (1964)
Fantastic Mr Fox (1970)
Danny, the Champion of the World (1975)
The Twits (1980)
The BFG (1982)
Matilda (1988)
Awards
Edgar Allan Poe Award (1954)

New England Round Table of Children's Librarians Award (1972)

California Young Reader Medal (1979)

New York Times Outstanding Books Award (1983)

Federation of Children's Book Groups Award (1983)
World Fantasy Convention Lifetime Achievement Award (1983)
Boston Globe/Horn Book nonfiction honor citation (1985)
Nation's Favorite Children's Book - Matilda (1998)