Music - For Your Eyes Only

Credits
Music Composed, Conducted & Arranged By: Bill Conti
James Bond Theme: Monty Norman
Main Theme: "For Your Eyes Only"
Song Lyrics: Michael Leeson
Song Performed By: Sheena Easton
Album Label: Liberty Records (USA / UK)
Highest Chart Position: 4 (USA)

Additional
"Make It Last All Night" by Bill Conti, lyrics by Shelby Conti and Chris West, performed by Rage.


Above: UK album sleeve artwork.
History
The soundtrack was composed by Bill Conti, since the series' regular composer, John Barry, was unable to work in the UK for tax reasons (he, like many high earning Britons, had become a tax exile in the 1970s). Barry had recommended Conti as a possible alternative. Conti's score is notable for its use of disco elements. The main ski chase sequence (the track Runaway), Conti showed that he had versed himself in the previous Bond films' music, as his manages to evoke memories of the music from previous ski action in both "On Her Majesty's Secret Service" and "The Spy Who Loved Me". "For Your Eyes Only" was Conti's only contribution to the series, and was released as an album concurrent with the film's release and later on a bootleg compact disc in combination with John Barry's music from "Octopussy".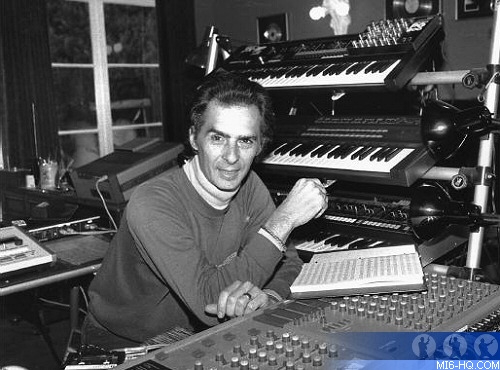 When the soundtrack was officially re-released on CD in the year 2003, six bonus tracks were added that further showed Conti's versatile approach to the film, aiding the production in its return to a tougher, more realistic James Bond. Not released but also heard in the film is a brief homage to John Williams' familiar theme from "Jaws", when an unseen underwater horror (it is revealed to be an attacker in a J.I.M. diving suit) approaches within the sunken ship. This was the third Bond film in a row to wittily include familiar music from a classic film.
Title Theme
The American new wave band Blondie wrote a song entitled "For Your Eyes Only" in the hopes of making it the upcoming James Bond film's opening-title theme. The producers preferred another song with the same title, written by Bill Conti (music) and Mike Leeson (lyrics). Blondie turned down an offer to record Conti and Leeson's song. The band later included their "For Your Eyes Only" song on the 1982 album The Hunter.

In stepped Scottish singer Sheena Easton, who had recently became famous for being the focus of an episode in the British television program The Big Time, which recorded her attempts to gain a record contract, and got her a deal with EMI Records. She had recently scored a No.1 hit in America with "Morning Train" and was becoming a big name throughout the world. Easton was keen to accept the offer to perform Conti and Leeson's song for the film. Easton was the only artist to be seen singing the theme song to a Bond movie during its opening titles (although "Die Another Day" title singer Madonna also had a cameo in her film). Easton's seductive appearance in these clips was, according to Roger Moore, more sexy than any of the Bond girls, although Easton herself states that the filming process was very unglamorous.


Above: UK vinyl sleeve artwork, featuring Easton as she appeared in the title sequence.

| | |
| --- | --- |
| Chart | Peak # |
| German Media Control Charts | 5 |
| New Zealand RIANZ Singles Chart | 1 |
| Swiss Singles Chart | 1 |
| UK Singles Chart | 8 |
| U.S. Billboard Hot 100 | 4 |
This was one of the few Bond themes not to have a contribution by John Barry. The song was produced by Christopher Neil, who was her regular producer at the time.
The song was released as a single in June 1981, at the same time as the film's launch. The video "For Your Eyes Only" was directed by Steve Barron. It became a worldwide hit, reaching the top ten in the UK and top five in the US. The song was later nominated for both an Academy Award and Golden Globe in 1982. It remains one of Easton's biggest hits and is still included on numerous compilation soundtrack albums.
The track "Make It Last All Night" (music by Bill Conti, lyrics by Shelby Conti and Chris West) performed by Rage and used for the scene at hitman Gonzales' Spanish poolside, is notable for lyrics more suggestive even than the raunchiest Bond title track - arguably, "The Man with the Golden Gun"
Soundtrack Listing
Original Release
1. For Your Eyes Only (03:03)
2. A Drive In The Country (02:23)
3. Take Me Home (02:29)
4. Melina's Revenge (02:15)
5. Gonzales Takes A Drive (03:10)
6. St. Cyril's Monastery (04:36)
7. Make It Last All Night (03:30)
8. Runaway (03:49)
9. Submarine (02:34)
10. For Your Eyes Only (01:31)
11. Cortina (01:45)
12. The P.M. Gets The Bird / For Your Eyes Only - Reprise (05:00)

2003 Remastered Release
1. For Your Eyes Only (Main Title Song) (03:07)
2. A Drive In The Country (02:25)
3. Take Me Home (02:32)
4. Melina's Revenge / Death Of Blofeld (02:18)
5. Gonzales Takes A Dive (03:14)
6. St. Cyril's Monastery (04:40)
7. Make It Last All Night (03:31)
8. Runaway (03:54)
9. Submarine (02:39)
10. For Your Eyes Only (Instrumental Version) (01:35)
11. Cortina (01:45)
12. The Prime Minister Gets The Bird / For Your Eyes Only (05:05)
13. Gunbarrel / Flowers For Teresa / Sinking The St. Georges (02:54)
14. Unfinished Business / Bond Meets Kristatos (01:53)
15. Ski, Shoot And Jump (05:16)
16. Goodbye Countess / No Head For Heights / Dining Alone (03:20)
17. Recovering The ATAC (02:28)
18. Sub Vs. Sub (03:16)
19. Run Them Down / The Climb (02:58)

Total Time (Original Release): 35:45
Total Time (2003 Remastered): 58:50