Fan Verdict - Never Say Never Again
Each month, a different James Bond film is selected for review, rating and discussion by the largest online community of 007 fans - the Keeping The British End Up forums.

Fans rated the following elements of the movie on a 1-10 scale (10 being best): Bond, Babes, Villains, Humour, Sadism, Snobbery, Action, Locations, Gadgets, Music and 'Tilt' - a rating to account for any qualities not captured in the main categories.

Also up for discussion were the 'best bits' of the movie, including: most 'Bondian' moment, funniest scene, best line, best location, best action sequence, best Bond girl and best overall performance.

Never Say Never Again overall score:5.6


Above: Cover art for the "Never Say Never Again" score, composed by Michel Legrand...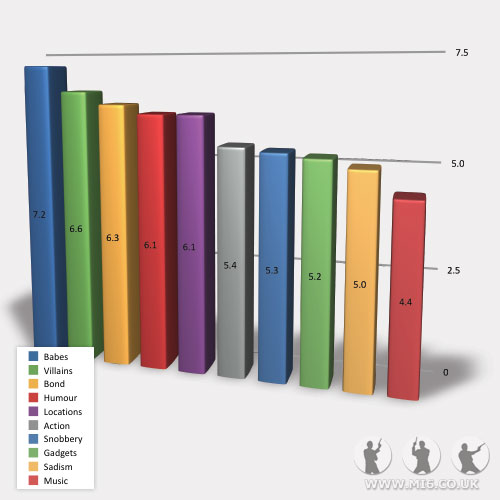 Most 'Bondian' Moment
Winner: Bond persevering through the pain and beating Largo at his own game of Domination.
Honourable mentions: Bond drops his gun in the champagne bucket.

Funniest Scene
Winner: Bond meets Nigel Small-Fawcett (played by Rowan Atkinson in his first feature film)

Best Line
Winner: "As long as my Martini is still dry..."
Honourable mention: "Now write this: 'The greatest rapture of my life was afforded me on a boat in Nassau by Fatima Blush,' and sign it 'James Bond, 007.'"

Rating Results

| | |
| --- | --- |
| Category | Average Score |
| Babes | 7.2 |
| Villains | 6.6 |
| Bond | 6.3 |
| Humour | 6.1 |
| Locations | 6.1 |
| Action | 5.4 |
| Snobbery | 5.3 |
| Gadgets | 5.2 |
| Sadism | 5 |
| Music | 4.4 |
| Overall | 5.6 |
Best Location
Winner: Tears of Allah caves.
Best Action Sequence
Winner: Bond riding the rocket-firing black Yamaha XJ 650 Turbo motorbike from Q-branch.
Best Bond Girl
Winner: Barbara Carrera as Fatima Blush.
Best Overall Performance
Winner: Klaus Maria Brandauer as Maximilian Largo.
Honourable mentions: Barbara Carrera as Fatima Blush.
---
What The Fans Said
Below are selected quotes from reviews by Keeping The British End Up members.
"While like its jazz-infected score by Michel Legrand, Never Say Never Again has never been to everyone's tastes, it is - and always will be - a bona fide curate's egg among the Bond efforts. Indeed, every one of them deserves a re-watch and so does this one - after all, to quote Connery, 'it's still in good shape'." -- St. George
"In terms of cinematography, it looks rather bland. And with a pretty poorly executed story, it doesn't hold up well. At least Glen's Bond films had some of the strongest stories in the franchise, with interesting character portrayed convincingly. You then have Domino who is more wooden than wood and Fatima Blush who seems pretentious with her flamboyant nature. It just doesn't gel together. That said, she is probably the best thing about the film. But she does look gorgeous." -- FieldsMan
"NEVER SAY NEVER AGAIN interrogates Bond's relevance to the present day in a comparable way to A VIEW TO A KILL and GOLDENEYE. Except that the Bond questioned here isn't the pick-and-mix archetype of Pierce Brosnan - but Sean Connery himself. The original, brawling, brutalised gentleman Bond, only considerably older and more out of his depth. What matters is how Bond is tested by a new generation of psychotic yuppie geeks (Largo), bureaucrats (Small-Fawcett), ball busting women (Blush) and mollycoddled admirals (M). " -- Largo's Shark
"It's got the right mix of sex, humour, suspense and action that every Bond film should have. God knows how many EON productions have failed to get the right mix. In fact, they haven't hit that perfect mix since Cubby Broccoli died, with perhaps one exception. There are some awful goofball moments here and there: the horse jumping off the cliff is terrible by anyone's standard, for starters, and when you move the death of Largo in the Thunderball formula underwater, when Domino has no reason to be in attendance, it just doesn't work at all. " -- FourDot
"Connery actually seems to be enjoying himself far more than he did in the majority of his official Bond outings. The main characters are fairly well fleshed out on screen with Barbara Carrera's insanely OTT named Fatima Blush personifying her outrageous name with relish in a Bond female role that alongside Famke Janssen's Onatopp is one of the most extroverted characters in the series. " -- James C