Fan Verdict - Quantum of Solace
Each month, a different James Bond film is selected for review, rating and discussion by the largest online community of 007 fans - the Keeping The British End Up forums.

Fans rated the following elements of the movie on a 1-10 scale (10 being best): Bond, Babes, Villains, Humour, Sadism, Snobbery, Action, Locations, Gadgets, Music and 'Tilt' - a rating to account for any qualities not captured in the main categories.

Also up for discussion were the 'best bits' of the movie, including: most 'Bondian' moment, funniest scene, best line, best location, best action sequence, best Bond girl and best overall performance.

Quantum of Solace overall score:6.5


Above: Cover art for the "Quantum of Solace" score, composed by David Arnold...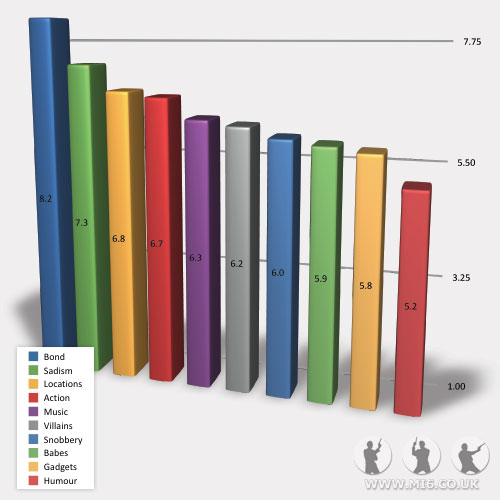 Most 'Bondian' Moment
Winner: Bond escapes M's men by disarming them in the lift and stealthily making his was through the lobby and balcony of his Hotel.
Honourable mentions: Leaving the villain for dead in the wastelands of the Bolivian desert.

Funniest Scene
Winner: Bond amends his and Fields' cover story ("teachers on sabbatical") in order to check into a far more plush hotel room.

Best Line
Winner: "I never left."
Honourable mentions: "It seems Tosca isn't for everyone."

Rating Results

| | |
| --- | --- |
| Category | Average Score |
| Bond | 8.2 |
| Sadism | 7.3 |
| Locations | 6.8 |
| Action | 6.7 |
| Music | 6.3 |
| Villains | 6.2 |
| Snobbery | 6 |
| Babes | 5.9 |
| Gadgets | 5.8 |
| Humour | 5.2 |
| Overall | 6.5 |
Best Location
Winner: Siena, Italy.
Honourable mentions: Bregenz, Austria.
Best Action Sequence
Winner: James Bond, in his Aston, races through the winding lakeside and a quarry on the outskirts of Siena, Italy (with Mr. White in tow) pursued by a skillful Alfa Romeo driver.
Honourable mentions: James Bond escapes Greene's men in a shootout and rampage through the kitchens at the floating Tosca set.
Best Bond Girl
Winner: Camille.
Best Overall Performance
Winner: Daniel Craig as James Bond.
---
What The Fans Said
Below are selected quotes from reviews by Keeping The British End Up members. Click here to read all the reviews in their entirety.
"Craig's still the best Bond since Connery. Sadly the slight story leaves a lot to be desired. Plus I preferred him with the shorter spikier hair do from CR myself." -- Satorious
"Forster and his cameraman have a habit of making even dilapidated buildings look glamorous. You can really feel the colour and texture of the places. I like all the locations in this - I just like LOOKING at the movie. Even Mitchell's grim flat looks cool in this movie" -- Quarterdeck
"The first act of the film is overwhelmingly dominated by Dan Bradley-orchestrated action sequences. The dramatic chase and fight scenes in Italy and Haiti scream not just of Bourne, but also as attempts to replicate the effect of the construction site chase in Casino Royale. There are too many of these set pieces and they are excessively subject to the whim of a hyper editing team. Thankfully, the Tosca opera sequence inserts just the right amount of class and tension into the middle of the film. The villain Greene's water-monopoly plot that the film reveals is only an ounce of what the Quantum organization is capable of doing." -- GeneralGogol
"There are plenty of strong points to the film: Once again, Craig's darker, angrier portrayal of Bond is a plus in a revenge film such as this. Also, the supporting cast, such as Giancarlo Giannini, Jeffrey Wright and David Harbour are memorable in their roles" -- Golrush007
"David Arnold's score is vastly improved from the dredge he has previously provided. It's a lot more subtle, and fits in with the locations and the action much more coherently than it previously has, and tracks such as Oil Fields and Night at the Opera being standouts. It's a shame the theme song, by Jack White and Alicia Keys (a solid choice on her own) don't offer the same improvements." -- thegiantcookie
"A classic Flemingesque atmosphere meets up with the 21st Century in Quantum Of Solace in a far more interesting way than the previous two Bond entries: Die Another Day was paint-by-numbers Bond and Casino Royale was a new yet familiar direction - but Quantum Of Solace rewrites the 007 handbook. This angers many fans but I embrace it. I will not go as far as saying Quantum Of Solace is the best Bond film ever but I do think that if every Bond film took as many visual risks and employed as many fresh ideas as Forster has done with Quantum Of Solace, the series would be even better." -- S. Christensen
"In many respects, Casino Royale and Quantum of Solace work brilliantly as an introduction to 007. We have seen the violent side of the character, we have seen the brief moments of solace and comfort and we now have the chance, with Bond 23 around the corner, to see a more playful side to Craig's Bond. As a stand alone film Solace succeeds in its own merits boasting stunning locations and some fine dialogue but more importantly, as a sequel and a character progression it is a vital addition to the series. James Bond, we 'need you back'." -- James Clark