Fan Verdict - Tomorrow Never Dies
Each month, a different James Bond film is selected for review, rating and discussion by the largest online community of 007 fans - the MI6 Community forums.

Fans rated the following elements of the movie on a 1-10 scale (10 being best): Bond, Babes, Villains, Humour, Sadism, Snobbery, Action, Locations, Gadgets, Music and 'Tilt' - a rating to account for any qualities not captured in the main categories.

Also up for discussion were the 'best bits' of the movie, including: most 'Bondian' moment, funniest scene, best line, best location, best action sequence, best Bond girl and best overall performance.

Tomorrow Never Dies overall score:6.3


Above: Cover art for the "Tomorrow Never Dies" score, composed by David Arnold...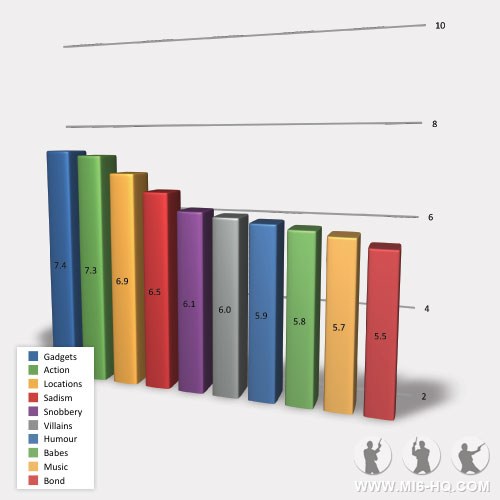 Most 'Bondian' Moment
Winner: James Bond is at Oxford University, brushing up on a little Danish, when Moneypenny recalls him for duty.

Funniest Scene
Winner: Q meets 007 at the airport, where he equips him with his new cellular telephone and BMW 750i.

Best Line
Winner: "My art is in great demand, Mr. Bond. I go all over the world. I am especially good at the celebrity overdose."

Rating Results

| | |
| --- | --- |
| Category | Average Score |
| Gadgets | 7.4 |
| Action | 7.3 |
| Locations | 6.9 |
| Sadism | 6.5 |
| Snobbery | 6.1 |
| Villains | 6 |
| Humour | 5.9 |
| Babes | 5.8 |
| Music | 5.7 |
| Bond | 5.5 |
| Overall | 6.3 |
Best Location
Winner: Saigon, Vietnam.
Honourable mentions: Hamburg, Germany.
Best Action Sequence
Winner: James Bond and Wai Lin race through the streets of Saigon onboard a supercharged BMW motorbike, as they are pursued by cars and choppers.
Best Bond Girl
Winner: Michelle Yeoh as Wai Lin.
Best Overall Performance
Winner: Vincent Schiavelli as Dr. Kaufman.
Honourable mentions: Jonathan Pryce as Eliot Carver.
---
What The Fans Said
Below are selected quotes from reviews by MI6 Community members.
"The action sequences are very fresh and creative, which again highlights that the film-makers haven't lost their eye for originality. The magnificent bike chase through the streets of Saigon is masterfully shot (with warm colours saturating each frame which suggests the heat and tension of the situation), scored, and choreographed (this chase starts out on ground, and ends up on the rooftops, only to perform this film's iconic stunt. Furthermore, Bond and Wai Lin are handcuffed together, which makes it all the more tricky and exciting)." -- FieldsMan
"Inga the Danish teacher, Carver's leggy PR gal, Paris the sex starved wife of villain Elliott Carver and Wai Lin the all-action Chinese agent. Bond beds two of them, snogs Wai Lin and no doubt if he had had time the PR girl would be putty in his hands. Qaulity wise, not bad on balance." -- NicNac
"The films largest strength, however, is its comedy. It's one of the most quotable of the modern Bond films, and while it has a few eye-rollers, most of its jokes work and succeed to satisfy the need for a few laughs in the Bond films. For me, this comes primarily in the Q scene, which is really one of my personal favorites. I also really do laugh out loud at Doctor Kaufman." -- Lalala2004