Fan Verdict - You Only Live Twice
Each month, a different James Bond film is selected for review, rating and discussion by the largest online community of 007 fans - the Keeping The British End Up forums.

Fans rated the following elements of the movie on a 1-10 scale (10 being best): Bond, Babes, Villains, Humour, Sadism, Snobbery, Action, Locations, Gadgets, Music and 'Tilt' - a rating to account for any qualities not captured in the main categories.

Also up for discussion were the 'best bits' of the movie, including: most 'Bondian' moment, funniest scene, best line, best location, best action sequence, best Bond girl and best overall performance.

You Only Live Twice overall score:6.8


Above: Cover art for the "You Only Live Twice" score, composed by John Barry...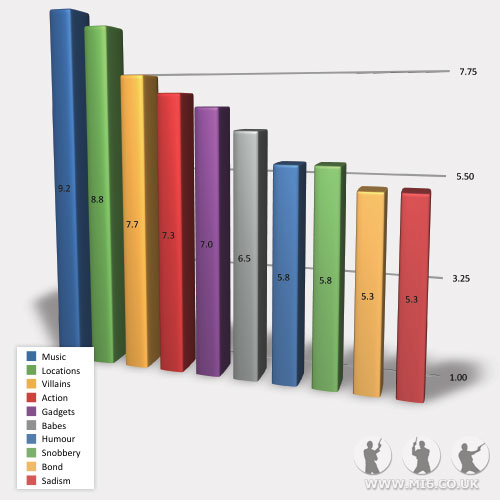 Most 'Bondian' Moment
Winner: James Bond is 'assassinated' in Hong Kong in order to preserve his cover.
Honourable mentions: Bond meets Blofeld amid the organised chaos of the Bird 1 takeoff.

Funniest Scene
Winner: "The things I do for England!" Helga Brandt lets 007 seduce her.
Honourable mentions: Bond convinces Aki his intentions are strictly honourable.

Rating Results

| | |
| --- | --- |
| Category | Average Score |
| Music | 9.2 |
| Locations | 8.8 |
| Villains | 7.7 |
| Action | 7.3 |
| Gadgets | 7 |
| Babes | 6.5 |
| Humour | 5.8 |
| Snobbery | 5.8 |
| Bond | 5.3 |
| Sadism | 5.3 |
| Overall | 6.8 |
Best Line
Winner: "You think we better..." / "Just different. Like Peking Duck is different from Russian Caviar. But I love them both."
Honourable mentions: "Kill Bond!" / "The things I do for England."
Best Location
Winner: Japan.
Best Action Sequence
Winner: Tiger and his ninjas, lead by James Bond, raid Blofeld's hollowed-out volcano in a frenzied finale.
Honourable mentions: Little Nellie defends her honour admirably.
Best Bond Girl
Winner: Aki.
Best Overall Performance
Winner: Tetsuro Tamba as Tiger Tanaka.
Honourable mentions: Karin Dor as Helga Brandt, Donald Pleasence as Blofeld.
---
What The Fans Said
Below are selected quotes from reviews by Keeping The British End Up members. Click here to read all the reviews in their entirety.
"I actually love this film, no matter how silly it is!" -- Du$ty:59
"There is some great dialogue, often coming from Connery in sardonic one liners that you would never think he would be that comfortable in delivering but are in fact presented very naturally. There is also Tamba's Tiger Tanaka, lifted straight from Fleming's novel, who is a great resource to Bond on his fifth mission and one or two beautiful girls. Mie Hama and Akiko Wakabayashi were both very popular ladies in Japan in 1966 when they were both cast in the film and though they don't come across as the most conventional Bond girls they both commit to their roles well. Charles Gray is also much better in his brief appearance as Bond's Japanese contact Henderson with the wooden leg than he is playing Bond's nemesis Blofeld in Diamonds are Forever, Connery's comeback Bond film." -- JamesC
"Overall, the film is undeniably Bondian, filled with glamorous girls, threatening villains, amusing allies, new situations and exotic locations. Keeping the quality up consecutively can prove difficult for the Bond family, but still, a cartoonish Bond film here and there (though it continued much throughout the '70s) can accentuate the fun in the franchise, allowing for a wide range of tones. And in the end, it's your call. And what is your call about the film? You only live twice, after all." -- FieldsMan