UK TV - 'Quantum of Solace' on ITV1, Monday night

Media Alert
- 03-06-12
Movie:
Quantum of Solace (2008)
Channel: ITV1 (UK)
Date: Monday 4th June 2012
Time: 21:00
Agent 007 and M's interrogation of Mr White proves no one can be trusted on James Bond's newest action adventure, "Quantum of Solace". Fueled by the betrayal of Vesper, the woman he loved, Bond's determination to track down the mastermind behind White's sinister organisation leads to Haiti, where he finds an unlikely ally in Camille, a beautiful but feisty stranger. The trail quickly leads to Dominic Greene but with the British Government and the CIA working against him, Bond must kill or be killed on his mission to uncover the truth and destroy 'Quantum'.
Starring: Daniel Craig, Olga Kurylenko, Mathieu Amalric, Giancarlo Giannini, Gemma Arterton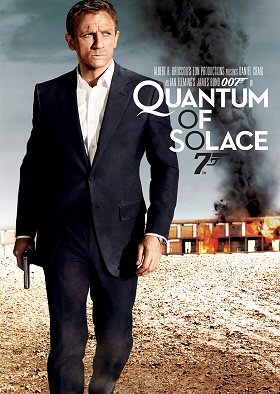 "Quantum of Solace" - MI6 Dossier
Thanks to `Samuel001` for the alert.
Discuss this news here...
Earlier Story:
James Bond exhibition opens in Los Angeles next weekend
Later Story:
Vote for Ian Fleming in 'Greats of Great Britain' poll
This content is maintained by www.mi6-hq.com Content is copyright its respective owners and is published for non profit educational use only. All original content is copyright mi6-hq.com © 2014. MI6 accept no responsibility or give warranty for the accuracy authenticity or correctness of content. James Bond 007 is a registered trademark of DANJAQ, LLC, a Delaware corporation in the United States and/or other countries. Webmasters seeking news syndication or for press contact information - click here.