| | |
| --- | --- |
| | Ursula Andress blasts skinny actresses in bikinis, but praises Halle Berry |
Die Another Day
- 17-12-04
The star who set the parameters for how a lady should look in a bikini - and thus ruins quite a lot of holidays - has blasted the skinny waifs of today's Hollywood, reports
Ananova
.
It was more than forty years ago that Ursula Andress emerged from the sea, looking stunning in a white bikini complete with knife belt for her role as Honey Ryder in Dr No.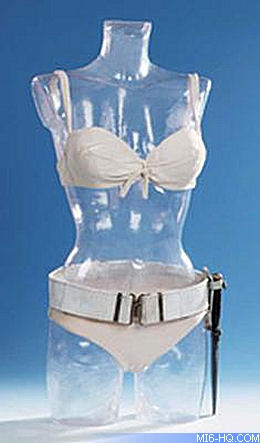 Above: The famous bikini Andress wore in "Dr. No"
But the 68-year-old has revealed her dismay at the lack of curves walking around Tinseltown, saying she is disturbed by the images of pencil-thin stars such as Nicole Kidman and Cameron Diaz.
According to Miss Andress, they epitomise the current trend in Hollywood for actresses without an ounce of flesh.
"In my day, there were curves and flesh," she said in a newspaper interview. "Now all the women are straight, like a poker."
However, she did acknowledge that the curvaceous Berry was a different matter, after the Oscar-winning 38-year-old recreated the bikini scene in the 2002 Bond Movie Die Another Day.
"I did think that Halle was lovely in Die Another Day - very curvy," Andress admitted.
Berry herself has revealed how intimidated she was donning her orange bikini and emerging from the sea.
"I was supposed to be coming out of the water, like Ursula Andress in Dr No... How do you relive a moment that is probably one of the most remembered and loved in any Bond film? That kind of scared me."
But the Swiss actress herself was not a fan of her beach attire: "I never thought I looked sexy in the white bikini," Andress reveals. "What I did, I think, is to show a new way women could be.
"It was a sporty and aggressive image, which was different from the way films portrayed us at the time."
Thanks to `Emmerdale` for the alert.
Discuss this news here...
Earlier Story:
`Die Another Day` attracts 7.9 million viewers for UK TV premiere, breaks 2004 records
Later Story:
Former James Bond girl Rachel Grant on 007 - `the best thing I have ever done`
This content is maintained by www.mi6-hq.com Content is copyright its respective owners and is published for non profit educational use only. All original content is copyright mi6-hq.com © 2014. MI6 accept no responsibility or give warranty for the accuracy authenticity or correctness of content. James Bond 007 is a registered trademark of DANJAQ, LLC, a Delaware corporation in the United States and/or other countries. Webmasters seeking news syndication or for press contact information - click here.