Bond Girl rumour #3 (closed): Jasmine Lennard out of contention for speaking to press

Casino Royale
- 14-11-05
Despite a vigorous campaign, the outspoken model Jasmine Lennard has failed to become the next Bond girl - reports
The Independent
.
According to the paper, "in a break from tradition, the producers of Casino Royale, who last month cast Daniel Craig in the title role, have ditched her in favour of somebody with a proven acting pedigree."
Lennard is still being considered for a couple of minor walk-on parts, but I understand that the casting agents are upset that details of her potential involvement were leaked to the press last month.
MI6 Note:
Not so much "leaked", as Lennard spilled the beans to rival paper The Daily Mail last month - click here for the quotes.
She further burned bridges at the launch of the TV show Football Italia on Wednesday, when asked for her views on the appointment of Craig.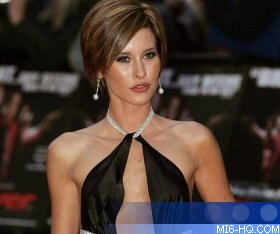 "I like Daniel Craig's ruggedness, but I don't think he'll be a decent James Bond," she said. "He's not clean-cut enough and, please, James Bond as a blond? I'm afraid it just won't work."
Regardless of the setback, Lennard retains an impressive pedigree. Her mother, Marilyn Galsworthy, seduced Roger Moore in The Spy Who Loved Me.
Thanks to `JP` for the alert.
Discuss this news here...
Earlier Story:
Rik Van Nutter, Felix Leiter in Thunderball, dies aged 75
Later Story:
Dame Judi Dench removed from `Casino Royale` listing, another IMDB mistake?
This content is maintained by www.mi6-hq.com Content is copyright its respective owners and is published for non profit educational use only. All original content is copyright mi6-hq.com © 2014. MI6 accept no responsibility or give warranty for the accuracy authenticity or correctness of content. James Bond 007 is a registered trademark of DANJAQ, LLC, a Delaware corporation in the United States and/or other countries. Webmasters seeking news syndication or for press contact information - click here.