MI6 Confidential magazine issue #10 sold out
MI6 Confidential magazine
has confirmed that issue #10 has now sold out.
Collectors who missed out on this issue will now have to scour the likes of Ebay to secure a copy.
Be sure to complete your set of MI6 Confidential back-issues before others sell out.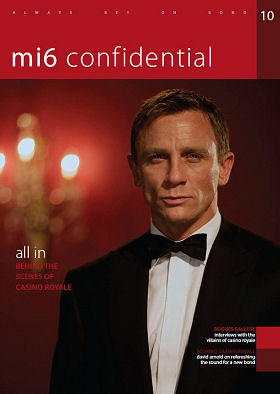 With the tabloid press railing against his selection and criticizing his suitability as the new James Bond on an almost daily basis, and the producers making the bold step of resetting the character back to the start of his career, the stakes could not have been higher for the release of "Casino Royale" and Daniel Craig's debut as 007. As well as rounding up interviews with the on-screen villains, Issue #10 of MI6 Confidential focuses on some of the aspects of the critically-acclaimed production that are often overlooked: pre-visualization, production design, scoring, special effects, costume design and the publicity machine that made sure everyone knew 'Bond was back!'
Discuss this news here...