Cannes to premiere 'Skyfall' trailer with Berenice Marlohe
The new Bond girl Berenice Marlohe will unveil the first public screening of the 'Skyfall' teaser trailer to an audience in Cannes on Monday evening.
Cinema goers elsewhere will have to wait until it is attached to Sony's new release "Men In Black 3" later in the week, although it will be live online from 8:30am GMT on Monday.
Berenice will present the trailer at the Cinema de la Plage outdoor screening of "From Russia With Love". This year, the Cannes Classics event is celebrating the James Bond series as it marks its 50th anniversary year.
Former Bond girl Martine Beswick, who starred in "Russia" as well as "Thunderball", will also be in attendance to introduce the 1963 Connery adventure.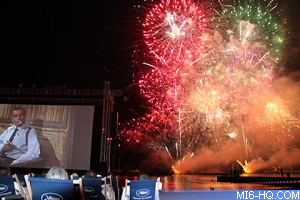 Above: Fireworks on the beach celebrate the 50th anniversary of the cinematic James Bond during the special 'Dr No' open air screening in Cannes.


Discuss this news here...