MI6 Confidential magazine issue #12 sold out
MI6 Confidential magazine
has confirmed that issue #12 has now sold out.
Collectors who missed out on this issue will now have to scour the likes of Ebay to secure a copy.
Be sure to complete your set of MI6 Confidential back-issues before others sell out.
The latest issue (#15), which also features "Skyfall" on the cover, is
available to purchase now
.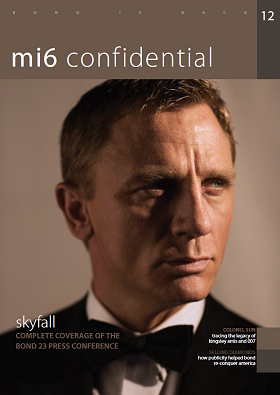 The waiting is over. James Bond 23 is in production. Skyfall is coming... MI6 Confidential attended the official press conference in London to gather the intel and soak up the atmosphere. As well as the 50th anniversary, Skyfall will mark the longest gap between 007 adventures without a change of actor in the leading role. Will the extra time crafting the script, organizing the crew, scouting the locations and assembling the cast pay off? Fans around the world have one year until they find out.
Discuss this news here...