Bond makes Entertainment Weekly cover again with anniversary special
The new issue of Entertainment Weekly is devoted to the half century of espionage-themed pleasure the Bond franchise has given the world.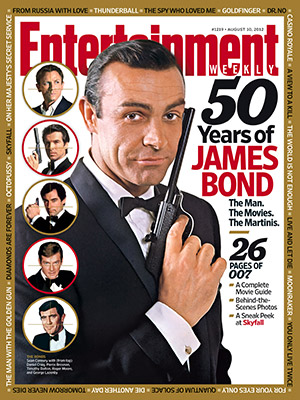 Within the pages of this week's magazine you'll find a gallery of rare, behind-the-scenes photographs annotated by longtime Bond producers Barbara Broccoli and Michael G. Wilson, a guide to all 22 official James Bond movies, a round-up of Bond's greatest gadgets, a map revealing every place 007 has visited on planet earth (and elsewhere), an interview with "Unsung Bond" George Lazenby, and an opening essay by 007 nut Ben Svetkey who explains why his many Bond set visits on EW's behalf were not just all expenses-paid boondoggles — they were all expense-paid boondoggles which helped make him the man he is today.
But, wait, there's more! Having stirred you with tales of Bond movies past we will also hopefully shake you with fresh news about the latest 007 adventure Skyfall, which opens Nov. 9. That intel comes courtesy of the film's Oscar-winning director Sam Mendes who emerged from his editing bunker to talk Daniel Craig hotness, Bond girl nudity, and the onscreen evil-osity of Javier Bardem's villain.
Discuss this news here...