Coke Zero 'Skyfall' tie-in can revealed online
A limited edition Coke Zero can design was unveiled today. All forms of the Coke Zero packaging, can, PET bottle and aluminium bottle, will be embellished with the 007 gun barrel in the lead-up to the release of "Skyfall".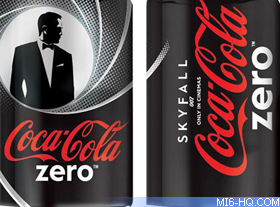 This bond continues the successful praetorship between 007 producers, EON Productions, and Coca-Cola that was established with 2008's "Quantum of Solace".
"Skyfall is one of this year's most anticipated film releases, and we are very excited to continue our relationship with the world's favourite movie franchise," said Coca-Cola Enterprises sales & customer director Darren Goldney.
Discuss this news here...