Kia provide police cars for 'Skyfall' shoot
Kia Optima and Sportage models were called into service in central London earlier this year as 007 gave chase after Silva in a high octane sequence from "Skyfall".
Kia Motors UK provided the cars via a "prop" company and Communications Director Stephen Kitson said: "We are very proud to have been asked to support the production crew with vehicles and to have Optima and Sportage at the heart of this part of the film.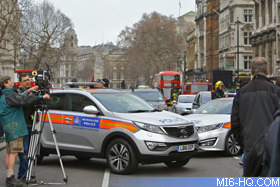 Head to kia-buzz.com for more photos of the cars on location
.
Discuss this news here...