Sony Xperia T confirmed as Bond's cellphone in 'Skyfall'
As MI6
previously reported
, Xperia T will be used by 007 in the forthcoming adventure, "Skyfall". The CEO Kaz Hirai confirmed the news at IFA (Internationale Funkausstellung Berlin) yesterday.
Bond's partnership with Sony Ericsson began in the Pierce Brosnan era, when 007's BMW was remote controlled by an Ericsson cellphone. Since Sony have been distributing the Bond films in partnership with EON and MGM, the Sony line of equipment has been the secret services' tech-provider of choice.
According to the
official Sony blog
Xperia T will be part of a new range of smartphones available upon the film's release later this year. It features everything you'd expect from a Sony smartphone – stylish design, state-of-the-art specs, easy connectivity and access to premium entertainment experiences anywhere, anytime.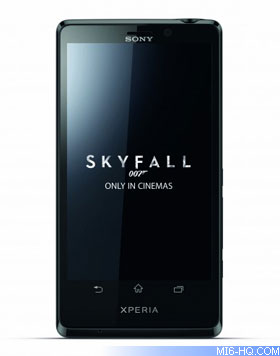 Xperia T provides Sony's best HD smartphone screen, camera and One-touch connectivity enabled by NFC, with key features including:
- 4.6" HD Reality Display powered by the Mobile Bravia Engine for razor sharp clarity
- 13MP fast capture camera that goes from sleep mode to snap in just over a second
- Full 1080p HD video recording capabilities and a 720p HD front camera for the highest quality content
- PlayStation™ Certified
- Latest generation 1.5GHz dual core processor for improved battery life, fast performance and ultra sharp graphics
- MHL connectivity for viewing content on a big screen without the need for a charger
Discuss this news here...