'007 Reloaded' audiobook poster campaign hits London Underground
Commuters and visitors to the capital city may catch a different glimpse of James Bond as they travel on the London Underground this month.
Ian Fleming Publications have launched a new poster campaign at Tube stations to promote the release of the
'007 Reloaded' audiobooks.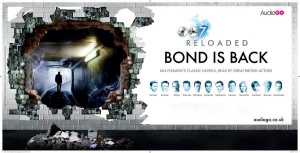 Click to enlarge
.
Other Bond posters appearing across London include Sony Pictures' publicity for "Skyfall" and a product tie-in poster from Omega.
Discuss this news here...