First look at Tonia Sotiropoulou in character - and Bond drinking beer
Bond fans expressed mixed reaction when 007 was rumoured to drink a beer in "Skyfall". Director Sam Mendes defended the choice to show Bond drinking beer on film, and put to bed rumours that this was merely a product placement demand:
"There is a moment where he drinks Heineken, or rather a beer. But there is a story reason for that. And he does drink other things..."
Now, a still from the film shows 007 enjoying his "death" - as one can hear the spy explain to his boss in the official trailer.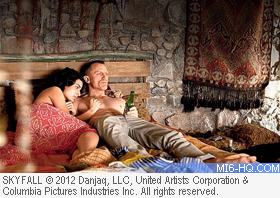 Click for a larger photo
The new still also shows Greek actress Tonia Sotiropoulou in her brief scene with 007.
Discuss this news here...