Heineken release 007 designed bottles
The new "Skyfall" look for Heineken comes in two formats, adapted from the brand's new "star" bottle design.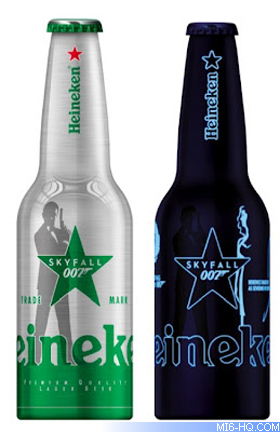 "The newly designed Star Bottle allows Heineken to take a huge step forward in the globalization of the brand, which started with our 'Open Your World' marketing campaign and our more recent draught program," Colin Westcott-Pitt, VP of Marketing, Heineken USA, stated. "The Heineken bottle has gone through a number of progressions but has always maintained its core iconography that has become a symbol of upscale premium beer, and this philosophy will remain the same with the new Star Bottle design."
Heineken has also partnered with NY fashion brand Public School to create a limited edition duffle bag.
"We chose Public School as a partner because their clientele, like ours, are open-minded, confident, resourceful men who know quality, seek out new experiences and are ever-evolving in all aspects of their life," said Olga Osminkina, senior brand director of Heineken USA.
Discuss this news here...