MI6 Confidential #17 now sold out, final few copies of #15 available
MI6 Confidential magazine
has confirmed that issue #17 has now sold out.
Issue #15, which also features "Skyfall" on the cover, is down to its last few copies.
Collectors who missed out on the now out-of-stock issue will now have to scour the likes of Ebay to secure a copy. Be sure to complete your set of MI6 Confidential back-issues before others sell out.
The latest issue (#18) celebrates the release of the 23rd 007 adventure, "Skyfall" with interviews with the cast and crew, and is proving as popular as ever.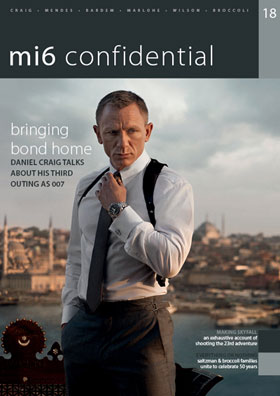 About MI6 Confidential #18
We undeniably have a classic in the making on our hands in the form of Skyfall. To celebrate the release of the 23rd adventure, MI6 Confidential takes you behind the scenes of the shoot with an exhaustive account of the production.Also in this issue, Daniel Craig gives MI6 a candid interview about his role both on screen and off and Sam Mendes comments on the return of some of the classic Bond elements. Rounding out the coverage are interviews with Javier Bardem, the producers, and the new Bond girl Bérénice Marlohe.
Discuss this news here...